Passion Music – Yet I Will Praise You (Audio & Lyrics)
Yet I Will Praise You by Passion Music is a song of praise and thanksgiving for everything God has done.
Passion Music,  is a contemporary worship music band, a central part of Passion Conferences in Atlanta, Georgia. Passion band have released 28 albums over the span of two decades under the name Passion. The band comprises Chris Tomlin, David Crowder, Charlie Hall, Matt Redman, Christy Nockels, Kristian Stanfill and many more.
On this page, you can download this new song by Passion Music titled "Yet I Will Praise You" below in mp3 format
---
LYRICS: Yet I Will Praise You By Passion Music
[Intro]
Should the nightfall
Should the grave call
Should the shadows hide the light from my eyes
Should the winds rage
Should the ground shake
Should the valley last for miles and miles
[Chorus]
Yet will I praise You?
Yet will I praise You?
Hallelujah
Hallelujah
Yet will I praise You?
Yet will I praise You?
Hallelujah
Hallelujah
[Verse 1]
Through the dark days
Through the heartbreak
Though sorrow makes its home by my side
In the waiting
In the aching
Though I'm standing in the midst of the fire
[Chorus]
Yet will I praise You?
Yet will I praise You?
Hallelujah
Hallelujah
Yet will I praise You?
Yet will I praise You?
Hallelujah
Hallelujah
Oh, Hallelujah
[Verse 2]
You're still worthy
You're still holy
You deserve all of the glory
Oh you're still worthy
You're still holy
You deserve all of the glory
Yet will I praise You?
Yet will I praise You?
Hallelujah
Hallelujah
Yet will I praise You?
Yet will I praise You?
Oh, hallelujah
Hallelujah
Hallelujah
Oh, hallelujah
Hallelujah
Oh, hallelujah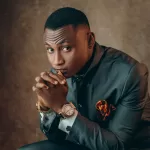 I Am A God-kind Gospel Blogger, Gospel Content Writer, Evangelist, Songwriter, Teacher and Soul-Winner and the Chief-editor of ThePreachersPortal.Org. Right here, you will get access to the Latest and Trending Gospel songs worldwide, Live Streams, Audio Messages, Motivational Articles and Inspirational content as we share them for free. Follow me on social media to learn more about this movement. -ThePreacherMan