Praiz Singz – Heaven's Gate  (Audio & Lyrics)
Here is a new song by Praiz Singz titled "Heaven's Gate " and it's available for download on this page.
ABOUT ARTIST(S): 
Praiz Singz is a Nigerian gospel artist and minister that is gradually becoming a household name in the gospel niche.
ABOUT SONG: 
'Heaven's Gate by Praiz Singz is a song of redemption and a reminder that the end is near. A call for believer to reconcile their way back to the soon-coming King.
Download Heaven's Gate by Praiz Singz (Audio) Below
How to download this song: Just click on  download mp3 below and it immediately gets this audio in your device
Lyrics Of Heaven's Gate By Praiz Singz
Standing by the Heaven's gate
Ministering songs of righteousness
Zion calls let your kingdom come
We cry oh Lord, let your will be done
YOU MAY ALSO LIKE:
Uh-uh-uh-uh
Let your kingdom come
Oh-oh-oh-oh-oh-oh-oh
Let your will be done
We lay our crown in awe of you
The Heaven smells of your sweet perfume
Creation skips at your presence Lord
We open up our hearts to you
Lord let your kingdom come
Oh let your will be done
Lord let your kingdom come
Oh Lord, let your will be done
Praiz Singz – Heaven's Gate 
Let your kingdom come
Oh lord let your kingdom come
Oh, let your will be done
Lord let your kingdom come
Oh Lord, let your will be done
Lord let your kingdom come
Oh, let your will be done
Uh, let your kingdom come
Oh Lord, let your will be done
Lord let your kingdom come
Oh, let your will be done
Lord let your kingdom come
Oh Lord, let your will be done
Oh-oh-oh-oh
Let your kingdom come
Oh Lord, let your will be done
Lord let your kingdom come
Lord let your kingdom come
Oh, let your will be done
Lord let your kingdom come
Oh Lord, Let your will be done
Praiz Singz – Heaven's Gate 
Lord let your kingdom come
Oh, let your will be done
Lord let your kingdom come
Oh Lord, let your will be done
Lord let your kingdom come
Oh, let your will be done
Lord let your kingdom come
Oh Lord, let your will be done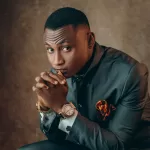 I Am A God-kind Gospel Blogger, Gospel Content Writer, Evangelist, Songwriter, Teacher and Soul-Winner and the Chief-editor of ThePreachersPortal.Org. Right here, you will get access to the Latest and Trending Gospel songs worldwide, Live Streams, Audio Messages, Motivational Articles and Inspirational content as we share them for free. Follow me on social media to learn more about this movement. -ThePreacherMan