Open Heaven Devotional
RCCG Open Heaven | 4th August 2021 | Devotional & Prayer Points
RCCG Open Heaven | 4th August 2021 | Devotional & Prayer Points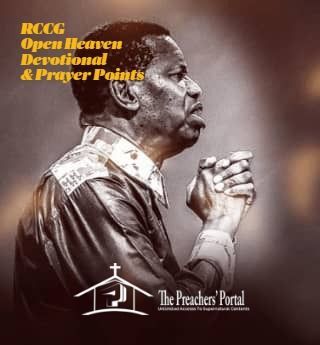 RCCG Open Heaven | 4th August 2021 | Devotional & Prayer Points
RCCG Open Heaven | 4th August 2021 | Devotional & Prayer Points
CLICK HERE FOR PREVIOUS READING 
Open Heaven 4 August 2021 RCGG Devotional -Topic – Arise and Shine; written by Pastor E.A. Adeboye With Prayer Points
TOPIC: ARISE AND SHINE
MEMORISE: "Arise, shine; for thy light is come and the glory of the Lord rises upon thee." – (Isaiah 60:1)
READ: Isaiah 60:1-5 (KJV)
1. Arise, shine; for thy light is come, and the glory of the LORD rises upon thee.
2. For, behold, the darkness shall cover the earth, and gross darkness the people; but the LORD shall arise upon thee, and his glory shall be seen upon thee.
3. And the Gentiles shall come to thy light, and kings to the brightness of thy rising.
4. Lift up thine eyes round about, and see; all they gather themselves together, they come to thee; thy sons shall come from far, and thy daughters shall be nursed at thy side.
5. Then thou shalt see, and flow together, and thine heart shall fear, and be enlarged; because the abundance of the sea shall be converted unto thee, the forces of the Gentiles shall come unto thee.
MESSAGE
The memory verse for today enjoins us to arise and shine because our light has come. What or who is this light? Here is the answer: Then spake Jesus again unto them, saying, I am the light of the world: he that followeth me shall not walk in darkness, but shall have the light of life. – (John 8:12).
Jesus is the Light that brings the glory of the Lord to every situation. The moment the glory departed from Adam and Eve, they realised that they were naked. Adam said: "… I heard thy voice in the garden, and I was afraid because I was naked; and I hid myself" (Genesis 3:10). However when God decided to rescue man from this shameful state; He sent His Son – the Light, to the world.
ALSO, READ  NSPPD Live 3rd August 2021 | Pastor Jerry Eze
In our Bible reading of today, we are commanded to arise and at the same time, shine. Why? It is because God made up His mind to lighten the world that had been covered by darkness. It is also because the glory of the Lord has come upon the world. What or who is this glory of the Lord? Jesus Christ the Son of God is the glory of the Lord. I don't know how deep you may have gone into darkness through sinful habits or associations; however, I have good news for you: your light has come!
ALSO, READ DCLM Daily Manna 4th August 2021 Devotional & Prayer Points
Open Heaven | 4 August 2021 Devotional
All you have to do to partake of this light is to accept Jesus Christ as your personal Lord and Saviour. Matthew 11:28 says "Come unto me all ye that labour and are heavily laden, and I will give you rest." In Revelation 3:20, the Bible says "Behold I stand at the door, and knock: if any man hears my voice, and open the door, I will come in to him and will sup with him, and he with me."
You can rest assured that if you let the Light in, your life, which may have been plagued with all that darkness represents, shall be lightened up. Darkness is represented by sin, sickness, poverty, sorrow, failure and bondage, whereas light represents righteousness, divine health, prosperity, joy, breakthrough and freedom. Many of us can testify that there is darkness in this world.
ALSO, READ  MFM Daily Devotional 4th August 2021 (PMCH)
The darkness we are talking about is not the absence of electricity, but rather, spiritual darkness, according to Ephesians 6:12. Are you still in darkness? If the answer is yes, why hasn't your own light come? It may be that you have not embraced the Light. Accept Jesus the Light into your life today and darkness will no longer be able to comprehend or overcome you, according to John 1:5.
PRAYER POINT: Father, let the light of Your Son Jesus Christ shine upon me today. Let Your glory be greatly evident in my life, in the mighty name of Jesus.
BIBLE IN ONE YEAR: Job 29-30
HYMNAL: HYMN 10 – I'M PRESSING ON THE UPWARD WAY
1. I'm pressing on the upward way,
New heights I'm gaining every day;
Still praying as I onward bound,
"Lord, plant my feet on higher ground."
REFRAIN:
Lord, lift me up and let me stand,
By faith, on Heaven's tableland,
A higher plane than I have found;
Lord, plant my feet on higher ground.
2. My heart has no desire to stay
Where doubts arise, and fears dismay;
Though some may dwell where those abound,
My prayer, my aim, is higher ground.
Open Heaven | 4 August 2021 Devotional
3. I want to live above the world,
Though Satan's darts at me are hurled;
For faith has caught the joyful sound,
The song of saints on higher ground.
4. I want to scale the utmost height
And catch a gleam of glory bright;
But still I'll pray till heav'n I've found,
"Lord, plant my feet on higher ground."
Open Heavens 4 August 2021 Daily Devotional guide was written by Pastor E.A. Adeboye, the General Overseer of the Redeemed Christian Church of God, one of the largest evangelical churches in the world and also the President of Christ the Redeemer's Ministries. The Open Heavens devotional application is available across all mobile platforms and operating systems: iOS, Android, Blackberry, Nokia, Windows Mobile and PC.
Prayer Points 4th August 2021 For Open Heaven Today
Prayer Points For Open Heaven 4th August 2021 Today
I worship and adore You, my Father; in Your presence, there is fullness of joy, and at Your right hand there are pleasures forevermore.
2. Father, You're my rock, my fortress, my deliverer; my God, my strength, in whom I will trust; my buckler, and the horn of my salvation, and my high tower; without You, I can do nothing.
3.Father, in anyway I have fallen short of your glory, please, have mercy and forgive me, in Jesus name.
4.Father, please, come and make my life, Your permanent place of abode, and make me a permanent carrier of Your presence, in Jesus name.
ALSO, READ  NSPPD Live 4th August 2021 | Pastor Jerry Eze
5.Father, admit me into Your secret place, and let me abide under Your protective shadow, forever, in Jesus name.
6.Father, where Your presence will not go with me, please, give the grace never to go there, in Jesus name.
7.Father, give me the grace to run away from iniquity and from every appearance of of evil, that Your presence will not depart from me, in Jesus name.
8.Father, help me to do that which pleases You, at all times, that I may be able to retain Your presence in my life, in Jesus name.
RCCG Open Heaven | 4th August 2021 | Devotional 
9.Father, in Your presence, let my joy be full, keep me safe, grant me – victory, success, breakthroughs and eternal life, in Jesus name.
10.Father, bless your son, Pastor Enoch Adejare Adeboye; please, let him finish well and strong, in Jesus name.
11.Father, bless Your son that You have been using to prepare these prayer points, beyond measures, and all those who have been rebroadcasting them, in Jesus name.
12.Father, let every challenge, hindrance and obstacle of getting these prayer points across to Your children, timely, and on daily basis be removed, in Jesus name.
13.Your Personal petitions. (Philippians 4:6)
14.In Jesus name I pray. (John 14:13-14; 15:16)
15.Thank you Father for answered prayers. (1 Thessalonians 5:18).
ARE YOU BORN AGAIN? IF NO ACCEPT JESUS NOW
Accept Jesus Christ today and secure a life of eternal rest and Glory …
Say this 1 Minute Prayer 

Lord Jesus, I believe you died for my sins, Forgive me of all my iniquities. I accept you as my Lord and Saviour from today and forevermore. Come and Be the Lord of my life and I am willing to obey your command and live according to your will as you help me, Thank you for accepting me into your fold. AMEN

JOHN 3: 3 Jesus answered and said unto him, Verily, verily, I say unto thee, Except a man be born again, he cannot see the kingdom of God.