Rhapsody Of Realities
Rhapsody Of Realities || 6 March 2022 | Sunday With Pastor Chris
Rhapsody Of Realities || 6 March 2022 | Sunday With Pastor Chris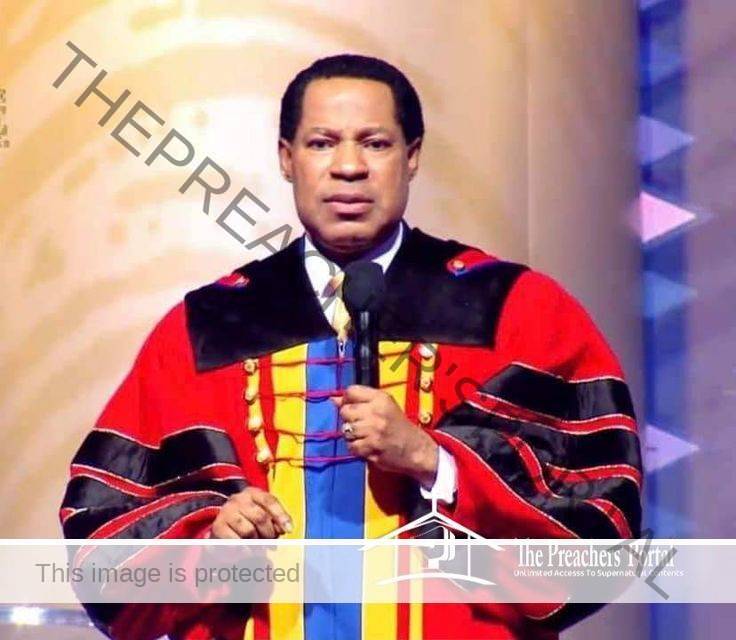 Rhapsody Of Realities || 6 March 2022 | Sunday With Pastor Chris
Rhapsody Of Realities || 6 March 2022 | Sunday With Pastor Chris
CLICK HERE FOR PREVIOUS READING 
LoveWorld Rhapsody of Realities 6th March 2022 Devotional Guide – Sunday Message; Written By Pastor Chris Oyakhilome (Christ Embassy) – Announce The Good News 
TOPIC: Announce The Good News
SCRIPTURE: Paul, a servant of Jesus Christ, called to be an apostle, separated unto the gospel of God, (Which he had promised afore by his prophets in the holy scriptures,) Concerning his Son Jesus Christ our Lord, which was made of the seed of David according to the flesh; And declared to be the Son of God with power, according to the spirit of holiness, by the resurrection from the dead (Romans 1:1-4).
RHAPSODY OF REALITIES TODAY  || ROR DEVOTIONAL
MESSAGE
The Bible says Jesus was declared to be the Son of God with power, according to the Spirit of holiness, by the resurrection from the dead. He's alive forevermore! Something else so beautiful to notice is the actual meaning of the phrase "Son Of God"; it means God in human flesh. And that's why the Jews crucified Jesus because, by their law, Jesus made Himself equal with God when He said He was the Son of God.
ALSO, READ Rhapsody Of Realities 29 March 2021
But He is Himself God; that's what the Bible shows. Titus 2:13-14 calls Him "the Great God:" "Looking for that blessed hope, and the glorious appearing of the great God and our Saviour Jesus Christ; Who gave himself for us, that he might redeem us from all iniquity, and purify unto himself a peculiar people, zealous of good works." This is the Jesus that I tell you about.
In Acts 1, after His resurrection, as He spoke with His disciples and answered their questions, the Bible says, "…while they beheld, he was taken up; and a cloud received him out of their sight" (Acts 1:9). They saw Him go up to heaven; He didn't suddenly vanish; He levitated before their eyes. Hallelujah! The Bible says they "…looked steadfastly toward heaven as he went up…" (Acts 1:10).
ALSO, READ Rhapsody of Realities 13 July 2021 (Tuesday)
Rhapsody Of Realities || 6 March 2022 | Sunday With Pastor Chris
That was the most glorious thing to ever happen in this world: Jesus, not only did He rise from the dead, but also physically levitated—and they watched Him as He went up into heaven. Blessed be God! The Bible says two men appeared in white apparel and said to the disciples: "Ye men of Galilee, why stand ye gazing up into heaven? this same Jesus, which is taken up from you into heaven, shall so come in like manner as ye have seen him go into heaven" (Acts 1:11). This is the same announcement we must make to the whole world today.
Tell everyone throughout this world that Jesus was raised from the dead and that He ascended to heaven. He's coming back again! It's your job to announce this good news everywhere. Let those around you know that Jesus is coming back again, and it's sooner than they imagine.
ALSO, READ Rhapsody of Realities For Today || 23rd December 2021 | Thursday
CONFESSION
I'm bold and passionate in my intent to preach the Gospel to all those around me, for I'm the bearer of the Lord's glory and righteousness in the world, the distributor of His mercies and grace. I pray now, that righteousness is poured forth upon the nations today, resulting in an avalanche of souls coming into the Kingdom, in Jesus' Name. Amen.
Rhapsody Of Realities || 6 March 2022 | Sunday With Pastor Chris
FURTHER STUDY
Romans 10:14 (KJV)
How then shall they call on him in whom they have not believed? and how shall they believe in him of whom they have not heard? and how shall they hear without a preacher?
Romans 1:16-17 (KJV)
6 For I am not ashamed of the gospel of Christ: for it is the power of God unto salvation to every one that believeth; to the Jew first, and also to the Greek. 17 For therein is the righteousness of God revealed from faith to faith: as it is written, The just shall live by faith.
1 YEAR BIBLE READING PLAN:
Mark 11:27-12:1-17 & Numbers 18-19
2 YEAR BIBLE READING PLAN:
Acts 24:22-27 & Psalm 59-60
Rhapsody of Realities 6 March 2022, Devotional Message. Rhapsody of Realities By Pastor Chris Oyakhilome remains a life guide with rich and impactful teachings from God's Word. Also, millions of Rhapsody of Realities, the best-selling daily devotional and Bible study guide have been distributed in 242 countries in 2010 languages of the world… and we're still counting. Also,
JESUS IS COMING SOON!!!
ARE YOU BORN AGAIN? IF NO ACCEPT JESUS NOW
Accept Jesus Christ today and secure a life of eternal rest and Glory …
SAY THIS 1 MINUTE PRAYER

LORD JESUS, I BELIEVE YOU DIED FOR MY SINS, FORGIVE ME OF ALL MY INIQUITIES. I ACCEPT YOU AS MY LORD AND SAVIOUR FROM TODAY AND FOREVERMORE. COME AND BE THE LORD OF MY LIFE AND I AM WILLING TO OBEY YOUR COMMAND AND LIVE ACCORDING TO YOUR WILL AS YOU HELP ME, THANK YOU FOR ACCEPTING ME INTO YOUR FOLD. AMEN

JOHN 3: 3 JESUS ANSWERED AND SAID UNTO HIM, VERILY, VERILY, I SAY UNTO THEE, EXCEPT A MAN BE BORN AGAIN, HE CANNOT SEE THE KINGDOM OF GOD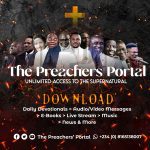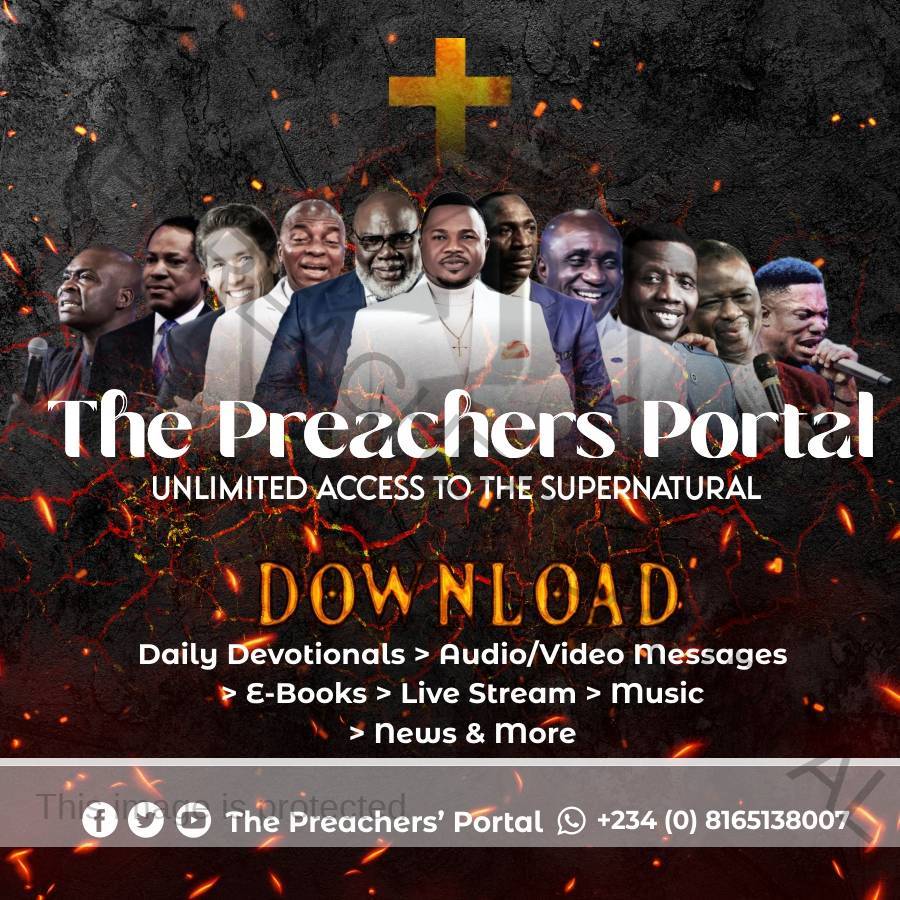 I Am A God-kind Gospel Blogger, Gospel Content Writer, Evangelist, Songwriter, Teacher and Soul-Winner. The Chief-editor of ThePreachersPortal.Org. I have worked with media houses of various religious organizations and NGOs. On This Platform, You will get access to Daily Devotionals, Live Streams, Audio Messages, Motivational Articles and Inspirational content as I share them for free. Follow me on social media to learn more about this movement.