Watch Live Services
Sinach – 5 Days Of Unending Thanksgiving Live (DAY 5) Final Day
Sinach – 5 Days Of Unending Thanksgiving Live (DAY 5) Final Day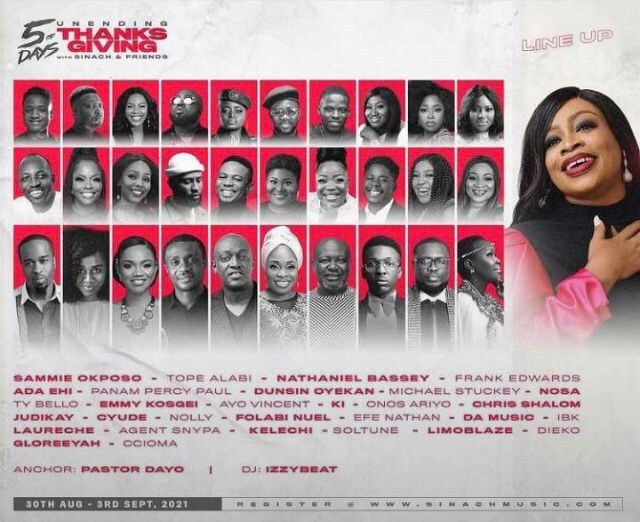 Sinach – 5 Days Of Unending Thanksgiving Live (DAY 5) Final Day
Sinach – 5 Days Of Unending Thanksgiving Live (DAY 5) Final Day
Nigerian Award-winning worship leader, Sinach is currently hosting the biggest gathering of gospel acts this year with 5 Days Of Unending Thanksgiving. Day 5 3rd September 2021 
ALSO, READ  Sinach – 5 Days Of Unending Thanksgiving Live (DAY 3)
Watch 5 Days Of Unending Thanksgiving. Day 5 3rd September 2021 
This event features Nathaniel Bassey, Dunsin Oyekan, Tope Alabi, Sammie Okposo, Dunsin Oyekan, Nosa, Ada Ehi, K.I, Nolly, Glowreeyah, Onos Ariyo, Da Music, Folabi Nuel, Ccioma, Ayo Vincent, Efe Nathan, Michael Stuckey, Limoblaze, Kelechi and more.
Admission is FREE but based on registration: https://bit.ly/sinachunendingthanksgiving |
Global Stream: https://bit.ly/5DUTstream
WATCH DAY 5 3rd – SEPTEMBER 2021 –
Sinach – 5 Days Of Unending Thanksgiving Final Day
LIVE NOW!!!!