Articles
The Mystery Of Motivation By Harrison Avukpere
The Mystery Of Motivation By Harrison Avukpere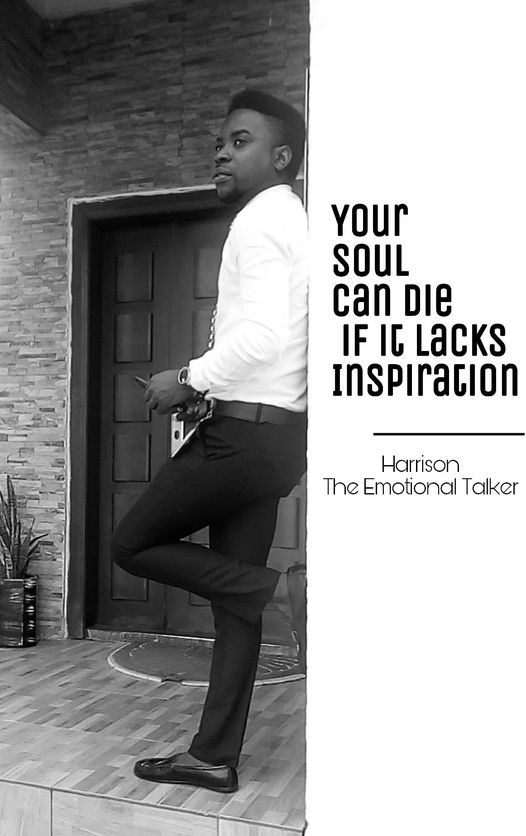 The Mystery Of Motivation By Harrison Avukpere
The Mystery Of Motivation By Harrison Avukpere
One thing you must understand is that the human soul is meant to be inspired otherwise it can die. It's like the current that passes through a cable to bring life to it.
Many who have committed suicide could have lived to push on if only they were able to hear a certain word or see a possibility of a hope that could pierce through their soul as an inspiration and provoke strength for them to live.
But in a way, they weren't exposed to much before they died. So they gave up.
– Listen!
If your soul lacks inspiration for too long, it can begin to lose strength.
Ask those who do wrestling, they will tell you the effect of a word spoken to their ears by their coach/trainer at the point when they've been beaten for many rounds. And suddenly there's a surge of strength that's supplied from within for them to fight once more. – Just by hearing a word.
Everyone has a reservoir of strength within them even in their weakest moment to still keep up. But they may never rise to it if nothing finds its way to inspire their soul to stir up that hidden strength.
The Mystery Of Motivation
Everyone has dormant creativity or genius within them even in their most confusing moment but they can die being confused if they are not exposed to the right source of motivation that would create an inspiration that would stir up this hidden creativity or genius within them.
Your soul must constantly hear something. Must see something. Must feel something. Must perceive something. Must be connected to something else it may begin to die. But once it finds a connection it bounces back to life.
Even the scriptures analyze this truth; that a tree even if it been cut down for long and its branch withers and its stock dies in the ground that there's yet hope for that tree because once it can perceive the scent of water (inspiration), it will bud again. It will come alive and bring forth boughs like a plant – Job. 14:7-9.
If every depressed person should know this, they won't wallow long in that depressive state. They'd always find ways to gravitate to a place where their soul can be inspired which would spring forth strength (motivation) within them to live again.
You see, there are no unresourceful people. Only unresourceful states. A lot of people seems unproductive not because they lack wisdom or strength but because they are not in the right state of being. If they can be inspired. They'll come alive.
If you can be connected to see greatness every day; If you can be connected to hear greatness speak every day; Soon your energy would begin to come to live and you'll see hope rising from within you and from nowhere, your creativity would be spurred for greatness.
Therefore at no point should you stay away from that which would inspire your soul to always come alive.
The Mystery Of Motivation By Harrison Avukpere
-It could be you listening to that powerful motivating podcast. It could be you watching a great movie with a deep intention. It could be you attending a seminar or a class just so you can find a connection. It could be you checking through the lives of great people to see how they evolve into greatness.
It could be to hear a kind of sound that would stir creativity in you. It could be you deliberately staying around great people so you find inspiration to your weakened soul. However you do, never stay away from motivation else your soul may lose inspiration and it starts to die. It can take just the right word to snap out of depression.
Do you know that when the world was without form and void and darkness was upon the face of the deep, it takes just hearing a word for things to change? And that word was "let there be light". And the world heard it and light came out of the darkness. And to you my friend, your soul must always here a word of inspiration to keep it motivated else it deteriorates.
Because when God created you, you were without life. Then He breathes upon you and your soul was inspired and it became a living soul. That breath was an inspiration that motivated life into your soul. So you must understand that the human soul needs to be inspired else it can die.
The Mystery Of Motivation
By all means, always find a way to stay inspired. Even when you're down, listen to something great.
Hear greatness speak. Go through the timeline of great men and women on social media. Read up on their stories and get inspired.
However, it may be never to allow your strength and creativity to die because your soul lacks motivation.
And never stay long in the pool of depression when you can be inspired to live life again with vigour.
You must learn to find your motivation.
You must keep your soul inspired.
The resources are all around you.