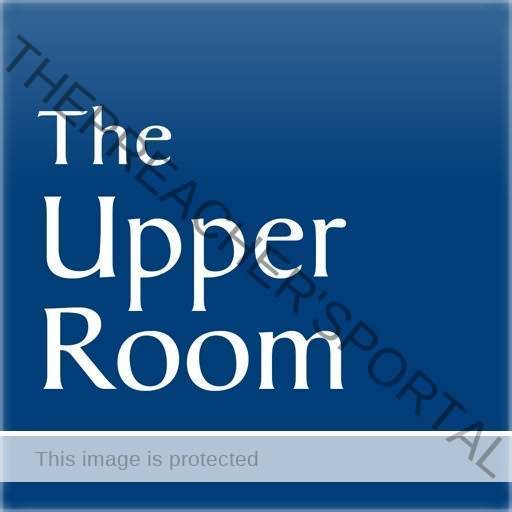 The Upper Room Devotional 13th December 2021
The Upper Room Devotional 13th December 2021
CLICK HERE FOR PREVIOUS READING
The Upper Room Daily Devotional For Today 13 December 2021 – Follow the Leader By Wayne Greenawalt (Illinois, USA)
Topic: Follow The Leader
Wayne Greenawalt (Illinois, USA)
TODAY'S READING
1 Corinthians 10:31-33 , 1 Corinthians 11:1
KEY VERSE: Paul wrote, "Follow my example, as I follow the example of Christ." – 1 Corinthians 11:1 (NIV)
MESSAGE
"Follow the Leader" was a favorite childhood game that I played with my sister and cousin. One of us would serve as the leader, while the other two were to mimic the leader's movements. It could be a simple act like touching our toes or a more challenging one such as throwing a ball through a hoop. The one who could not duplicate the leader's actions would be out. Eventually, we were each eliminated and a new person would serve as a leader for the next round.
ALSO READ, Download PDF Books On Ministry And Discipleship
Following and leading are what servants of Christ are called to do. The apostle Paul sought to faithfully follow Christ. In doing so, he served as an example for others to follow. Jesus Christ calls each one of us to follow him as well. But like the apostle Paul, our aim is not only to follow our Lord faithfully but to lead others to follow him too. As we move through our daily routine at work, at school, or at home, our actions are being viewed and evaluated by others. By living a life that models the life of Christ, we are directing others to an abundant life — a life that has eternal meaning and purpose. So as we "Follow the Leader" we can lead others to follow in the way of discipleship.
The Upper Room Devotional 13th December 2021
THOUGHT FOR THE DAY
How am I leading others to Christ?
ALSO READ, Billy Graham Devotional 3 September 2021
TODAY'S PRAYER
Heavenly Father, help us to be models of faithful discipleship for all to see. In the name of the Christ whom we follow. Amen.
The Upper Room Devotional 13th December 2021
PRAYER FOCUS
Young children at play
The Upper Room is a daily devotional magazine published in more than 30 languages and 100 countries around the world. The daily meditations are written by readers of the magazine and others interested in sharing their faith experiences through writing—both laity and clergy, published authors, and new writers.
ALSO READ, Open Heaven | 24 September 2021 | RCCG Devotional & Prayer
The Upper Room Devotional 13 December 2021
The meditations are stories of real people working to live faithfully with the Bible as their touchstone. Every day, readers of The Upper Room around the world read the same story in many different languages and pray the same prayer together. Some of our readers share comments on our website (upperroom.org/devotionals), and some writers share extra pieces of their writing on our blog (upperroom.org/devotionals/blog-posts). The daily devotional guide and the community it draws together to invite people to:
ARE YOU BORN AGAIN? IF NO ACCEPT JESUS NOW
Accept Jesus Christ today and secure a life of eternal rest and Glory …
Say this 1 Minute Prayer

Lord Jesus, I believe you died for my sins, Forgive me of all my iniquities. I accept you as my Lord and Saviour from today and forevermore. Come and Be the Lord of my life and I am willing to obey your command and live according to your will as you help me, Thank you for accepting me into your fold. AMEN

JOHN 3: 3 Jesus answered and said unto him, Verily, verily, I say unto thee, Except a man be born again, he cannot see the kingdom of God