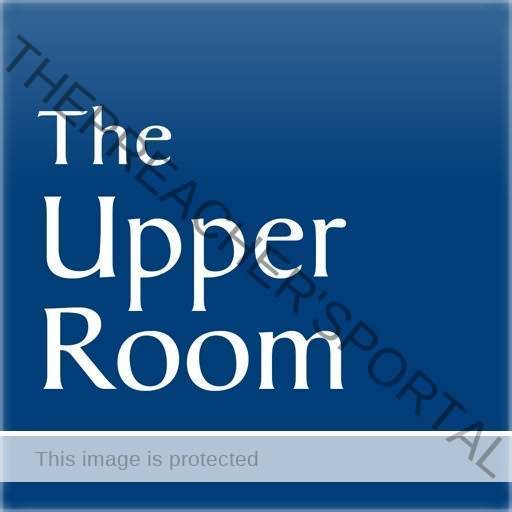 The Upper Room Devotional 15th July 2022
The Upper Room Devotional 15th July 2022
CLICK HERE FOR PREVIOUS READING 
The Upper Room Daily Devotional For Today 15 July 2022 – Clean Away the Dust By Glynis M. Belec (Ontario, Canada)
TOPIC: Clean Away the Dust
Glynis M. Belec (Ontario, Canada)
TODAY'S READING
1 John 1:5-10
KEY VERSE: If we confess our sins, he who is faithful and just will forgive us our sins and cleanse us from all unrighteousness. – 1 John 1:9 (NRSV)
MESSAGE
It is amazing and annoying how dust can creep into places you don't expect. Recently my husband and I have been doing some home renovations. I was determined that I would protect all our furniture and made sure I had enough plastic to cover everything.
ALSO READ, The Upper Room Devotional 25th June 2022
I didn't think about the insides of the kitchen cupboards, though. I figured the contents of the cupboards were safe since they were all behind doors. But renovation dust managed to creep into the crevices. It wasn't until cleanup time that I noticed the thin layer of dust that had covered everything!
As I cleaned out my cupboards, I thought about how it wouldn't hurt to give myself a dusting off too. Sin can creep in just like dust.
The Upper Room Devotional 15th July 2022
Prayer and confession are good ways to clean away the dust in my life. It was good to stop and think about how God blesses me every day with mercy and grace.
THOUGHT FOR THE DAY
Each day God gives me abundant mercy and grace.
TODAY'S PRAYER
Gracious God, remind us always of how you created and love us. Help us tidy up areas of our lives that don't bring you glory so we can show our gratitude to you. Amen.
PRAYER FOCUS
People who clean homes for a living
The meditations are stories of real people working to live faithfully with the Bible as their touchstone. Every day, readers of The Upper Room around the world read the same story in many different languages and pray the same prayer together. Some of our readers share comments on our website (upperroom.org/devotionals), and some writers share extra pieces of their writing on our blog (upperroom.org/devotionals/blog-posts). The daily devotional guide and the community it draws together to invite people to:
The Upper Room Devotional 15th July 2022
ARE YOU BORN AGAIN? IF NO. ACCEPT JESUS NOW
Accept Jesus Christ today and secure a life of eternal rest and Glory …
SAY THIS 1 MINUTE PRAYER

LORD JESUS, I BELIEVE YOU DIED FOR MY SINS, FORGIVE ME OF ALL MY INIQUITIES. I ACCEPT YOU AS MY LORD AND SAVIOUR FROM TODAY AND FOREVERMORE. COME AND BE THE LORD OF MY LIFE AND I AM WILLING TO OBEY YOUR COMMAND AND LIVE ACCORDING TO YOUR WILL AS YOU HELP ME, THANK YOU FOR ACCEPTING ME INTO YOUR FOLD. AMEN

JOHN 3: 3 JESUS ANSWERED AND SAID UNTO HIM, VERILY, VERILY, I SAY UNTO THEE, EXCEPT A MAN BE BORN AGAIN, HE CANNOT SEE THE KINGDOM OF GOD