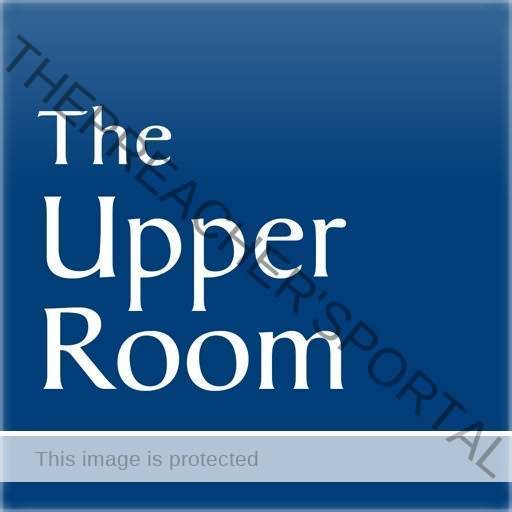 The Upper Room Devotional 21st March 2022
The Upper Room Devotional 21st March 2022
CLICK HERE FOR PREVIOUS READING 
The Upper Room Daily Devotional For Today 21 March 2022 – Plastic Bread Bags By Jim Good (Ohio, USA)
TOPIC: Plastic Bread Bags
Jim Good (Ohio, USA)
TODAY'S READING
1 Peter 2:4-10
KEY VERSE: See what great love the Father has lavished on us, that we should be called children of God! And that is what we are! The reason the world does not know us is that it did not know him. – 1 John 3:1 (NIV)
THE UPPER ROOM DEVOTIONAL
MESSAGE
One snowy, wet morning, my sister and I searched the kitchen for discarded bread bags. After the recent deaths of our parents, we couldn't afford quality footwear. Instead, we used bread bags to cover our socks so our feet and ankles would remain dry on the long walk to school.
ALSO READ, The Upper Room Devotional 29th January 2022
Upon arriving at school, I immediately went to the restroom and hid in a stall. Filled with shame, I removed the bread bags so nobody would see them and mock or bully me. I thought I'm nothing but a worthless orphan. I'm trash, just like these bread bags.
Since then, today's verse has taught me that I am not worthless. Rather, I'm greater than I could ever imagine because of God's boundless grace. I have been called and chosen to be an ambassador and steward and to bring God glory. (See 2 Cor. 5:17-21.)
At times we may feel inferior or worthless, but God reminds us through scripture that we are mighty and of great value to God. We are not destined to be discarded as trash. We are sons and daughters of Almighty God. What a mind-boggling gift and honor!
The Upper Room Devotional 21st March 2022
THOUGHT FOR THE DAY
Today I will see myself as God sees me — worthy, holy, and anointed.
TODAY'S PRAYER
Abba Father, when we feel inferior and worthless, instill in our hearts the immense value and love you place on us. Amen.
PRAYER FOCUS
Those without quality footwear
The meditations are stories of real people working to live faithfully with the Bible as their touchstone. Every day, readers of The Upper Room around the world read the same story in many different languages and pray the same prayer together. Some of our readers share comments on our website (upperroom.org/devotionals), and some writers share extra pieces of their writing on our blog (upperroom.org/devotionals/blog-posts). The daily devotional guide and the community it draws together to invite people to:
The Upper Room Devotional 21st March 2022
ARE YOU BORN AGAIN? IF NO ACCEPT JESUS NOW
Accept Jesus Christ today and secure a life of eternal rest and Glory …
SAY THIS 1 MINUTE PRAYER

LORD JESUS, I BELIEVE YOU DIED FOR MY SINS, FORGIVE ME OF ALL MY INIQUITIES. I ACCEPT YOU AS MY LORD AND SAVIOUR FROM TODAY AND FOREVERMORE. COME AND BE THE LORD OF MY LIFE AND I AM WILLING TO OBEY YOUR COMMAND AND LIVE ACCORDING TO YOUR WILL AS YOU HELP ME, THANK YOU FOR ACCEPTING ME INTO YOUR FOLD. AMEN

JOHN 3: 3 JESUS ANSWERED AND SAID UNTO HIM, VERILY, VERILY, I SAY UNTO THEE, EXCEPT A MAN BE BORN AGAIN, HE CANNOT SEE THE KINGDOM OF GOD