Tim Godfrey Ft. Todd Dulaney – Greater || Download Mp3 (Audio + Lyrics)
Tim Godfrey Ft. Todd Dulaney – Greater || Download Mp3 (Audio + Lyrics)
MP3: Tim Godfrey Ft. Todd Dulaney – Greater
Nigerian Gospel Minister and songwriter, Tim Godfrey, drops a new song titled "Greater" featuring Todd Dulaney. In Mp3 audio format ready for your free download.
ALSO, READ Prinx Emmanuel Ft. Limoblaze – Ifunanya – Mp3 Download (Audio + Lyrics)
DOWNLOAD SONG – Tim Godfrey Ft. Todd Dulaney – Greater – BELOW
Download this song and share it with loved ones as it reflects the Power of God in our lives. Tim Godfrey is always known to deliver good music and powerful and highly anointed songs since the inception of his ministry.
Lyrics of Greater By Tim Godfrey Featuring Todd Dulaney
[Instruments/chants]
Everybody claps your hands
[Tim Godfrey]
Jesus your name is greater
Your name is greater
Greater than all 2x
Eh
Yea ehhh
[Let the whole say]
Jesus your name is greater
Your name is greater
Greater than all 2x
Tim Godfrey Greater Lyrics
[Let's raise it up for him c'mon ]
ALSO, READ Tim Godfrey – This Joy || Download Mp3 (Audio + Lyrics)
[Modulation]
Jesus your name is greater[clap your hands]
Your name is greater[you name is ]
Greater than all 2x
Tim Godfrey Ft. Todd Dulaney – Greater || Download Mp3
[Modulation x2]
Jesus your name is greater
Your name is greater
Greater than all 2x
[There Is nothing Jesus]
There is nothing you cannot do
There is nothing impossible[you will do ]
You will do what no man cando[you are]
You are greater than all[greater]
Greater than all 2x
[Modulation]
Jesus your name is greater
Your name is greater
Greater than all 2x
There is nothing you cannot do
There is nothing impossible
You will do what no man can do
You are greater than all
Greater than all
[Tim Godfrey, Todd and all]
There is nothing you cannot do(nothing impossible)
There is nothing impossible [ohhhhh]
You will do what no man can do[you are greater than all]
You are greater than all
Greater than all 2x
Tim Godfrey Ft. Todd Dulaney – Greater || Download Mp3
[Todd and all]
Greater than all
Greater than all
[Strong tower]
Greater than all
Greater than all
[Name is]
Greater than all
Greater than all
[Eh]
Greater than all
Greater than all
[Greater than you]
Greater than all
Greater than all
ALSO, READ Maverick City – Make it Right ft. Dante Bowe, Todd Dulaney, & Jekalyn Carr | Download Mp3
[Rep/chants]
[Todd dulaney]
You name is greater than any other
Your name is Jesus
You name is Yahweh
You name is greater than any other
Greater than all
Greater than all
[C'mon let me hear you say]
[All]
You name is greater than any other
Your name is Jesus
You name is Yahweh
You name is greater than any other
Greater than all
Greater than all
[You are]
Greater than all
Greater than all
Greater than all
Greater than all
[You are greater]
Greater than all
Greater than all
[You are]
Greater than all
Greater than all
[You are]
Greater than all
Greater than all
Tim Godfrey Ft. Todd Dulaney – Greater || Download Mp3
[Todd dulaney]
There is nothing you cannot do
There is nothing impossible
You will do what no man cannot do
You are greater than all
Greater than all
You are greater than all
Greater than all
You are greater than all
Greater than all
You are greater than all
Greater than all
THE PREACHERSPORTAL NOTICE BOARD
If You are enjoying these daily readings and uploads by ThePreachersPortal Please Comment and share our articles on social media platforms. We have the mandate to spread the GOODNEWS across the globe. A Mission To Spread The Gospel of Our Lord Jesus Christ through teachings, books, videos, audio, songs and more by the Inspiration of The Holy Spirit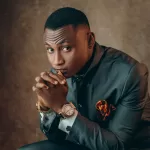 I Am A God-kind Gospel Blogger, Gospel Content Writer, Evangelist, Songwriter, Teacher and Soul-Winner and the Chief-editor of ThePreachersPortal.Org. Right here, you will get access to the Latest and Trending Gospel songs worldwide, Live Streams, Audio Messages, Motivational Articles and Inspirational content as we share them for free. Follow me on social media to learn more about this movement. -ThePreacherMan