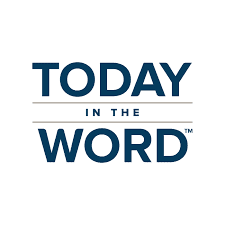 Today In The Word Daily Devotional 23rd July 2022
Today In The Word Daily Devotional 23rd July 2022
CLICK HERE FOR PREVIOUS READING 
Today In The Word Daily Devotional 23 July 2022 Written BY Dr. Russell L. Meek (Moody Theological Seminary)
TOPIC: THE POWER OF KIND WORDS
SCRIPTURE: Proverbs 12
KEY VERSE:  Anxiety weighs down the heart, but a kind word cheers it up. –PROVERBS 12:25
MESSAGE
Michael, my supervisor, tells me every time I see him that he loves me, that I'm a joy to work with, and that he's thrilled to have me on his team. When I first started working with him, I was suspicious that his comments weren't genuine. But now that we've worked together for a few years, the encouragement hasn't let up. What's more, he has repeatedly backed up his words with his actions. Now I find myself calling him when I'm struggling or when anxiety weighs down my heart. I know Michael's kind words will cheer me.
ALSO READ, Today In The Word Daily Devotional 11th July 2022
If you're like me, then you probably don't go around telling people how much they mean to you or how blessed you are to have them in your life. Those "words of affirmation" make me very uncomfortable when I receive them, and even more so when I give them. It's somehow gotten into my mind that offering kind words reveals a chink in my armor, a vulnerability that someone may exploit. And that might be true, but protecting myself should not be my primary concern if I trust the Lord to care for me.
God can use other people to lift our anxieties, cheer our heart, help us feel more comfortable in our own skin, and perhaps most importantly, to give that same blessing to others. We may not think we are great at encouragement, but the true value of speaking kind words to another is both a gift to them and an offering to the Lord.
Today In The Word Daily Devotional 23rd July 2022
When our fear of vulnerability threatens to make us withhold kind words, we should ask the Lord to help us see people as Michael does—a gift to be cherished and built up.
>> Can you remember a time when someone's kind words cheered your heart? How can you extend that gift to one other person today? Look for an opportunity and then do it as an act of worship to God.
Pray with Us
For some of us, kind words do not come naturally. Open our eyes to the good qualities and self-sacrifice of those around us. Help us give encouragement and words of genuine affirmation to bolster others.
Dr. Russell Meek teaches Old Testament and hermeneutics at Moody Theological Seminary. He is a columnist for Fathom magazine and writes widely for lay and academic audiences about all things Old Testament and its relationship to the Christian life. Russell, his wife, and their three sons live in north Idaho, where you'll find them gardening, cooking, and exploring the wild.
Today In The Word Daily Devotional 23rd July 2022
JESUS IS COMING SOON!!!
ARE YOU BORN AGAIN? IF NO, ACCEPT JESUS NOW
Accept Jesus Christ today and secure a life of eternal rest and Glory …
Say this 1 Minute Prayer

Lord Jesus, I believe you died for my sins, Forgive me of all my iniquities. I accept you as my Lord and Saviour from today and forevermore. Come and Be the Lord of my life and I am willing to obey your command and live according to your will as you help me, Thank you for accepting me into your fold. AMEN

JOHN 3: 3 Jesus answered and said unto him, Verily, verily, I say unto thee, Except a man be born again, he cannot see the kingdom of God