UCB Word For Today
UCB Word For Today 1 July 2022 Devotional
UCB Word For Today 1 July 2022 Devotional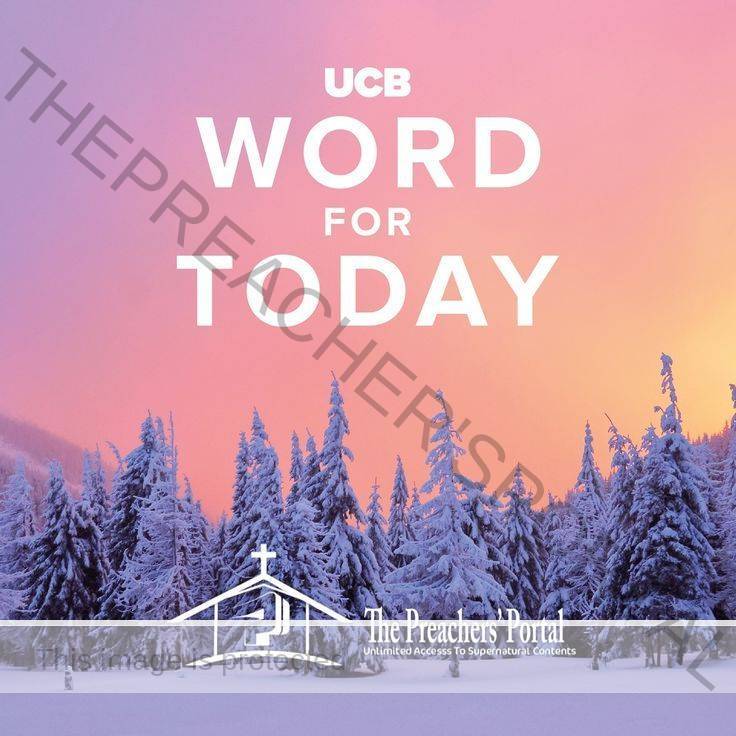 UCB Word For Today 1 July 2022 Devotional
UCB Word For Today 1 July 2022 Devotional
CLICK HERE FOR PREVIOUS READING 
TOPIC: God Will Provide 'All Things' You Need
TODAY'S SCRIPTURE: 'Will he not also…graciously give us all things?'
Romans 8:32 NIV
MESSAGE
The Bible says, 'He who did not spare his own Son, but gave him up for us all – how will he not also, along with him, graciously give us all things?' One author gives this analogy:
'Suppose a man comes upon a child being beaten by thugs. He dashes into the mob, rescues the boy, and carries him to a hospital. The youngster is nursed to health. The man pays for the child's treatment. He learns that the child is an orphan and adopts him as his own and gives the boy his name. Then one night, months later, the father hears the son sobbing into his pillow. He goes to him and asks about the tears. "I'm worried, Daddy…about tomorrow.
ALSO, READ UCB Word For Today 5 May 2022 Devotional
Where will I get food to eat? How am I going to buy clothes to stay warm? And where will I sleep?" The father is rightfully troubled. "Haven't I shown you? Don't you understand? I risked my life to save you. I gave my money to treat you. You wear my name. I've called you my son. Would I do all that and then not meet your needs?"
UCB Word For Today 1 July 2022 Devotional
'Honestly, now. Did God save you so you would fret? Would He teach you to walk just to watch you fall? Would He be nailed to the cross for your sins and then disregard your prayers? Come on! Is Scripture teasing us when it says, "He has put his angels in charge of you to watch over you wherever you go" (Psalm 91:11 NCV)?'
ALSO, READ UCB Word For Today 18th February 2022 | Devotional
You know better, don't you? So stop worrying, and stand securely on His promise that He will 'graciously give us all things'.
DAILY BIBLE READING: 2 Chronicles 21-22, Acts 25
Today's devotional is a product of 
United Christian Broadcasters. 
UCB's Vision Statement
United Christian Broadcasters is a Christian media charity that exists to offer every person, in every place, every moment of the day, the opportunity to hear, watch or read the Word of God in a relevant and engaging way.
JESUS IS COMING SOON!!!
ARE YOU BORN AGAIN? IF NO, ACCEPT JESUS NOW
Accept Jesus Christ today and secure a life of eternal rest and Glory …
SAY THIS 1 MINUTE PRAYER

LORD JESUS, I BELIEVE YOU DIED FOR MY SINS, FORGIVE ME OF ALL MY INIQUITIES. I ACCEPT YOU AS MY LORD AND SAVIOUR FROM TODAY AND FOREVERMORE. COME AND BE THE LORD OF MY LIFE AND I AM WILLING TO OBEY YOUR COMMAND AND LIVE ACCORDING TO YOUR WILL AS YOU HELP ME, THANK YOU FOR ACCEPTING ME INTO YOUR FOLD. AMEN

JOHN 3: 3 JESUS ANSWERED AND SAID UNTO HIM, VERILY, VERILY, I SAY UNTO THEE, EXCEPT A MAN BE BORN AGAIN, HE CANNOT SEE THE KINGDOM OF GOD