UCB Word For Today
UCB Word For Today 18th November 2021 | Devotional
UCB Word For Today 18th November 2021 | Devotional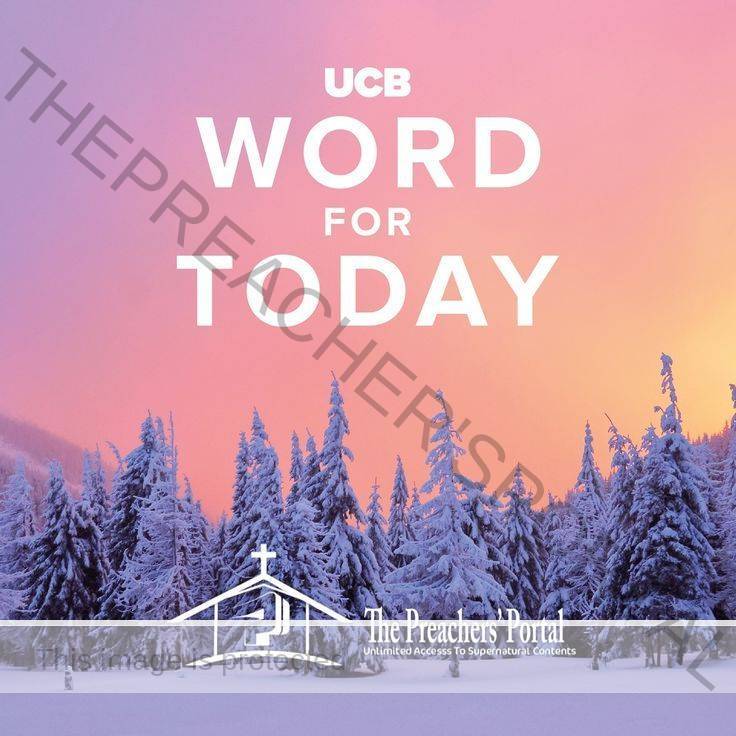 UCB Word For Today 18th November 2021 | Devotional
UCB Word For Today 18th November 2021 | Devotional
CLICK HERE FOR PREVIOUS READING 
TOPIC: Walking with a limp
SCRIPTURE: 'He was limping because of the injury to his hip.' Genesis 32:31 NLT
MESSAGE
Concerning Jacob, the Bible tells us: 'A man came and wrestled with him until…dawn began to break…He touched Jacob's hip and wrenched it out of its socket. Then the man said, "Let me go, for the dawn is breaking!" But Jacob said, "I will not let you go unless you bless me." "What is your name?" the man asked. He replied, "Jacob." "Your name will no longer be Jacob," the man told him. "From now on you will be called Israel, because you have fought with God and with men and have won."…Jacob named the place Peniel (which means "face of God"), for he said, "I have seen God face to face"….The sun was rising as Jacob left Peniel, and he was limping' (vv. 24-28, 30-31 NLT).
ALSO, READ UCB Word For Today 3rd November 2021 | Devotional
Imagine the importance of a hip bone to a farmer like Jacob. It was something he leaned on every day, and now he was weak in an area where he had prided himself on being strong. As a result, he had to depend on God as never before. God has children like Jacob who walk with a limp, and you may be one of them.
UCB Word For Today 18th November 2021 | Devotional
Perhaps you have experienced a painful failure, and because a limp isn't something you can hide, people notice it.
ALSO, READ UCB Word For Today 6th November 2021 | Devotional
God loves to use flawed people because when they become successful, they aren't arrogant like others who think they deserve it. They're a little warmer, a little more willing to reach out and embrace others. They understand that without God they wouldn't have made it. When you limp spiritually, you have to depend on God more, and that's not a liability – it's an asset!
BIBLE IN A YEAR: Ezekiel 35-36, 1 Peter 1
Today's devotional is a product of 
United Christian Broadcasters. UCB's Vision Statement
United Christian Broadcasters is a Christian media charity that exists to offer every person, in every place, every moment of the day, the opportunity to hear, watch or read the Word of God in a relevant and engaging way.

ARE YOU BORN AGAIN? IF NO ACCEPT JESUS NOW
Accept Jesus Christ today and secure a life of eternal rest and Glory …
Say this 1 Minute Prayer

Lord Jesus, I believe you died for my sins, Forgive me of all my iniquities. I accept you as my Lord and Saviour from today and forevermore. Come and Be the Lord of my life and I am willing to obey your command and live according to your will as you help me, Thank you for accepting me into your fold. AMEN

JOHN 3: 3 Jesus answered and said unto him, Verily, verily, I say unto thee, Except a man be born again, he cannot see the kingdom of God