UCB Word For Today
UCB Word For Today 20th November 2021 | Devotional
UCB Word For Today 20th November 2021 | Devotional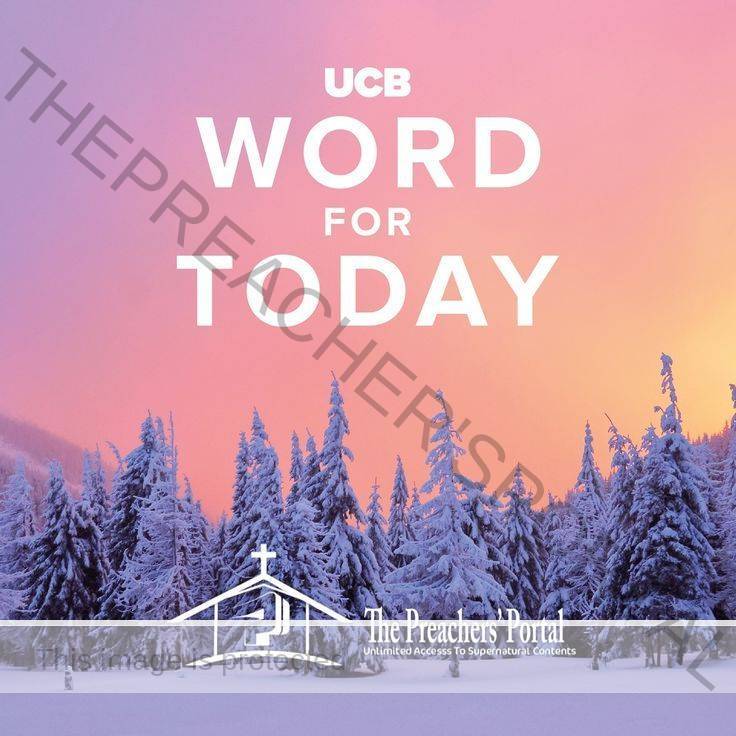 UCB Word For Today 20th November 2021 | Devotional
UCB Word For Today 20th November 2021 | Devotional
TOPIC: A Memo From Heaven
TODAY'S SCRIPTURE 'Conquer evil by doing good.'  Romans 12:21 TLB
MESSAGE
It's easy to forget why God saved you, what He's called you to do, and how you're supposed to live. So here's a memo from heaven: 'Don't just pretend that you love others: really love them. Hate what is wrong. Stand on the side of good. Love each other with brotherly affection and take delight in honouring each other. Never be lazy in your work but serve the Lord enthusiastically.
ALSO, READ UCB Word For Today 4th November 2021 | Devotional
Be glad for all God is planning for you. Be patient in trouble and prayerful always. When God's children are in need, you be the one to help them out… If someone mistreats you… pray that God will bless him. When others are happy, be happy with them. If they are sad, share their sorrow.
UCB Word For Today 20th November 2021 | Devotional
Work happily together. Don't try to act big. Don't try to get into the good graces of important people, but enjoy the company of ordinary folks. And don't think you know it all! Never pay back evil for evil.
ALSO, READ UCB Word For Today 8th November 2021 | Devotional
Do things in such a way that everyone will see you are honest clear through. Don't quarrel with anyone. Be at peace with everyone, just as much as possible… never avenge yourselves. Leave that to God, for He has said that He will repay those who deserve it… Instead, feed your enemy if he is hungry.
If he is thirsty give him something to drink and you will be heaping coals of fire on his head. In other words, he will feel ashamed of himself for what he has done to you. Don't let evil get the upper hand but conquer evil by doing good' (vv. 9-21 TLB).
UCB Word For Today 20th November 2021 | Devotional
Today's devotional is a product of 
United Christian Broadcasters. UCB's Vision Statement
United Christian Broadcasters is a Christian media charity that exists to offer every person, in every place, every moment of the day, the opportunity to hear, watch or read the Word of God in a relevant and engaging way.

ARE YOU BORN AGAIN? IF NO ACCEPT JESUS NOW
Accept Jesus Christ today and secure a life of eternal rest and Glory …
Say this 1 Minute Prayer

Lord Jesus, I believe you died for my sins, Forgive me of all my iniquities. I accept you as my Lord and Saviour from today and forevermore. Come and Be the Lord of my life and I am willing to obey your command and live according to your will as you help me, Thank you for accepting me into your fold. AMEN

JOHN 3: 3 Jesus answered and said unto him, Verily, verily, I say unto thee, Except a man be born again, he cannot see the kingdom of God