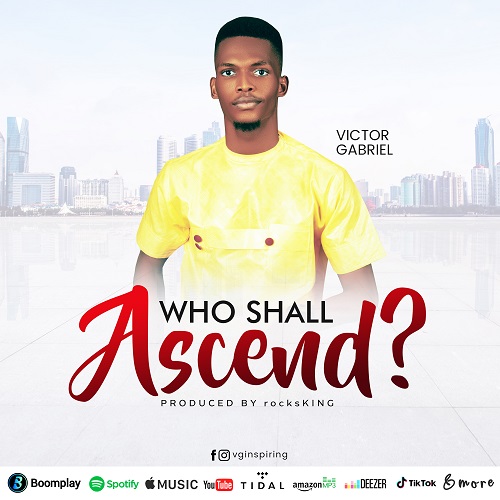 Victor Gabriel – Who Shall Ascend | Download Mp3 (Audio)
Victor Gabriel – Who Shall Ascend | Download Mp3 (Audio)
MP3: Victor Gabriel – Who Shall Ascend
Nigerian Gospel Artist, Victor Gabriel, comes through with a new song this 2021 titled "Who Shall Ascend" and is right here for your free download.
DOWNLOAD MP3: Victor Gabriel – Who Shall Ascend BELOW
ABOUT THE SONG
WHO SHALL ASCEND are thoughts and confessions of dying men. Just like Paul said, "I die daily".
Commuting to upholding acts of righteousness, in acceptance of the LORD-ship of Jesus. He is LORD even as he is Savior.
I hope that WSA creates a consciousness as to keeping what make the foundations of every reality in the Kingdom; Pure hands, Clean heart – foundations for love, prayer, worship and every Kingdom operation there is.
It is in the light of the importance of knowing to uphold these mandates of God in these days of horror and diverse works of the flesh that we affirm in a pledge; subscribing to be perpetual followers of righteousness, wanting to keep his counsels, to want to seek him with a craving to just keep ascending; desiring only for more, desiring dimensions.
This movement is to raise an order of people in the Kingdom constitution consciously in these times.