Megachurch Pastor Tavner Smith Denies Reports Of Church Foreclosure
Megachurch Pastor Tavner Smith Denies Reports Of Church Foreclosure
Pastor Tavner Smith of Venue Church in Chattanooga, Tennessee, has rejected accusations that his church is on the verge of foreclosure less than a year after a suspected affair he had with a former church employee led to the resignation of several staff members.
Instagram users were reassured by Smith that rumors of the church's closure were "completely false."
ALSO, READ Judge Denies Texas Heartbeat Law Implementation Rules – 'Pregnant People' Have a 'Right to an Abortion'
When Venue Church was reported to have defaulted on its debt for the property at 6401 Lee Highway in Chattanooga's Times Free Press on July 31st, the post was likely a response. Foreclosure notices and sale notices indicate an auction will be held on August 24th.
In 2019, Venue acquired a loan for the property totaling $2.8 million, as stated in the notification. The property is appraised at $4.86 million according to Hamilton County records.
Megachurch Pastor Tavner Smith Denies Reports Of Church Foreclosure
"First of all, it's absolutely not true. Venue Church is not shutting down," Smith said. "Our legal team, who is amazing, has assured me that I can tell you with confidence that our Chattanooga location is going nowhere."

"The best is yet to come for Venue Church. … It ain't over. We're just getting started," Smith added.

He invited his followers to come to Sunday's service, where he said he would "set the record straight."

Attempts by The Christian Post to reach Smith and Venue Church were unsuccessful.

Venue Church, a nondenominational church of about 2,000 members, was rocked by scandal in December after Smith was accused of engaging in an extramarital affair.

Before the recent turmoil, Venue Church had become one of the fastest-growing congregations in America.

The Chattanooga Times Free Press obtained audio from a widely-reported Dec. 17 meeting between Smith and over 100 church volunteers at the fast-growing Venue Church after several employees resigned from the church over the alleged affair.

In January, a Facebook page critical of the church called "The Venue is NO Church" published images showing that Venue Church is now only operating from the Chattanooga campus on Lee Highway.
Megachurch Pastor Tavner Smith Denies Reports Of Church Foreclosure
While Venue Church previously listed a campus in North Georgia, that location is no longer listed on the church's website.

Around that time, Smith began a sabbatical after a video circulated online showing him kissing a church staffer who was not his wife, which drew national media attention.

Upon returning from that sabbatical, Smith confessed to his congregation that he was involved in an "inappropriate relationship" and asked for forgiveness.

ALSO, READ California Megachurch Fires Worship Director For 'Inappropriate Behavior Online'

"Before I preach a word today, I've just come to say I'm sorry. So many things I've said, that I've done, that I've not said, that I've run from were wrong," Smith said, according to a recording of the apology posted on YouTube by journalist Julie Roys.

"I was involved in an inappropriate relationship. And I want to say that I'm sorry that I put you through any embarrassment, heartache or confusion. I've wounded people, and I've caused devastation that I know I can never take back," he added. "As your leader and pastor, I come to you to publicly acknowledge my mistakes and truly ask for forgiveness. It grieves me to think that my pride and my selfishness could've caused anyone hurt."
Megachurch Pastor Tavner Smith Denies Reports Of Church Foreclosure
Smith and his wife, Danielle, who have three kids, began divorce proceedings in May 2021.

In 2008, Smith was hired as executive student pastor at Redemption World Outreach in Greenville, South Carolina, a church led by Ron and Hope Carpenter. Smith's website lists Carpenter as his mentor.

In 2012, the Smiths moved to Chattanooga, where they launched Venue Church.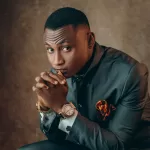 I Am A God-kind Gospel Blogger, Gospel Content Writer, Evangelist, Songwriter, Teacher and Soul-Winner and the Chief-editor of ThePreachersPortal.Org. Right here, you will get access to the Latest and Trending Gospel songs worldwide, Live Streams, Audio Messages, Motivational Articles and Inspirational content as we share them for free. Follow me on social media to learn more about this movement. -ThePreacherMan