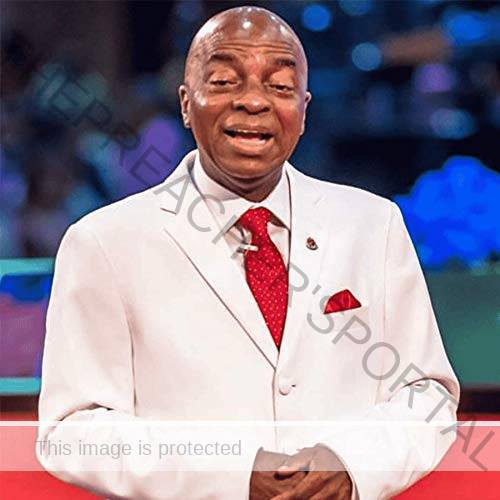 This is Why Bishop David Oyedepo Said He Is The Richest Pastor In The World
This is Why Bishop David Oyedepo Said He Is The Richest Pastor In The World
Bishop David Oyedepo, the founder of Living Faith Church Worldwide, has agreed that he is the richest pastor in the world, claiming that he meets all requirements for being considered the richest man. The internet went agog after this statement by the cleric over his achievements and financial status.
ALSO, READ Top 10 Richest Pastors In The World (2022) & Their Net Worth – Forbes
As a norm, people have been reacting to this comment, but nonetheless, the principle of seed time and harvest, sowing and reaping are not just for hearers but also for doers. Pastors are not excluded from the reward of harvest. When people think about pastors they expect a poor and hungry servant of God who should be excluded from a good and comfortable life. You can be a genuine pastor and still live a luxurious and classic life as long as your soul is not lost.
Speaking at the Faith Tabernacle Canaanland on Day 4 of the International Youth Alive Convention 2022 with the theme "Destined for Dominion," Oyedepo noted that although he hasn't received a paycheck since 1987, God is still supporting him.
ALSO, READ World's Richest Man Jeff Bezos Resigns As Amazon CEO
HIS STATEMENT 
"December 1987 was the last time I earned my last pay in this ministry. Nobody heard it from my mouth until 1996 at a minister's conference and the Church for the first time in 2007. I wasn't an object of pity; I already had my own financial system running without taking a penny from your Church money.
INVEST IN IRAs, SECURE YOUR FUTURE
"We have our books now being published in different languages around the world at no charge to us and yet they send us royalties. Have I ever taken a dime from books in my life? Never! To be blessed is the purpose. And yet it sells in millions and multimillions every year.
"All these corner corner life is not the way to live. And yet they say the richest pastor in the world is this short man and they are not lying because somebody never borrowed, never begged, and never lacked. Then what does it mean to be rich? Never one day announcement that gets people jittery? And always giving and giving? Then who is a wealthy man? You better wake up!
"My God, this love is not theoretical. I am still on the field: Jesus loves you. In the marketplace, Jesus loves you. Motor garage, Jesus loves you. Under the bridge, Jesus loves you, He sent me to you my friend. You better wake up!"
---
JESUS IS COMING SOON!!!
ALSO, ARE YOU BORN AGAIN? IF NO, ACCEPT JESUS NOW
Accept Jesus Christ today and secure a life of eternal rest and Glory …
SAY THIS 1 MINUTE PRAYER 

LORD JESUS, I BELIEVE YOU DIED FOR MY SINS, FORGIVE ME OF ALL MY INIQUITIES. I ACCEPT YOU AS MY LORD AND SAVIOUR FROM TODAY AND FOREVERMORE. COME AND BE THE LORD OF MY LIFE AND I AM WILLING TO OBEY YOUR COMMAND AND LIVE ACCORDING TO YOUR WILL AS YOU HELP ME, THANK YOU FOR ACCEPTING ME INTO YOUR FOLD. AMEN

JOHN 3: 3 JESUS ANSWERED AND SAID UNTO HIM, VERILY, VERILY, I SAY UNTO THEE, EXCEPT A MAN BE BORN AGAIN, HE CANNOT SEE THE KINGDOM OF GOD