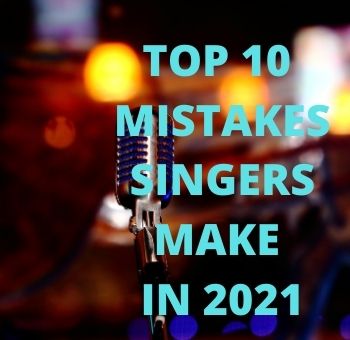 10 COMMON MISTAKES SINGERS MAKE 2021
10 COMMON MISTAKES SINGERS MAKE 2021
INTRO:
Hi, My Name is CHIGOZIEM (CHIGGY THE VOCAL COACH), Welcome to HelpMyVocal 101. I am a Vocal Coach, Tutor, Music Director, Writer, Singer And Music Arranger,   This article will cover the top 10 common mistakes of singers prior to their performance and presentation. A lot of articles out there about common mistakes focus on Breathing, posture, Pitch, Vocal range and so on but these are some common uncommon mistakes (SMILE)  
I will list these mistakes and expand them if you find yourself guilty of any and find this video informative and helpful KINDLY SUBSCRIBE\

HERE ARE MY TOP 10 LISTINGS OF COMMON MISTAKES SINGERS MAKE
LACK OF PREPARATION

BAD HABITS 

VOCAL IDENTITY

CHOICE OF SONGS 

WRONG TECHNIQUES AND APPLICATION 

DIALECT INTERFERENCE 

 POOR/ WRONG MOTIVATION 

OVERCONFIDENCE/UNDER-CONFIDENCE

POOR COACHING/ WRONG COUNSEL 

APPEARANCE
COMMON MISTAKES SINGERS MAKE ARE EXPLAINED BELOW
1. LACK OF PREPARATION: 
Preparation is key to every excellent performance and presentation. Every exploit on stage is a product of intense preparation backstage. Great singers pay attention to this because it is the key to excellent delivery

 Preparation involves Daily and Disciplined routines, Such as warm-ups, drills, exercises  to keep the voice in shape at all times

Consistent and structured rehearsals and practices.   

You don't just wake up and say you want to be the American Idol if you are not ready to work.

This is the first on the list because it's the mothers to other errors 
2, BAD HABITS: 
They are subdivided into 3 subcategories 
Eating Habits 
Talking Habits 
Restlessness 
Eating Habits: 
 Having the Wrong Diet Plan as a Vocalist and singer. 

Not every food that LOOKS Good DOES Good to your Voice

As a singer, you should eat like an athlete: A long-distance runner has an entirely different diet plan from a Heavyweight boxer (Explain)

I will be discussing some good diet plans for singers in forth-coming videos 

The question is What are you eating?
Talking Habits:
Y

ou talk too much and scream too loud for a singer. 
S

ometimes, singers find themselves in a circle of friends that want to always hear them speak, yell, scream and all having a good time together. Don't fall for that pressure, your voice is an asset learn to talk less.
Now in cases where we can't help it, I will tell you how to separate your singing voice from your talking voice. YES, there is a way to still talk and still sound good after 5hrs of talking. (KINDLY SUBSCRIBE)
Restlessness:
Rest is a Must for Sound Vocal Health, if you don't rest often,  your body will force you to rest. 

Some singers wanna be in every event, every gig, everywhere, and they wanna keep singing and never go a day off. If you strain your voice and do not rest, it will shut down when you need it the most. 

Take some time off singing and just hibernate your vocal powerhouse.

Rest helps to heal, helps the voice to refire and come back stronger  

Don't neglect the importance of A Good Rest
3. VOCAL IDENTITY CRISIS
Some singers have this problem and it has led to a lot of talents losing their uniqueness in the quest for being like someone else.

Your voice is

unique

, although you can have a similitude out there, but, you need to find your own voice.

Knowing this would help you choose who you listen to and who can mentor you vocally.

 I would be dealing with this issue in coming videos (KINDLY SUBSCRIBE) I will talk about how to find your vocal range, prime voice, the right pitch and your voice type. This will guide you to knowing what you sound like and avoid the next Mistake singers Make on my list which is 
Watching Live Auditions Such as (The Voice, The Nigerian Idol, American Idol) I discovered that a lot of singers make this mistake.

YES, it's very true you should sing a song you know very well in an audition but does it help you express your vocal prowess.

Knowing the right song that will give your voice a full expression is important

I will talk about this and more in more videos (KINDLY SUBSCRIBE) 
ALSO, CHECK Tips On How To Know If A Guy Truly Loves You
5. WRONG VOCAL TECHNIQUE AND APPLICATION 
Aside from Poor Breathing technique, posture,  

Sometimes singers in the quest to please the judges or audience apply vocal techniques and ornamentations in a manner that makes it all noisy and disconnecting.

Of course, it's good to spice up your singing, but too much spice can make a good sauce taste bad.

There is a need to know the technique and a greater need to know when to apply them 

  Don't say because you can sing with a vibrator and place it on every note and syllable of your song, it becomes irritating to the ears.
6. DIALECT / LANGUAGE BARRIERS
One major aspect singers don't put into consideration, every song has a language and represents a culture. 

You need to check if you can blend into that culture to make the best out of the genre. Reggae, Jazz, Pop, HardRock, Highlife, AfroBeat, all have a language they represent. 

For some folks especially Africans, the mother tongue interferes with the pronunciation of a lot of words in modern English. Now when a Singer Has an H-factor, Or L or R factor it can disconnect the audience and give you a negative verdict in a competition 
This is another mistake singers make when they are not duly motivated. Plato said Music gives a soul to the universe, wings to the mind, flight to imagination and life to everything. Your soul must first connect to what you are singing before you can reach out to the audience.

Every time you sing make sure you are in the song yourself, that way you can connect to the hearts of your audience.  
8. OVERCONFIDENCE /UNDERCONFIDENCE
S

ingers go for an audition with so much confidence that they feel they can impress the judges and end up getting a big no.
On the other hand, singers who get stage fright have low confidence and feel they are not good enough to perform below expectation 
The question is what is the right Confidence Level
9. POOR COACHING / WRONG COUNSEL 
Not

everyone should be your coach or tutor and that is why I am Here (SMile). You need the right counsel, Coach, Teacher, Manager to bring the best out of you. 
A good player in the hands of a bad coach can be mismanaged and a bad player in the hands of a good coach can excel if both yield to the counsel.

Stick to one reliable teacher who would guide you right and not listen to everyone that comes your way.
10. APPEARANCE 
This is the last because a lot of people should know this already but seem to neglect it. 70 per cent of communication is appearance likewise in music appearance influences the decision of judges in an audition. 
Expressions, Charisma, tenacity, mood, choreography all makeup for a great performance and acceptance from the audience.

Let your Appearance create a receptive atmosphere before your sound is released.