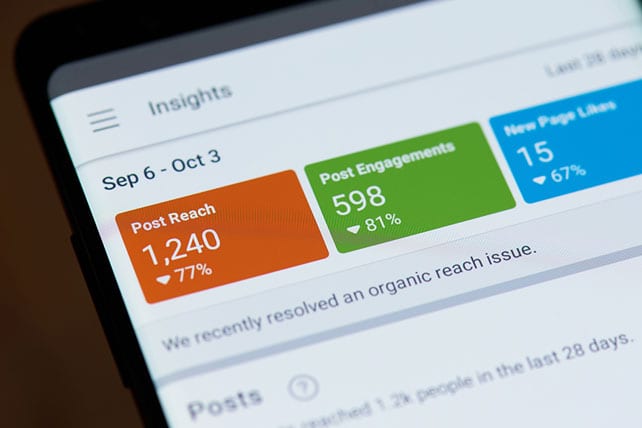 Church Communication Guide To Social Media Analytics
Church Communication Guide To Social Media Analytics
Through the pandemic, many of us also became more tech-savvy and adaptable, learning how to Zoom and watching countless Instagram Lives. But a year out, with vaccinations, steadily increasing and hope for normalcy on the horizon, what will your church communication plan look like?
After a full year at this digital-first mentality, it's important to evaluate which platforms are working best for you and how you can change your social media strategy to accommodate changing trends. We know more people are using social media—in fact, Renderforest reports that every 6.4 seconds, someone new joins social media. There are now 3.96 BILLION active users on social media. So it's important to make social media ministry work for your church. With such a massive online presence, it's crucial to have a well-optimized website to reach your audience effectively. WordPress is a popular choice for many organizations, and you can learn more about its impact and usage statistics in this article on WordPress statistics.
Church Communication Analytics
The most important tools in your church communication inventory are social media analytics. Here's how to use analytics to your advantage, and the trends for sharing content.
Church Communication Analytics for Facebook
Facebook is one of the largest and most brand-friendly social media platforms. According to Backlinko, there are 1.73 billion daily active users on Facebook (defined as the number of registered users who log in on any given day). If social media is part of your communication strategy, your church likely has a presence on Facebook. But how can you tell if Facebook is working for you? Facebook provides in-depth insights that tell you everything from a post's total reach to what time of day most of your followers are online. Here are four of the most helpful tools:
Overview: while in admin mode on your church's Facebook Page, you have access to Page Insights, which provides useful data and information for measuring success on Facebook. These are a couple of important insight terms:

Reach: the number of people who saw any of your posts once.
Engagement: the number of people who engaged with your post through reactions, comments, clicks, and shares.

Church Communication Guide To Social Media Analytics
Reach is a great tool to see how many people view your posts, but we want to focus most of our attention and efforts on engagement. Engaged audiences are interested in connecting with your Page, sharing your content, and visiting your website—helping to grow your social media presence.
Followers: this provides information about your growth in followers, and when people are following and unfollowing your Page. The follower's section is an excellent way to look at change over time and as a big picture way to see if your posts are bringing in new followers.

Posts: this section of your insights is a goldmine and probably my most frequently used insights tool. The posts section is where you'll find the time of day when most of your followers are online, as well as what days of the week are most popular. According to SproutSocial, the highest engagement time on Facebook is Wednesday at 11 a.m. However, each Page has a unique set of followers, so we recommend using the tools on your insights page to guide you in deciding when to post.

People: this section will give you insight into your audience—including gender, age range, and location. If you're trying to broaden your audience, this is a great tool to see who you might be missing, as well as how to cater your posts to specific audiences.
Church Communication Analytics for Twitter
Twitter has gained popularity, with 9.6% of adults significantly increasing their usage of the platform during the pandemic. Twitter also has a reputation as a platform for news, popular culture, and current events. How can you tell if Twitter is benefiting you? Fortunately, Twitter provides free analytics tools available at analytics.twitter.com. On this page, you'll find:
28 Day Summary: this includes the number of tweets from your account, impressions (similar to reach on Facebook), profile visits, mentions, and followers. The summary also shows changes over time from your last 28-day period.

Monthly Statistics: Twitter will break down your statistics month by month, including your top tweet based on impressions, your top mention based on engagements, and total impressions, mentions, profile visits, and new followers. I track all of these numbers but am most interested in engagements and new followers.

Church Communication Guide To Social Media Analytics

Tweet Activity: you can click "view tweet activity" under your top tweet for the month to see a breakdown of how well individual tweets performed. Tweet Activity can help you determine what type of content is most popular. You'll also see a graph on the sidebar called "link clicks." This tool shows how many people clicked on the link you tweeted out. It's especially beneficial if you often share links to your own website and use web tracking tools like Google Analytics.
Church Communication Analytics for Instagram
Instagram is the newer social media platform on this list but its growth has snowballed. Over 1 billion people use Instagram worldwide, with 200 million users visiting at least one business profile daily. My first Instagram tip: make sure you list your church's page as a business page. Business accounts can access insights, as well as the ability to run ads. You can find a helpful guide to making that switch here. Speaking of insights, what are the best insight tools on Instagram?
Recent Highlights: you can navigate to your insights by clicking the "insights" button below the "edit profile" button on your page. Recent highlights provide an overview of reach, interactions, total audience, and content you shared.

Interactions: think of interactions like engagements on Facebook and Twitter. This page includes the number of interactions over a period of time, breaking it down into likes, saves, and story interactions.

Audience: this is the most helpful tool I use when tracking Instagram insights. Insights show the age range, gender, and location of your followers, as well as their most active times each day of the week. This information can help you figure out when to post, as well as how to cater to your target audience.

Church Communication Guide To Social Media Analytics
Another Instagram tip is to utilize stories. Instagram provides excellent insights on your story reach, profile visits, and much more. Five hundred million people use stories each day, and brand stories have a completion rate (how many people viewed the story from start to finish) of 86%. Though Facebook and Twitter also have features like stories, they remain prevalent and useful on Instagram.
I hope this guide has helped you find, interpret, and review the analytics of three major social media platforms. As David Kinnaman and Mark Matlock write in their book Faith For Exiles: 5 Ways for a New Generation to Follow Jesus in Digital Babylon, "[S]creens demand our attention. Screens disciple." Your church has an important message to share, and we hope these insight tools help guide you to reaching many through digital media.
Note: Facebook recently announced that Analytics will be going away on June 30, 2021. This article specifically references Facebook Insights, which are not scheduled to disappear.
This article appeared here.