Dr Paul Enenche | The Word of Our Blessing | August 1st 2021 Sermon
Dr Paul Enenche | The Word of Our Blessing |  August 1st 2021 Sermon
CLICK HERE FOR THE PREVIOUS MESSAGE 
AUGUST 2021 BLESSING SUNDAY SERVICE/ SEVEN WEEKS OF HARVEST GLORY – 4TH SUNDAY – SUNDAY, 1ST AUGUST 2021
ANCHOR SCRIPTURE(S): DEUTERONOMY 28:1-2; ACTS 20:32; LUKE 11:27-28
MESSAGE TOPIC: THE WORD OF OUR BLESSING (1-3) By Dr Paul Enenche
SERVICE OBJECTIVE(S): Understanding the Blessing that is in the Word of God
Pastor Paul Enenche Sunday Sermon 1st August 2021 – The Word of Our Blessing 1-3
THINGS TO NOTE:
1. The Word of God is the Custodian of the Blessing of God (Deut. 28:2)
It is the Depot of the Word of God
To be connected to the Word is to be connected potentially to the Blessing
2. The Word of God is the Terminator of the curses of life (Ps. 107:20)
Be it an ancestral, generational, family or witchcraft curse, they are terminated by the Word
Pastor Paul Enenche Sunday Message 1 August 2021
3. The goodness of God is domiciled in the Word of God (Ps. 27:13)
Believing in the Word of God is seeing the goodness of God
4. The Word of God is the cure for the hardships and stress of life (Ps. 107:20)
It doesn't matter what you are going through, the Word of God can bring you out of it
5. The Word of God is the Depot of the treasures of God (Col. 2:3; Matt. 13:44)
6. The Word of God is the Escape Route from the pressures of life (Matt. 11:28-29)
SCRIPTURAL EXAMPLES OF PEOPLE THAT WERE BLESSED BY THE WORD:
1. The Word of God brought the Blessing of God to Joseph and neutralized every curse of evil on his life (Ps. 105:17-22)
WHAT THE WORD BROUGHT INTO THE LIFE OF JOSEPH:
1a. The Word of God terminated his captivity and brought him into liberty
1b. The Word of God established his opportunity and favour before Pharaoh (Acts 7:10)
1c. The Word of God established him in dignity and honour
1d. The Word of God established him in prosperity and wealth
1e. The Word of God planted him in authority and influence
2. The Word of God terminated the frustration of Peter at the Lake Gennesaret and brought him into fulfilment (Luke 5:1-6)
ALSO, READ Streams Of Joy Sunday Live 1st August 2021 | Pastor Jerry Eze
WHAT THE WORD BROUGHT INTO THE LIFE OF PETER:
2a. The Word of God brought success out of failure
2b. The Word of God brought fullness into emptiness
2c. The Word of God exceeded all expectations in the midst of frustration (Eph. 3:20)
2d. The Word of God gave him results beyond his capacity to handle (Luke 5:6-7)
If the results you are experiencing are what only you can handle, then you haven't seen the fullness of the Blessing yet.
2e. The Word of God brought him elevation in the midst of depression
This is a promotion where there was frustration
3. The Word of God changed the story of the wedding in Cana of Galilee (John 2:1-5 Luke 5:5)
Every life story changes at the Word point
WHAT THE WORD BROUGHT INTO THE WEDDING OF CANA IN GALILEE:
3a. The Word of God brought a new beginning to a concluded end
3b. The Word of God brought fulfilment into the climate of embarrassment
3c. The Word of God brought needed supply out of available resources
3d. The Word of God brought glory out of a situation of reproach (John 2:11)
If everything in life you get by money and labour then something is wrong
For the fact that you are connected to a supernatural God, it should cause protocols to be suspended for you
If every result of your life can be explained then something is wrong
HOW DOES THE WORD BRING ABOUT THE BLESSING?
1. The Word of God is prophetic
2. The Word of God is creative
3. The Word of God is a seed
HOW IS THE WORD PROPHETIC?
i. It directs systems and persons to function according to decrees and declarations (Gen. 1:1-3, Ps. 33:9, 2Peter 1:19-20)
HOW IS THE WORD CREATIVE?
ii. The Word of God is both raw material for the creation and also the Carrier of creative power (Heb. 11:3; Ps. 33:9; Acts 20:32)
HOW IS THE WORD OF GOD A SEED?
iii. Every time you sow the Word into any situation, you reap harvest according to its kind (Mark 4:14; Luke 8:11; 1Pet. 1:23)
HOW TO PROFIT FROM THE BLESSING OF THE WORD:
1. Lay aside filthiness, uncleanness and unholiness (James 1:21)
Whatever defiles your conscience denies your access – to God's Presence and to the Word
2. Lay aside naughtiness (James 1:21)
Naughtiness is the way of nothingness from the Word
3. Receive with meekness (James 1:21)
Meekness is teachability
If God can't teach you, he can't touch you and if he can't teach you he can't reach you
Every time arrogance is allowed, ignorance is established
4. Engraft the Word into your life (Gal. 2:20, Matt. 11:28-30)
Let the Word replace your wisdom and ways; be willing to allow the Word to change your behaviour
Any Word that has not changed your behaviour cannot change your becoming
What you receive determines what you believe, what you believe affects how you behave and how you behave determines what you become
If you can't change your ways, God can't change your life.
Revelation is superior to information; information, even in the Word of God, only gives you something to know but revelation is the combination of illumination and application
PRAYER
Father, thank You for Your Word to us today. To You be all the glory Lord, in Jesus' Name.
AUGUST 2021 PROPHETIC PARENTAL BLESSING:
1. I decree that the God of the new beginning gives you a new beginning this month, in Jesus' Name!
2. The Lord draw you to Himself in a new way and grant you fresh access into the Word of God this month, in Jesus' Name!
3. The Lord frustrate and disappoint the expectations of your enemies regarding your life and those of your loved ones, in Jesus' Name!
4. The Lord scatter every satanic gang up against your life and destiny in this season in Jesus' Name. He will make war, disaster and tragedy to break out against those who conspire against
you and your loved ones, in Jesus' Name!
5. The Lord make every enemy arrow and missile targeted against you and your loved ones to backfire to senders, in Jesus' Name!
ALSO, READ Open Heaven For Teens | 2 August 2021 | Devotional
Dr Paul Enenche | The Word of Our Blessing | August 1st 2021 Sermon
6. Every altar of wickedness, bitterness, envy, jealousy and hatred erected against you and your loved ones, in this season, is set on fire, in Jesus' Name!
7. Every occultic, witchcraft, marine, ancestral and generational altar set up against you, your family and loved ones, in this season, is set on fire, in Jesus' Name!
8. You shall fulfil your days! You cannot be cut short before your time, in Jesus' Name!
9. Every deposit in this month of August that has been put there by God for you is delivered into your hands, in Jesus' Name!
10. Whatever is a concern to your life right now, before the end of this week, is converted into a testimony, in Jesus' Name!
COMMUNION FOCUS:
Communication of every good thing declared today
PROPHETIC DECLARATIONS:
-Anywhere they sent death from for you, it returns back to sender now!
– Systems shall lose their peace, sleep and rest until what is yours enters your hands!
– Within the next one week, what is yours shall enter your hands!
– Welcome to the month of August! New things shall happen to you in this month in Jesus' Name!
ALSO, READ Our Daily Bread 2 August 2021 Devotional
–  that demonic manifestation in the dream is destroyed by fire!
– Every confusion or darkness around your life is dissolved
– Every spirit and arrow of death fired in your direction is refired back to hell right now!
– Everything the enemy has deposited in your body, they are uprooted right now!
– Anything displaced or misplaced in your life, today, they are replaced and relocated in Jesus' Name!
– Every garment of rejection, darkness and depression that the devil has set on your life, today, they are set on fire!
– Every spirit of death looking for you is returned back to hell!
– Your days of negative testimonies are over forever!
– Every treasure, wealth and deposit you are trusting God for is released for you now!
Dr Paul Enenche | The Word of Our Blessing | August 1st 2021 Sermon
– Every pressure around your life and destiny is arrested forever!
– Every situation of reproach that the enemy has organised for you, God is turning that situation into Glory! Glory shall come out of it!
– The Word of God is about to produce in your life a mind-blowing result!
– Every area of failure in your life is replaced by success!
– Every emptiness is replaced by fullness!
– There is something you are expecting but God is going to exceed that expectation!
– Anything that is an affliction in your body is over forever!
– Whatever followed you from the womb of your mother that our Father in Heaven did not put there, today, it is corrected and repaired!
– Everything that has corrupted your system, today, by the power that healed this lady from hepatitis B, it is cleansed!
– God will give you multiple miracles for you and your loved ones!
– Your God and my God is giving you a new beginning!
– That embarrassment you are facing, Jehovah will turn it to fulfilment in Jesus' Name!
– God will give you by miracle what others get with money!
– God is about to bypass protocols and schedules and change your life!
Today's Message was delivered by Pastor Paul Enenche of the Dunamis International Gospel Centre (DIGC), headquartered in Abuja, Nigeria, with Pastor Paul and Becky Enenche, as the Senior Pastors. It is a power-packed arena where God's Presence, Principles and Power are at work for the salvation, healing and restoration of human destinies and dignities
ARE YOU BORN AGAIN? IF NO
Accept Jesus Christ today and secure a life of eternal rest and Glory …
Say this 1 Minute Prayer 

Lord Jesus, I believe you died for my sins, Forgive me of all my iniquities. I accept you as my Lord and Saviour from today and forevermore. Come and Be the Lord of my life and I am willing to obey your command and live according to your will as you help me, Thank you for accepting me into your fold. AMEN

JOHN 3: 3 Jesus answered and said unto him, Verily, verily, I say unto thee, Except a man be born again, he cannot see the kingdom of God.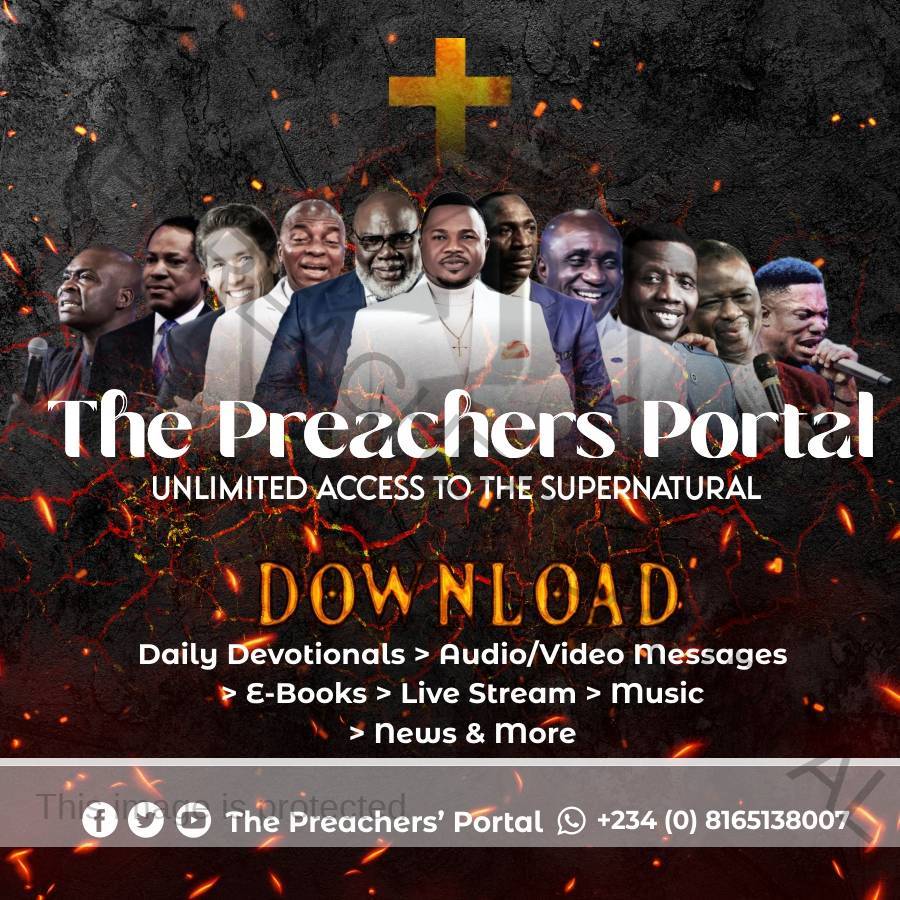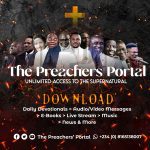 I Am A God-kind Gospel Blogger, Gospel Content Writer, Evangelist, Songwriter, Teacher and Soul-Winner and the Chief-editor of ThePreachersPortal.Org. I have worked with media houses of various religious organizations and NGOs. On This Platform, You will get access to the Latest and Trending Gospel songs worldwide, Live Streams, Audio Messages, Motivational Articles and Inspirational content as I share them for free. Follow me on social media to learn more about this movement.