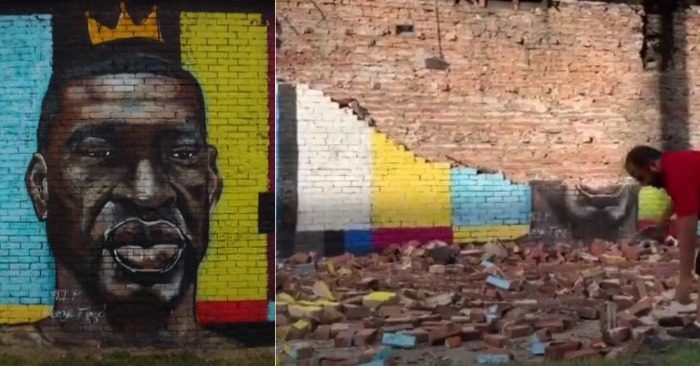 Lightning Strike Destroys George Floyd Mural In Ohio (Photos)
Lightning Strike Destroys George Floyd Mural In Ohio (Photos)
George Floyd Mural Destroyed By Lightening
A mural honouring the late George Floyd collapsed after being hit by lightning, according to witnesses. This has been described by some folks as the act of God. George Floyd's story has led to a revolutionary move for the blacks seeking equity and equality. (Black Lives Matter) has birthed some unrest and conflicts during the last year.
A move on the inhuman act and brutality by police against the black these regions. Below is the full story of how the mural built in honour of George Floyd was brought down by lightening
Could this be the wall of Jericho coming down again ??
Photos show the mural in Toledo, Ohio—which was painted following Floyd's death last year—reduced to rubble.
Lightning Strike Destroys George Floyd Mural In Ohio (Photos)
BEFORE
According to local ABC-affiliate WTVG, Toledo Police said witnesses reported lightning had hit the building at approximately 4:30 p.m. local time on Tuesday.
13abc reported that its Doppler radar, a device used in weather monitoring, detected a strike around the area at that time.
AFTER
A witness also told Toledo Fire and Rescue Department they had seen lightning hit the building before the collapse, according to WTOL11—which reported that the department confirmed this caused the wall to fall
Pictures circulating on social media showed that police had subsequently cordoned off the area, where the pile of bricks that formed the artwork remained.
According to WTVG, the building's owner was already working on cleaning up the rubble and pulling down the remainder of the mural.
Lightning Strike Destroys George Floyd Mural In Ohio
A spokesperson for the City of Toledo told the broadcaster it will work on plans for a new mural and that different locations that could house the artwork were being explored.
While witnesses reported the lightning strike, there were questions over whether this was the direct cause of the collapse.
Hugh Koogan, one of the City of Toledo's building inspectors, told the Toledo Blade the collapse of the mural could have also been caused by natural deterioration
Lightning Strike Destroys George Floyd Mural In Ohio (Photos)
He added building inspectors had recently observed the middle part of the wall, the area that sustained most of the damage on Tuesday, had started bowing of late.
ALSO, READ Download All George Muller Books PDF (1805 – 1898)
"It was just age., t just came away," Koogan was quoted as saying. "It happens to the older buildings."
Newsweek has contacted Toledo Police, Toledo Fire and Rescue Department and the City of Toledo for comment.
The mural was painted by artist David Ross in July 2020. Earlier this year memorial service for Floyd was held on the first anniversary of Floyd's death, in scenes mirrored at similar sites nationwide.
It was painted on the building that used to house the Mugshots Bar, which is located on the corner of Summit Street and Lagrange Street, approximately one mile north of downtown Toledo