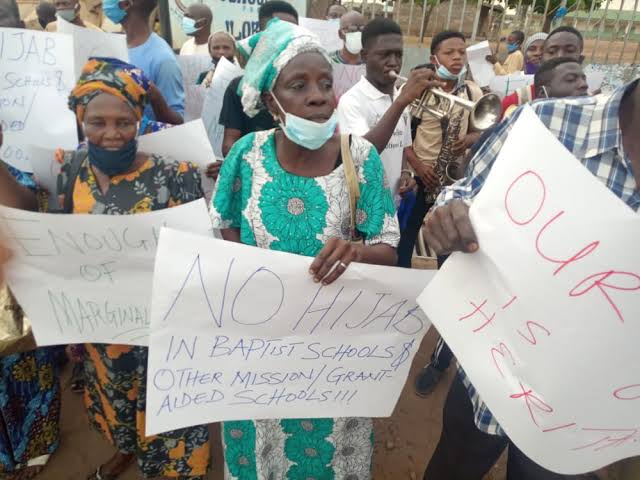 "No One Fights Against God And Win" Kwara Christians Tells Gov. Abdulraham
"No One Fights Against God And Win" Kwara Christians Tells Gov. Abdulraham
The Christian community in Ilorin the Kwara state capital has told the state Governor that the approval of the use of Hijab in the mission schools across the state and other injustices meted out against the Christians under his administration is a fight against God and not against the Christians.
In a prayer walk by the C&S Church at the C&S College, Sabo-Oke, Ilorin which is one of the affected schools, the Church prayed and sang for God to fight the battle for them. They sang that "no one fight against God and wins, it is a taboo, and whoever fights God will see the wrath of God"
The Church described the breaking of the school gate by some government's agents who came with Hilux Bus as an aberration, they vow never to allow the use of hijab in their school which was established in 1969, they said since 1969 the school has enjoyed relative peace with both Muslim and Christian students schooling together without any issue, that the sudden approval of the use of hijab by the state government which is against their faith will be resisted.
"No One Fights Against God And Win" Kwara Christians Tells Gov. Abdulraham
In another prayer by the Baptist Church at the First Baptist Church, Surulere, Ilorin, they prayed that God that fought and won for David in the Bible should intervene and give them victory over what they called Abdulrahman's injustice.
The body declared as injustice the decision of the government to hijack their schools from them against the tenets and principles by which those schools were established. They said the agreement between the proprietors of the affected schools and the state government in 1974 was not a total surrendering of the schools, rather it was a mere collaborative agreement. They said the Secretary to the state government as at then is still alive.
Read Also
10 Hidden mysteries about the tomb of Jesus Christ that Christians don't want you to know
They vowed that no retreat no surrender until the victory is achieved, the schools were built for a purpose which is the mission, to train our children in fear of God and Christian's doctrines, to now turn such schools into Islamic compliance schools is nothing but total injustice.
Below is the speech read by the Military Governor of Kwara State in 1974, which stated the framework for the schools take over

Meanwhile, The ECWA Church has also denied that they have succumbed to the directive of the state government over the use of hijab in ECWA school, Oja- Iya, Ilorin, In a statement by the chairman of ECWA District church council, Rev. Vincent Akintunde, he said the news is fake, unfounded and untrue, he said the church is against the use of hijab in all mission schools and will not tolerate it in their school.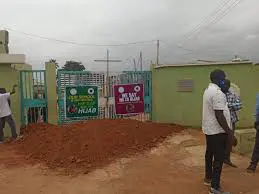 Meanwhile, some of the affected schools have already blocked the entrance of their schools with sand and placed banners with the inscription of "No to hijab in our schools"