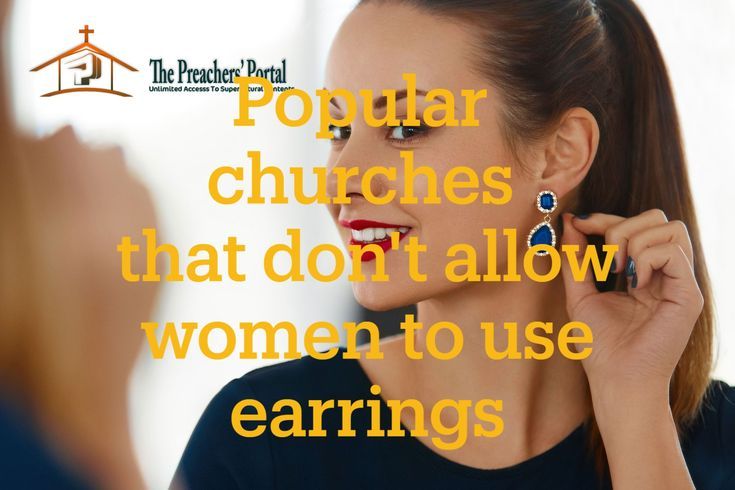 Popular Churches That Don't Allow Women To Use Earrings
Popular Churches That Don't Allow Women To Use Earrings
Churches That Don't Allow Women To Use Earrings
Earring is an ornament or accessory that women put on for various purposes. Some for beautification, identification, uniform, fashion and so on. Although in this age, using an earring alone to identify a female would result in futile exercise as men use earrings too.
ALSO, READ Download All Apostle Joshua Selman Messages On Revival
After the Israelites left Egypt to the promised land, the Bible records that the Egyptians gave them ornaments of Gold and silver and other precious metals. When they got to Mount Sinai where Moses received the commandments, they built a calf of a golden image while they grew impatient waiting for Moses to come down.
However, the golden calf was built with the golden ornaments received from the Egyptians and thus an idol came out of it that they began to worship. This event has remained active in the hearts of bible scholars as some structure their doctrines and tenets to run the ministry on these claims.
ALSO, READ  10 Health Benefits of Fasting (Scientifically Proven)
In this article, I will list the various churches that don't allow jewellery for some other reasons inclusive of the example above. It is believed that ornaments are properties of Egypt and they become idols in the hands of Christians and so such should not be allowed.
Below Is A List Of Churches That Don't Permit Earrings For Women
 1. Deeper Life Bible Church
Pastor W. F. Kumuyi; is the founder and General Superintendent of the Deeper Life Bible Church situated at KM 42 on the busy Lagos-Ibadan Expressway, Nigeria.
FOUNDER: Pastor W.G. Kumuyi
2. Mountain Of Fire And Miracle Ministry (MFM)
MFM Ministries is a full gospel ministry devoted to the Revival of Apostolic Signs, Holy Ghost fireworks and the unlimited demonstration of the power of God to deliver to the uttermost.
Also, absolute holiness within and without as the greatest spiritual insecticide and a pre-requisite for Heaven is taught openly. MFM is a do-it-yourself Gospel ministry where your hands are trained to wage war and your fingers to do battle.
FOUNDER: Dr D K Olukoya
3. Christ Apostolic Church (CAC)
Christ Apostolic Church (CAC) is the first Aladura Pentecostal church present in Nigeria and other countries. It arose in the first half of the 20th century, in the then-British empire.
It was formally established in 1941 after a split from the Apostolic Church which the original Aladura organization (Faith Tabernacle) had invited to Nigeria. Its growth was led by Joseph Ayo Babalola, a road construction driver who became its founder.
FOUNDER: Joseph Ayo Babalola,
4. Seventh-Day Adventist
The Seventh-day Adventist Church is a Protestant Christian denomination that is distinguished by its observance of Saturday, the seventh day of the week in Christian and Jewish calendars, as the Sabbath, and its emphasis on the imminent Second Coming of Jesus Christ. Wikipedia
FOUNDERS: Ellen G. White, James Springer Whites, Joseph Bates, J.N Andrews
5. Lord's Chosen  Charismatic Revival Church
The Lord's Chosen Charismatic Revival Church is a Christian Ministry. As the name connotes, it is a revival church inspired by the Holy Spirit to bring the knowledge of salvation to all the kings and their subjects, to the masters and their servants, to the rulers and them that are being ruled all over the world.
FOUNDER: Pastor Lazarus Muoka

6. The Apostolic Church Nigeria
The Apostolic Church Nigeria is a Pentecostal Christian denomination in Nigeria with its national headquarters at Olorunda Ketu, Lagos and international headquarters in Penygroes, UK.
FOUNDER: Daniel Powell Williams

7. The Bride Assembly
The Bride Assembly is end-time heaven focused pentecostal church that is situated in Lagos state. They have strict doctrinal practices that even the members sit with respect to their genders. Male and female don't sit together.
FOUNDER: Bro Moses Alu
Kindly Add More Churches In The Comment Box If We missed any …. God Bless You
ALSO, READ Anna Golden – Listen, Breathe | Download Mp3 (Audio)
ARE YOU BORN AGAIN? IF NO ACCEPT JESUS NOW
Accept Jesus Christ today and secure a life of eternal rest and Glory …
Say this 1 Minute Prayer 

Lord Jesus, I believe you died for my sins, Forgive me of all my iniquities. I accept you as my Lord and Saviour from today and forevermore. Come and Be the Lord of my life and I am willing to obey your command and live according to your will as you help me, Thank you for accepting me into your fold. AMEN

JOHN 3: 3 Jesus answered and said unto him, Verily, verily, I say unto thee, Except a man be born again, he cannot see the kingdom of God.