Gospel Artistes Should Bill For Performances – Sammie Okposo
Gospel Artistes Should Bill For Performances – Sammie Okposo
Gospel Artistes Should Bill For Performances – Sammie Okposo
Sammie Okposo has stated that like his peers doing secular music, gospel artistes should always charge to perform at churches and sell tickets for their concerts.
Sharing his sentiment on if it is morally right for gospel musicians to charge for their concerts and performances, Okposo who's arguably one of Nigeria's leading gospel brands, in an interview on HipTV said there's no wrong in it.
He said: "I think the fact that you are a gospel artist doesn't change what you have to deal with in terms of making your music. The same studio that a secular artiste will go to is the same studio a gospel artiste will go to, and you will pay the same fees to bring out your sound.
Gospel Artistes Should Bill For Performances – Sammie Okposo
A director of a music video is a creative person. All he does is listen to your song and be able to interpret it. So, if a secular artiste is paying him a certain amount of money, he's not going to do it for free because you are a gospel artiste. You are going to pay the same amount that a secular artiste will pay to make sure your videos project properly."
ALSO, CHECK Christian Shop Owners In the U.K Fined £17000 For Operating During Lockdown
"So, why will a gospel artiste not be able to do an event and charge gate fees when a secular and gospel artiste will go through the same process of creating the music?" the music star queried.
Okposo continued: "You pay for promotions, you pay to shoot the videos, you pay musicians who come and sing and play, you pay for the artwork… You pay for everything! So, the expression is different but the process is the same… I don't belong to that school of thought,
I have charged for concerts. When I'm doing a professional concert that is not a church meeting, I have paid for the hall, lights, I've paid for media and publicity and all kind of things. At some point, I need to make back my capital, if I make profits, it's fantastic but I don't want to throw in money don't the drain.
Gospel Artistes Should Bill For Performances – Sammie Okposo
Read Also
See photos of Pastor Adeboye, Oyakhilome, Olukoya and other pastors playing instruments
"Chargin for concerts is an individual thing. When I did my concert in London, I sold out. People were like they love my music and they would buy my tickets, I pleasantly sold out! And I've done the same in Lagos at different times and I'm not going to stop…
"Gospel artistes should charge for their performances if they choose to, and they should charge for their professional concerts, especially when they've put in money to make the concerts happen."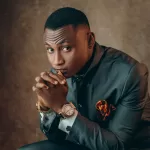 I Am A God-kind Gospel Blogger, Gospel Content Writer, Evangelist, Songwriter, Teacher and Soul-Winner and the Chief-editor of ThePreachersPortal.Org. Right here, you will get access to the Latest and Trending Gospel songs worldwide, Live Streams, Audio Messages, Motivational Articles and Inspirational content as we share them for free. Follow me on social media to learn more about this movement. -ThePreacherMan