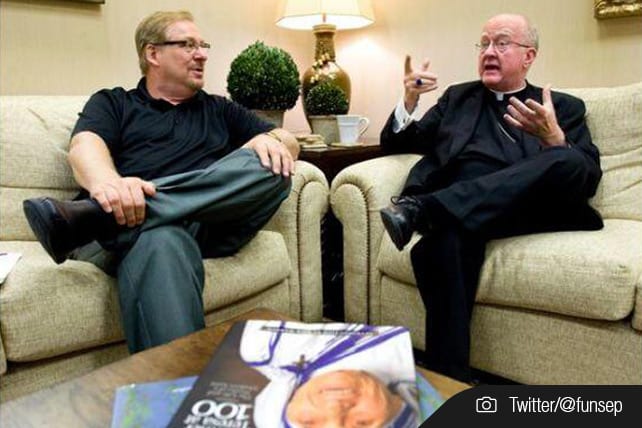 It's Not a Sin to Be Sick – Rick Warren
It's Not a Sin to Be Sick – Rick Warren
Saddleback Church pastor Rick Warren is praising a pastoral letter on mental health and the church that he worked on alongside California's Catholic bishops.
The letter, titled "Hope and Healing," calls for an end to the stigma around mental illness and greater collaboration between science and medical professionals and people of faith.
According to the National Institute of Mental Health, one in five adults in the U.S. suffered from a mental disorder over the past year and nearly 10 million American adults, one in 25, have a mental illness that is severe enough to cause serious functional impairment. Fully 20 per cent of adolescents currently have, or previously had a seriously debilitating mental disorder. Mental, neurological and substance abuse disorders are the single largest source of disability in the U.S., accounting for nearly 20 per cent of all disability.
The result is rising rates of depression and anxiety disproportionately impacting young people. Over the past several years, there also has been an alarming increase in the rates of suicide, among both men and women of nearly every age group.
Pastor Rick Warren on Mental Health Challenges
Pastor Rick Warren has seen the devastating effects of mental illness. In 2013, his son Matthew committed suicide after 10 years of living through a "deep, deep depression."
Since his son's death, Warren and his wife Kay have dedicated much of their time and resources calling on Christians not to neglect mental health. One of his closest collaborators has been Bishop Kevin Vann of Orange, California.
After Matthew's death, Warren and Vann spoke regularly. They hosted two gatherings on mental health and the church between Saddleback and the diocese of Orange, and the new pastoral letter is now another fruit of their joint labours.
Warren is quoted in the letter calling for greater recognition that mental illness is not the result of a lack of faith in God.
"Your chemistry is not your character," Warren states, and "your illness is not your identity."
It's Not a Sin to Be Sick – Rick Warren
The letter's message: "It's not a sin to be sick."
"If your liver stops working, and you take a pill, there's no stigma. If your heart stops working, and you take a pill, there's no stigma. Why is it that if your brain stops working, and you take a pill, then there's a stigma?" asks Warren.
The letter also quotes from Pope John Paul II who calls on Christians "to stretch out a hand to the sick, to make them perceive the tenderness of God, to integrate them into a community of faith and life in which they can feel accepted, understood, supported, respected; in a word, in which they can love and be loved."
Warren told Cruxnow.com, "It's nonsense to think we're supposed to make it through life on our own. The phrase 'one another is used 58 times in the New Testament of the Bible. We're told we have to pray for one another, counsel one another, love another and so on. Everyone needs counsel at some point in life. There's no shame, there's no stigma, and there's no sin in that."
"We just need to blow off the door and let the light come in," he said.
Warren said the letter serves as a "watershed moment, and a new standard for mental health ministries around the world."