Top 20 Nigerian Gospel Worship Songs 2021 – 2022 | Vol1
Top 20 Nigerian Gospel Worship Songs 2021 – 2022 | Vol1
Best Nigerian Gospel Worship Songs So far
 The Preachers'Portal brings to you the Top 20 Nigerian Gospel songs in 2021 – 2022 so far. This is a compilation of powerful, spirit-filled worship songs from Nigeria.
ALSO, READ Download Mp3 | All Dunsin Oyekan (2021) Songs – January Till Date
The best apparently is yet to come as the path of the just shines brighter and brighter. Enjoy this powerful playlist of non-stop praise and worship songs from Nigeria.
Below Is A List Of Top 20 Latest Nigerian Gospel Songs and in no particular order.
1. ANYI NA TU GI EGWU – MR M & Revelations
Mr M & Revelation comes through with a powerful worship song titled "Anyi Na Tu Gi Egwu" Listen and Stream Below
2. ZOE – Odunayo Adebayo Ft. Pastor Iren
Odunayo Adebayo comes through with a powerful worship song titled "ZOE" featuring Pastor Iren Emmanuel Listen and Stream Below
3. OLORUN AGBAYE – Nathaniel Bassey Ft. Chandler Moore & Oba
Nathaniel Bassey comes through with a powerful worship song titled "OLORUN AGBAYE" featuring Chandler Moore & Oba Listen and Stream Below
4. FOREVER – Dunsin Oyekan
Dunsin Oyekan comes through with a powerful worship song titled "FOREVER" Listen and Stream Below
5. THE ANTHEM – Dunsin Oyekan Ft. Pastor Jerry Eze
Dunsin Oyekann comes through with a powerful worship song titled "THE ANTHEM" featuring Pastor Jerry Eze Listen and Stream Below
6. WE RAISE A SOUND  – Nosa (ft 121 Selah)
Nosa comes through with a powerful worship song titled "WE RAISE A SOUND" featuring ft 121 Selah Listen and Stream Below
7. WORSHIP YOUR MAKER – Dunsin Oyekan
Dunsin Oyekan comes through with a powerful worship song titled "WORSHIP YOUR MAKER" Listen and Stream Below
8. EZE – Dare David (ft Osby Berry)
 Dare David comes through with a powerful worship song titled "EZE" featuring ft Osby Berry Listen and Stream Below
9. FAITHFUL GOD – Onos Ariyo
Onos Ariyo comes through with a powerful worship song titled "FAITHFUL GOD" Listen and Stream Below
10. KNOWING YOU – GUC
GUC comes through with a powerful worship song titled "KNOWING YOU" Listen and Stream Below
11. ASCEND – DUNSIN OYEKAN
DUNSIN OYEKAN  comes through with a powerful worship song titled "ASCEND" Listen and Stream Below
12. NOTHING IS TOO HARD – THE GRATITUDE FT. JUDIKAY
THE GRATITUDE comes through with a powerful worship song titled "NOTHING IS TOO HARD" Listen and Stream Below
13. NO ARGUMENT – PROMISE BENSON FT. DUNSIN OYEKAN
PROMISE BENSON comes through with a powerful worship song titled "NO ARGUMENT" Listen and Stream Below
14. AMAZING GOD – MERCY CHINWO
MERCY CHINWO comes through with a powerful worship song titled "AMAZING GOD" Listen and Stream Below
15.  FOREVER & ALWAYS – MIRACLE FAVOUR
MIRACLE FAVOUR  comes through with a powerful worship song titled "FOREVER & ALWAYS" Listen and Stream Below
16. Onye Inyeakam (My Helper) – Mr M and Revelation
Mr M & Revelation comes through with a powerful worship song titled "Onye Inyeakam (My Helper)" Listen and Stream Below
17. See What The Lord Has Done – Nathaniel Bassey
Nathaniel Bassey comes through with a powerful worship song titled "See What The Lord Has Done Listen and Stream Below
18. Ojioku Eriaja  – Mr M and Revelation
Mr M & Revelation comes through with a powerful worship song titled "Ojioku Eriaja" Listen and Stream Below
19. Always God – Dunsin Oyekan
DUNSIN OYEKAN  comes through with a powerful worship song titled "ALWAYS GOD" Listen and Stream Below
Stay Tuned For More Updates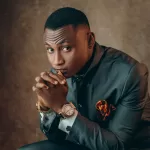 I Am A God-kind Gospel Blogger, Gospel Content Writer, Evangelist, Songwriter, Teacher and Soul-Winner and the Chief-editor of ThePreachersPortal.Org. Right here, you will get access to the Latest and Trending Gospel songs worldwide, Live Streams, Audio Messages, Motivational Articles and Inspirational content as we share them for free. Follow me on social media to learn more about this movement. -ThePreacherMan