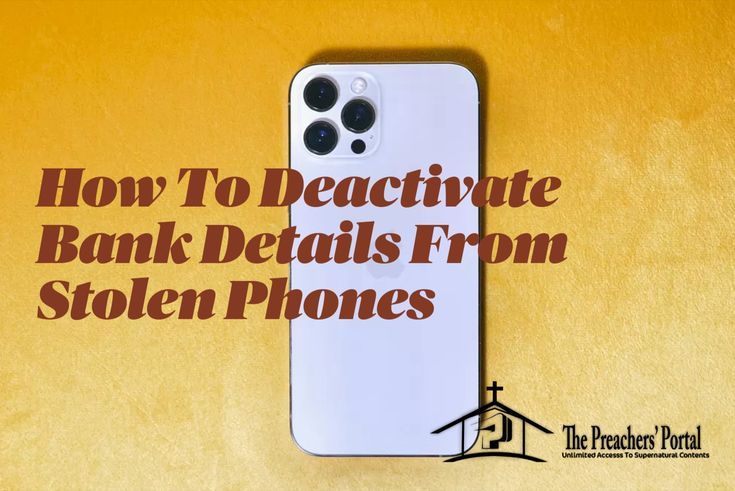 USSD Code: How To Deactivate Bank Details From Stolen Phones
USSD Code: How To Deactivate Bank Details From Stolen Phones
How To Deactivate Bank Details From Stolen Phones
Have you lost your phone to theft? Have you missed placed your sim card? Did you change your sim? If this is you, quickly deactivate your bank account details from your associated sim. There is a high rise in the cases of internet fraud and scam in Nigeria and this post is targeted to give you a quick response plan.
ALSO, READ 7 Things You Should Do In The Morning To Be Active
Your BVN is A number authorized by the federal government and Central Bank to control and monitor all your various accounts at once. A good initiative but also a platform that makes users vulnerable to scammers. As all your account details can be viewed at once your number can be traced.
How To Block Bank Account From Lost Phone/Sim
ALSO, READ The Mind And The Power Of The Tongue
Although, you will always need a third party verification code, OTP and token or password to get full access. But, this could come in handy to scammers when their victims are ignorant.  Thye would call you and disguise as the Bank operator, call your full names to account details and number, and lure you into giving them your password or pin.
PLEASE DON'T FALL FOR IT
Below are the codes for about 16 popular Banks in Nigeria that can help you remotely deactivate your Bank account from lost or stolen sim packs, Using a third-party mobile service operator. 
How To Block Bank Account From Lost Phone Below
| | |
| --- | --- |
| 1. Access: | *901*911# |
| 2. Zenith:  | *966*911# |
| 3. GTB:  | *737*51*74# |
| 4. WEMA:  | *945*911# |
| 5. FirstBank:  | *894*911# |
| 6. Keystone:  | *7111*911# |
| 7. UBA:  | *919*911# |
| 8. FCMB: | *329*911# |
| 9. Sterling Bank: | *822*911# |
| 10. Unity Bank:  | *7799*911# |
| | |
| --- | --- |
| 11. Fidelity Bank: | *770*911# |
| 12. Heritage Bank | : *745*7# |
| I3. Ecobank  | *326*911# |
| 14. Union Bank | *826*911# |
| 15. Stanbic  | *909*911# |
| 16. Polaris Bank  | *833*911# |