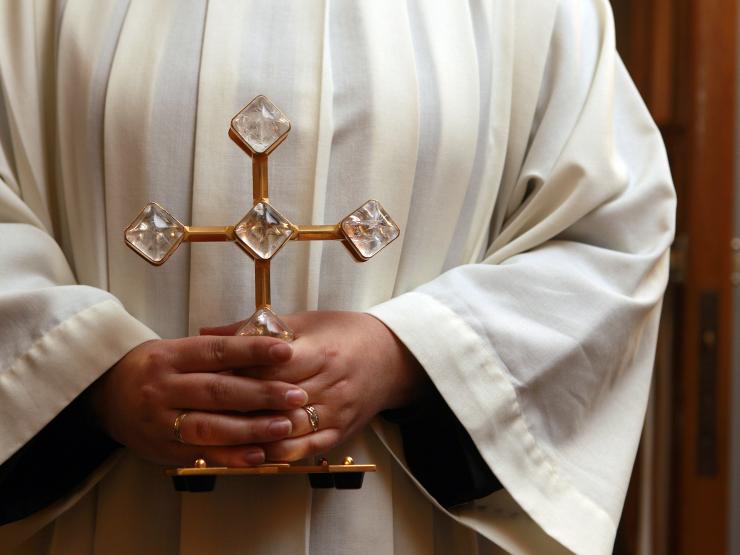 'Demonic' Church Safeguarding Is Creating More Victims – Vicar
'Demonic' Church Safeguarding Is Creating More Victims – Vicar
A Church of England priest has resigned from a clergy safeguarding support role in the Diocese of London saying safeguarding policy in the Church over the last two years has created more victims.
Father David Ackerman, the vicar at St John's Kensal Green in North London, has told Premier that in his view, safeguarding policy falls short of what clergy expect: "I would call it almost demonic, how the Church can behave. I think the problem has been huge mistakes were made in the past with safeguarding and the Church wanted to then be the best to prove it was the best. But it created more victims and the victims were people falsely accused, the victims who were left for two years with allegations and the balance was lost."
ALSO, READ Pastor Arrested In London For His Sermon On Marriage
He was speaking in the week Lord Lexden resigned from the Ecclesiastical Committee because of his "doubts about the Church's capacity to devise a fair and just system for dealing with accusations of sex abuse laid against its clergy." He accused the Church of England of "seeking to interfere" with the content of a coroner's report into a priest's death "in order to diminish the extent of the criticism it would sustain".
'Demonic' Church Safeguarding Is Creating More Victims – Vicar
At the centre of the anger is a 2019 report which named 42 members of the clergy in the Diocese of London. One of those was Father Alan Griffin who took his own life last year after unfounded allegations of sexual abuse. The coroner found evidence against him had been non-existent, with "no complainant, no witness and no accuser."
Bishop of London, Rt Rev Sarah Mullally, has since written to the remaining 41 clergies saying there were no matters that required a complaint under a Clergy Discipline Measure or any outstanding action. Pastoral support has been offered.
Father David accuses church leaders of knowing there was no case two years ago but not disclosing the knowledge.
"There are a lot of priests who now just don't trust the Church."
"I would say the vast majority of clergy now feel that safeguarding has been weaponised and would be used against them unfairly and unjustly. I think the culture that covered up the abuse is still there."
'Demonic' Church Safeguarding Is Creating More Victims – Vicar
"Alan Griffin was one of 42 clergies for whom things were said and written down about that was quite unpleasant. It was hidden and the only reason it's come to light is because of a priest's suicide. It was only subsequently, priests who made subject access requests to the diocese, that this information was divulged."
He says the Diocese of London decided to "protect those who made these comments, not the clergy, for whom these comments were made about. It's been quite a horrible experience. It shows an institution like the Church acting in a way that no secular organisation could get away with and that's a real concern."
Resigning from the Ecclesiastical Committee, Lord Lexden said that the coroner records that submissions "on behalf of the Church of England…urged me not to include any concerns that may be taken as a criticism of clerics or staff for not filtering or verifying allegations".
Father David who has also resigned from an elected place representing clergy on the Two Cities Area Council, gave his reaction to Premier.
'Demonic' Church Safeguarding Is Creating More Victims
"Unless the culture changes, more clergy will commit suicide because of the culture of the Church. That's why Lord Lexden resigned – because no other organisation could get away with this.
"All praise to the coroner, who is exposing a culture of profound lack of care, actually, you probably get more care working for a shop than being a priest in the Church of England. And that's the fault of the bishops. I think they need to ask themselves, what has caused the culture that they cannot care anymore?
"I would suggest, it is the weaponisation of safeguarding, that they are also afraid. They are afraid to be shepherds. We want shepherds and if that means every bishop in the Church of England resigning, fine, find good parish priests to be the new church. We're going to make a new church and care."
Detailing why it made a submission to the Coroner in the case of Father Alan Griffin, the Diocese of London said: "The aim of making this submission to the Coroner was not to deflect criticism away from clergy or staff if they had acted inappropriately.
"It was made in the context of the IICSA recommendations and in the light of existing House of Bishop's Guidance to the clergy that state that clergy must refer all safeguarding concerns or allegations to the Diocesan Safeguarding Team in the first instance and in any event within 24 hours."