Why People Join Secret Cults 'Yahoo Yahoo' And How They Eventually End 
Why People Join Secret Cults 'Yahoo Yahoo' And How They Eventually End.
There is a major trend in African society especially in Nigeria, Ghana and other African nations, and that is youths going into money ritual and fraud. These crimes have given a bad reputation to the country among foreign and other developed countries. The rate at which children and young people get involved in cultism and diabolisms calls for concern.
Moral values and standards have drastically reduced to the barest minimum among youths. The effect of social media and the falsehood that comes with it. Thus, presenting a picture-perfect life of celebrities makes the product a desire more than the process. Everyone wants to drive, wear, and live where stars do
Why People Join Secret Cults 'Yahoo Yahoo' 
Cultism is at an alarming rate and has already become a norm in various parts of the country. Although the purpose and motives for joining could differ from person to person. However, it can be broken into 2 main reasons.
Power 

Money 
People will always crave the ability to control, make demands, and command without refusal or rejection from other parties. Power intoxicates, power possesses if not handled properly it could lead to a tragic end. 
People join cults to be powerful and belong to the society of influencers in various niches not. minding the cost of getting there.  The temptation of being powerful is enough to lure them. 
ALSO, READ 100 Youths Gets Baptized At The Elevation Church (Photos)
This class of cultists often join because of the bullying or low esteem they may have suffered growing up so In return join the league of the big boys to get back at people. They likely come from rich homes so money was not their motive but the quest for power and respect from people.
They only want to exercise their power and control on the minors.
The most common reason most people both old and young men and women engage in this heinous act of cultism and ritual is MONEY. The love of money is the root of all evil. Young Nigerians because of the presence of social media and falsehood people display on their timelines have resulted in getting wealth and fame diabolically. 
Yahoo Yahoo Boys or G Boys or Yahoo plus as the case may be are has now become a norm in society. Given the high rise of cost of living, recession, and drop in life expectancy of the average Nigerian, youths have delved into money ritual as a solution to poverty. 
ALSO, READ Nurse Kidnapped, Miraculously Rejected By 3 Ritual Homes Tells The Story
The menace these youths portray and the harm they have cost families can never be overemphasized. Young girls and guys are being used daily for money rituals and this money ends up being lavished and short-changed for their lives. 
How They Will Eventually End 
They'd rather die young and enjoy the wealth from the blood of their sacrifice than live long and eat the fruits of their labour. 
In a nutshell, the Bible says Proverbs 13;11 Wealth gotten by vanity shall be diminished: but he that gathereth by labour shall increase.

ALSO, READ Pastor Kumuyi Apologises To The Youths Treated Badly During His Birthday Service
Psalms 73;3 For I envied the proud when I saw them prosper despite their wickedness
73: 17; Then I went into your sanctuary, O God, and I finally understood the destiny of the wicked.
73: 18; Truly, you put them on a slippery path and send them sliding over the cliff to destruction.
73: 19. In an instant they are destroyed, completely swept away by terrors.
Don't get involved in this fraudulent or heinous crime, you never make it right in the end.  Stay Away from Blood Money, Stay away from Yahoo Yahoo, stay away from money ritual…
JESUS IS COMING SOON!!!
ARE YOU BORN AGAIN? IF NO ACCEPT JESUS NOW
Accept Jesus Christ today and secure a life of eternal rest and Glory …
Say this 1 Minute Prayer 

Lord Jesus, I believe you died for my sins, Forgive me of all my iniquities. I accept you as my Lord and Saviour from today and forevermore. Come and Be the Lord of my life and I am willing to obey your command and live according to your will as you help me, Thank you for accepting me into your fold. AMEN

JOHN 3: 3 Jesus answered and said unto him, Verily, verily, I say unto thee, Except a man be born again, he cannot see the kingdom of God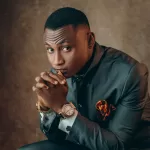 I Am A God-kind Gospel Blogger, Gospel Content Writer, Evangelist, Songwriter, Teacher and Soul-Winner and the Chief-editor of ThePreachersPortal.Org. Right here, you will get access to the Latest and Trending Gospel songs worldwide, Live Streams, Audio Messages, Motivational Articles and Inspirational content as we share them for free. Follow me on social media to learn more about this movement. -ThePreacherMan