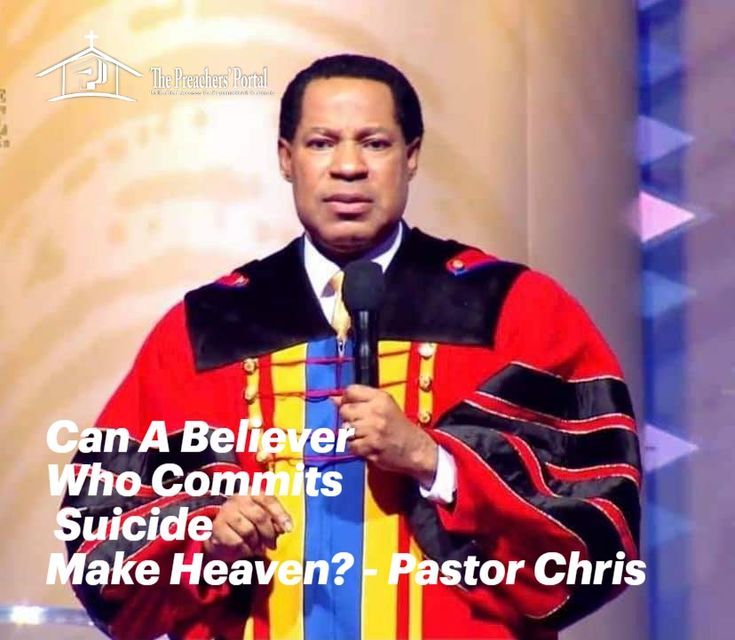 Will A Christian Who Commits Suicide Go To Heaven? Pastor Chris Oyakhilome Answers
Will A Christian, Who Commits Suicide Go To Heaven? Pastor Chris Oyakhilome Answers
A Christian Who Commits Suicide Can Go To Heaven
Pastor Chris answers a very controversial question from a lady in Johannesburg – Can a Born again who commits suicide got heaven? This was well addressed in the video but leaves room for more scrutiny as the subject matter is highly controversial
This is one of the many questions that are controversial in Christendom. The destination of a soul that commits suicide. The Bible says a soul that sins shall die, Ezekiel 18:20. But, John 3: 16 says For God so loved the world that he gave his one and only Son, that whoever believes in him shall not perish but have eternal life.
Does this promise cover a suicidal case? This is a very controversial question but highly critical giving the alarming rate of suicides in the last two decades.
Suicide is simply "the act or an instance of taking one's own life voluntarily and intentionally."
It is considered by World Health Organization to be the fourth leading cause of death globally amongst teens aged 15 to 19 years. According to WHO, suicide accounts for the deaths of over 700 000 people who die due to the sad incidence every year.
A Christian Who Commits Suicide Can Go To Heaven
Many attempts this terrible way out of depression, pressure, hardship, frustration and disappointments to mention a few.
Contrary to popular belief and opinion by theologians that anyone who commits suicide goes to Hell. However, popular televangelist Rev. Dr Chris Oyakhilome, says that may not be the entire truth as he listed the possible outcome.
ALSO, READ Tips On Overcoming Depression Effectively Without Medication
An online viewer by the name of Mary from Johannesburg asked, does a born-again Christian who commits suicide go to heaven?
WATCH VIDEO BELOW
A Christian Who Commits Suicide Can Still Go To Heaven
 In the Video, Reverend Ray explains. "When reflecting on the subject of suicide, we must first examine the cause of the act, " he says.
ALSO, READ "Can You Drink Water When Fasting?" – Pastor Chris Oyakhilome Answers
"Was the person sick in his/her body? Was the cause of the suicide a sickness of the mind? Also, was the cause of the person's demise a result of emotional, physical, or spiritual torment?
A Christian Who Commits Suicide Can Go To Heaven
And finally, was it a willful act? These are some of the questions we must ask ourselves before we can ascertain whether, or not the Christian is going to heaven or hell." – he further added. 
"There are many causes of suicide. The cause is what is going to determine whether or not the person in question, is going to heaven, or hell. Fear is one thing that could prompt people to take their lives(especially fear of the unknown). Another cause could be unbelief(a lack of faith/hope of a positive change in one's situation).
ALSO, READ Is Church Wedding Necessary After Traditional Marriage ?– Pastor Chris Oyakhilome Answers
If the cause of the Christian's death was a result of either fear or unbelief, then the person is going to Hell – the 'Lake of fire' to be precise.
The Bible teaches that such Christians are hell-bound. So you must know what led to the suicidal attempt. So, in conclusion, a Christian will either go to heaven or hell after committing suicide depending on the factors that we highlighted.