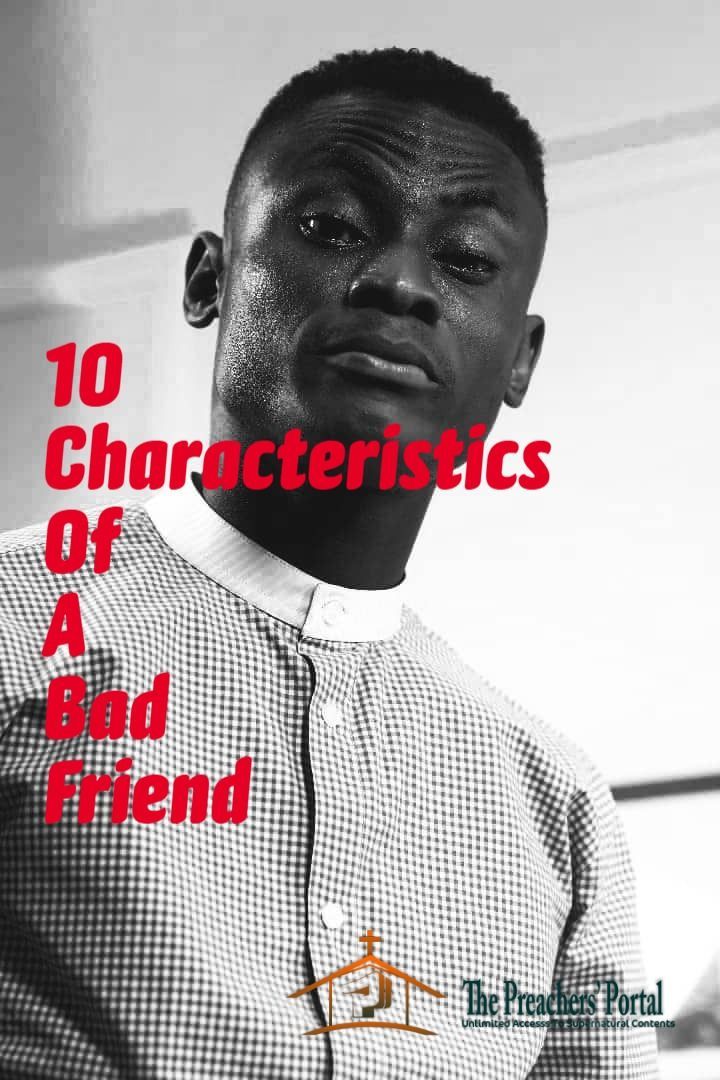 10 Characteristics Of A Bad Friend
10 Characteristics Of A Bad Friend
CLICK HERE TO READ MORE EDUCATING ARTICLES
Characters Of A Bad Friend
Friendship is a very sensitive aspect of human life. The ability to interact, cohabit and relate with others. A popular saying goes:  Show me your friend and I will tell you who you are', is a perfect description of the role of friendship in human life. 
ALSO, READ  Defining The Real Man – What It Takes To Be A Man
This is because we naturally gravitate towards our kind so as to find the right company, peer group or sphere of influence. But, there are two sides to the friendship coin. In as much as friendship is great and ideal, there are some toxic and selfish people you don't need to have that space within your life. 
In this article, we will be discussing 10 characteristics of a bad friend. If you find yourself in any category then you are one, if you find your friends in any category then you have one.
Below are some tips on how to know a bad friend in your life:
THEY ALWAYS WANT TO TAKE FROM YOU
CONSIDERS YOU AS THEIR LAST OPTION
TOO CURIOUS ABOUT DETAILS OF YOUR PERSONAL LIFE
UNHAPPY WHEN SOMETHING GOOD HAPPENS TO YOU
REMEMBER YOU ONLY WHEN YOU CAN ASSIST THEM
RARELY ASSIST YOU WITH ANY ACTIVITY
ALWAYS WANT WHAT IS YOURS
THEY DON'T RESPECT YOUR OPINION
THEY DON'T RESPECT YOUR PERSONALITY
NEVER VALUE YOUR COMPANY
 1. THEY ALWAYS WANT TO TAKE FROM YOU
They rarely give to you when they have but are always ready to receive or demand from you and become angry if you don't give to them. These ones are in it for gain. It's meant to be a selfless relationship and not one-sided.  Any friend that you always find yourself giving to them and who never give back is toxic. I mean when they genuinely have but they keep it from you, RUN…. 
2. CONSIDERS YOU AS THEIR LAST OPTION

 
In everything they do, they never want you to be part of them, or you can only be called when they are no other alternatives. This trait is bad, especially in the area of businesses or contracts.
ALSO, READ What Is Love? How Do We Know It's Love?
If your friend cannot refer you to someone then such is not a good friend. Or, if they don't think you are good enough to be the first option. Some folks have contracts pending and have friends who can deliver but don't trust them to do so. No friendship without trust and support. 
3. TOO CURIOUS ABOUT DETAILS OF YOUR PERSONAL LIFE
They want to know everything about your life, from your secrets to the least information about you,  These ones will make you a subject of mockery when you have arguments. They want to know everything but they tell you little or nothing about themselves. The more you tell your friend, the more your enemy is aware of your secrets. Beware, you know when someone is just nosy. When you can trust them you will gradually tell them what they need to know and not them forcing it out of you.
4. UNHAPPY WHEN SOMETHING GOOD HAPPENS TO YOU
If you observe critically you will notice they only pretend to be happy for your success, they always want to be better than you especially when you are doing well in life. They are envious of your achievements and show them. Everybody wants good things to happen in their lives.
ALSO, READ  THE LONG-DISTANCE RELATIONSHIP THERAPY
If you have a friend that has results you would admire that friend and also desire the same. But, when it's now a cause for jealousy, envy, resentment, and sad mood. You watch out for such friends. You don't need them 
5. REMEMBER YOU ONLY WHEN YOU CAN ASSIST THEM
They never remember you when things are going on well with them, they only call when they are in need. This is really common these days especially in this part of the world. When they are in need they reach out to you for help and ghost when it's your turn or things are working for them. Urgent 2k category, I Need a Favour minister. Cut off from these people they are PESTS….
6. RARELY ASSIST YOU WITH ANY ACTIVITY
They are too busy to assist you with any of your tasks, but you will always be the first to assist them. They are common as well, they don't find anything you do interesting to be of help. They feel it's stressful when you ask for an extra 5 minutes, help or assistance. But when it's their turn you can go over the moon for them. Useless Friends, please cut them off ….
ALSO, READ Seeds Of Destiny 16 April 2021 Devotional
7. ALWAYS WANT WHAT IS YOURS
They are never satisfied with what they have. They become what you have and want it too even if they have more than you do. Never content, always feel they should have what you have and even do what you do. Not because they don't have theirs but they want yours. These ones are very dangerous because they can go to any length to get that which is yours. They are obsessed and toxic. 
8. THEY DON'T RESPECT YOUR OPINION
They feel you're not good enough to make a sound judgement. They don't want you to call the shots. They always have to be the judge and jury. They don't see you as good enough to get something right and get it done appropriately it has to be them. When you do something good, they even want to negatively probe it always. Bad friends. 
9. THEY DON'T RESPECT YOUR PERSONALITY
They always tell you what's wrong with you and not good with you. You only hear about your flaws and no good thing about yourself from them. They never show you or tell you what they admire about you. These are toxic friends. CUT OFF!!
10. NEVER VALUE YOUR COMPANY
When you meet in a bigger circle of friends, family and loved ones they treat you with the least value. They hardly recognize that you are also valued because they feel you will always be around.  You know how much you're valued when the circle is bigger. No matter how familiar you get a true friend will always be by your side in public. 
In conclusion, we don't have it all figured out because life is a mystery so we keep unravelling. If you have good friends try to keep them, don't lose them. We also need to work on ourselves to be good friends with someone else. Friendship is essential to become anything we want in life. No man makes it in isolation but the clause here is to choose wisely …
KINDLY LIKE, SHARE AND COMMENT
ARE YOU BORN AGAIN? IF NO ACCEPT JESUS NOW
Accept Jesus Christ today and secure a life of eternal rest and Glory …
Say this 1 Minute Prayer 

Lord Jesus, I believe you died for my sins, Forgive me of all my iniquities. I accept you as my Lord and Saviour from today and forevermore. Come and Be the Lord of my life and I am willing to obey your command and live according to your will as you help me, Thank you for accepting me into your fold. AMEN

JOHN 3: 3 Jesus answered and said unto him, Verily, verily, I say unto thee, Except a man be born again, he cannot see the kingdom of God.