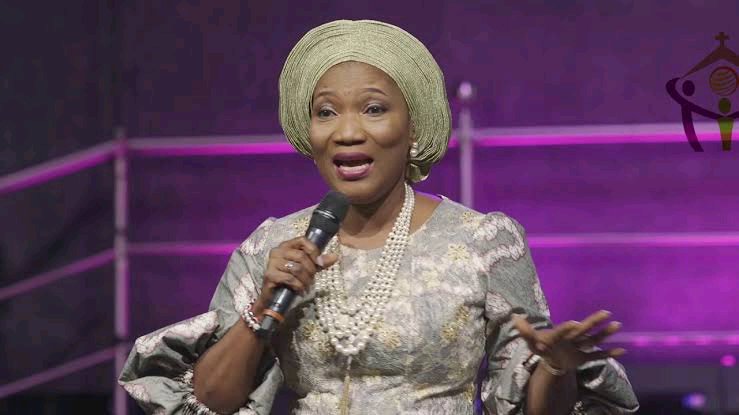 I Told My Children That When I Grow Old & Die, They Should Apply Lipstick On My Lips – Pastor Funke Felix Adejumo
I Told My Children That When I Grow Old & Die, They Should Apply Lipstick On My Lips – Pastor Funke Felix Adejumo
Funke Felix Adejumo, General Overseer of Agape Christian Ministry in today's Sunday school emphasized the need for women to apply makeup, live healthy lives and dress smartly most especially for their husbands. She also stated that religion has been a yoke and barrier that has stopped many women from making up and dressing attractively for their husbands, not spirituality.
ALSO, CHECK Never Allow Your Husband To Love Eating Outside More Than He Eats At Home – Becky Enenche
According to the minister and marriage counsellor, many men who have been coming to her for marriage counselling are always complaining about how their wives look. She said every woman must learn to dress well, that no man wants an old bride beside him.
I Told My Children That When I Grow Old & Die, They Should Apply Lipstick On My Lips – Pastor Funke Felix Adejumo
Using herself as an example, Funke said she is 51 and had jumped 170 this morning before having her bathe. Because she is too busy preaching around the world, she cannot afford to drag her feet. Teaching the women on the importance of dressing, Funke said women must constantly feed their husbands palace and must smart, and beautiful as a woman.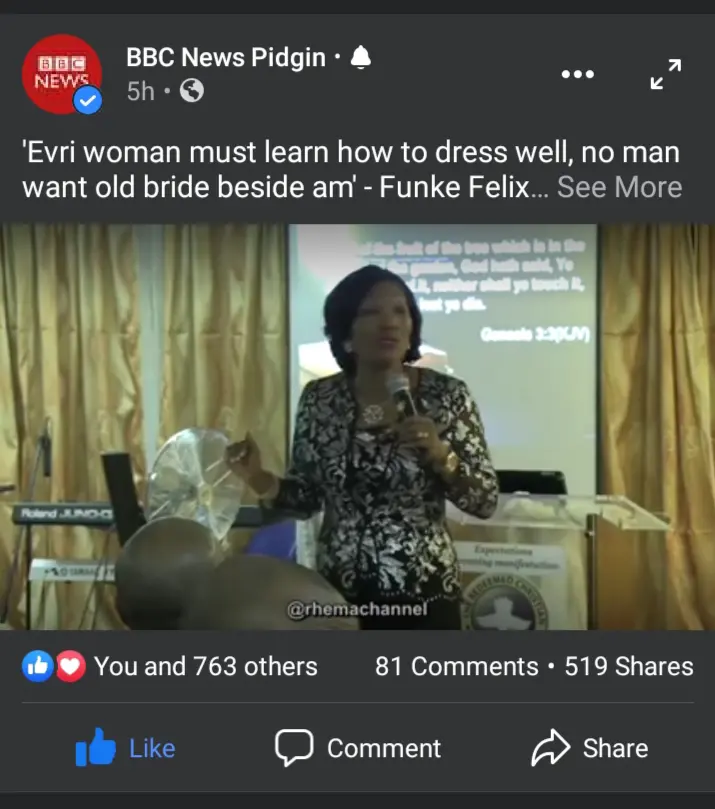 Going further, she said the research was made in the United States and it was discovered that a male cock species likes varieties after it was set up with 15 hens.
I Told My Children That When I Grow Old & Die, They Should Apply Lipstick On My Lips – Pastor Funke Felix Adejumo
Funke said because we are believers and against adultery, the women should be different things to their husbands at different times. It's either they are on low cut today, on long weapon tomorrow, next tomorrow they are on a short dress, pants, or even spaghetti, saying women are allowed to tempt their husbands.
ALSO, READ Tips On Overcoming Depression Effectively Without Medication
Still speaking on the importance of dressing well, smart and attractive as a wife to her husband, Funke said for 10 years, she did not wear makeup. But the first time she put on a tiny earring, her husband said she looked like a woman.
Funke and Husband
Funke said she dresses to please only three people which are; God, her husband and herself, so every other voice is a noise in the market.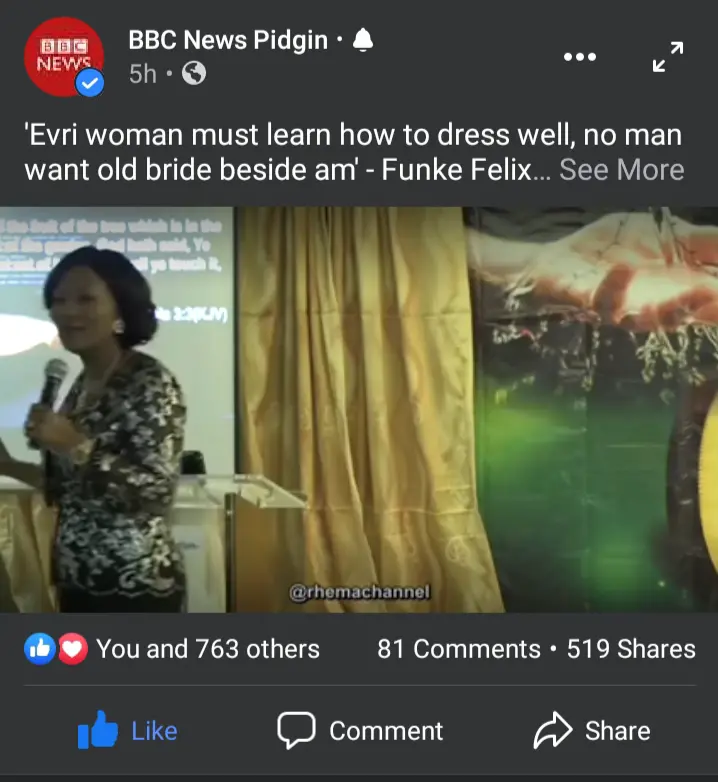 She also told the congregation that they should not be deceived by her red lipstick, that she would be going to heaven. That in fact, she has already told her children that when she grows old and die, that they should wear her pieces of jewellery and apply lipstick on her lips, that she wants to dress and smile well going to heaven.
ALSO, READ Woman! Is It Submission Or Slavery? – Marriage
Pastor Funke On Red Lipstick
She also said that any woman who is above 35 and still applying white powder does not know what she is doing.
She, on the other hand, advised that the devil is not a well-wisher as they must be wise to maintain their health. After advising the women on the need to dress well, she also advised the ken men to be conscious of their health. She said gone are the days when a big stomach used to be a sign of wealth but now it's not. In conclusion, the minister said dressing well and maintaining good health binds husband and wife together.