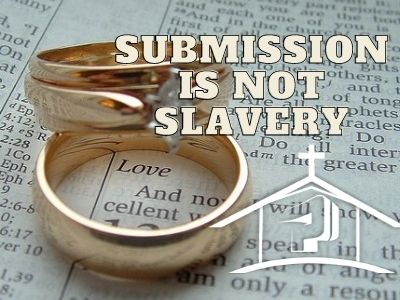 Woman! Is It Submission Or Slavery? – Marriage
Woman! Is It Submission Or Slavery? – Marriage
Woman! What is Submission??
The Bible gave instruction to women and say submit to your own husbands. Eph 5: 22 22 Wives, submit yourselves to your own husbands as you do to the Lord. 23 For the husband is the head of the wife as Christ is the head of the church, his body, of which he is the Savior. 24 Now as the church submits to Christ, so also wives should submit to their husbands in everything.
The question is what exactly is that submission because a lot of women and men have taken that out of context and spun it to favour their unjust course ….
Submission is

: an act of giving a document, proposal, piece of writing, etc., to someone so that it can be considered or approved: an act of submitting something

: something that is submitted

: the state of being obedient: the act of accepting the authority or control of someone else
By the order of creation and scriptural standard, women are not to head the home.  23 For the husband is the head of the wife as Christ is the head of the church, his body, of which he is the Savior.  They are to help to meet the needs of the head (man) to run the home successfully
But what is this submission and how is different from slavery, women ask….
Submission is not slavery  When you understand the meaning of submission, implication and application, you would earn the rightful place in the heart of God and the man he has given yo be your husband.
How do you mean I would have a place ??
In the heart of God Almighty because you have obeyed His instruction and God does not ignore obedience he rewards obedience even at the very least of it.
For men, they are natural wired to make rules and give instructions. God made him so, there is an instinct of leadership that grows when a man begins to think for himself even as a child. That instinct is inborn and side by side the awareness of his nature (ego) which is present in every man but not visible because some have learnt to tame it.  
You can't remove the ego from a man, but a Nobleman knows how to tame that ego. Everything God gave to us is primarily at the mercy of our control until neglected. If you allow things to grow without a control they will outgrow your control. 
Woman! Is It Submission Or Slavery? – Marriage
That ego is not to be bruised, or hurt by the woman. A woman who knows how to submit to her husband will always have a place in his heart. Even if he makes a wrong choice you let him know you could not change his decision until he asks for your counsel. That woman will eventually call the shots in that man's life because she has established the fact that he is in charge and his word is the law.
When a man says something and he ends up being obviously wrong the person that overlooks it and encourages him the more will always have a say in his subsequent decision ….
This is difficult but true …..
If that person happens to be the wife, a nobleman will not make any decision without the support and counsel from his wife
You are not a slave for not speaking your mind when it's hot, you are wise because you understand two captains can't sail at once on the same ship and give orders. You're not a slave for not doing what u want to do but what your husband requires or demands in the home or beyond,
You have settled in that you both are now one body and he is the Head where all decisions are made 
THE CHALLENGE
Submission is more difficult to educated and career-driven women who have attained a leadership role in their field. They have what it takes to be totally independent but still find themselves in that Institution and have to answer to a man. In this age of gender equality, women are eager to be at the hem of affairs as much as men are. 
If you find your self in a position where you have all it takes to live a good life without any support but you still listen to your husband then you're a virtuous and godly woman.
Women who have respite these days don't find it easy to stay in a man's house for even one month because they lose that freedom of doing what they like, how they like, when they like and so on
God created the institution of marriage and gave His manual, the Bible as a guide to running a smooth course in marriage.
What is Submission??
Submission is giving not just your body to the man, but your will
Submission is putting your needs after your family 
Submission is the willingness to forgive and let go
Submission is doing God's will in marriage 
SUBMISSION IS NOT SLAVERY 
God Built that Institution and He gave the course outline and handbook to make it a surprise cess don't neglect it The only way to have a successful home is to build it on Godly principles.