Converting Your Mistakes To Miracles – Dr. D.K Olukoya
Converting Your Mistakes To Miracles – Dr. D.K Olukoya
CLICK HERE FOR PREVIOUS READING 
THE MOUNTAIN OF FIRE AND MIRACLE MINISTRIES INTERNATIONAL HEADQUARTERS
WEDNESDAY MANNA WATER SERVICE
DATE: APRIL 21ST, 2021
TOPIC: CONVERTING YOUR MISTAKES TO MIRACLES
ANCHORED SCRIPTURES: PROVERBS 24:16, PSALM 37:23-24
MINISTER: DR. DANIEL OLUKOYA (G.O MFM WORLDWIDE)
 MESSAGE:
We are looking at this short message before we begin to pray. Listen carefully beloved. No human being can lay claim to being a hundred per cent perfect all the time. The only person that is perfect is our Father in heaven. The day you begin to make claims that you are perfect, you have enrolled in the school of failure.
So beloved, mistakes are part of one's daily life. And people do make mistakes. Mistakes can be made:
on your job,
on your choice of friends,
through your financial decisions,
in the course of your duties.
Though some mistakes can be devastating but majorly, mistakes can be converted into your good. Past failure can become a future success.
There are many mistakes that Christians and believers make.
1. We make mistakes from negligence. Such mistakes generally happen as a result of laziness, oversight, indiscipline, inconsistency. The priest Eli was a negligent father.
2. There could be mistakes from foolish curiosity. This affects mostly the young. "Oh, come on, don't be so old fashioned!" "Come on, try it, it won't harm you!" This is how smoking, drug addiction, fornication, perversion start. When they started, they felt they could control it but it is now controlling them.
3. There are mistakes from fear of being in a hurry. Many make terrible decisions because of panic and fear. Many make terrible decisions because they are in a hurry. They want to make money in a hurry. They want a God of the microwave, so they make mistakes.
Converting Your Mistakes To Miracles – Dr. D.K Olukoya
4. There are ignorant mistakes. For example, Moses killing the Egyptian was an ignorant mistake. The person may have the right motive and good intention but is now using the wrong strategy.
So the earlier we understand all these things, the better for us. The earlier we understand some things I am going to say now, the better for you; if you want to correct mistakes.
It is not necessary for you to understand everything. Get that into your system. It is not necessary for you to have your way all the time. Get that too into your system. It is not necessary for you to be as gifted and talented as somebody else. It is not necessary. You do not have to be competing with people.
It is not necessary for you to be greatly appreciated and praised like the other person. It is not necessary for you to be as wise or as prosperous as somebody else.
You can recover from all the mistakes in life and get them converted to miracles. You say "how do I do that? How do I convert my mistakes to miracles?"
KEYS.
1. Do not pamper your mistakes. Do not pamper it. Recognize it, confess it to God and do not justify your mistakes. Confess the mistakes to others who were badly affected. Do not be too proud to do these because if you are too proud to do these, you will not be able to convert your mistakes to miracles.
Many are looking for those who will pamper them. This is why God had to remove Joseph from under his father Jacob because Jacob loved him too much. He was spoiling him and sewing clothes for him and when Joseph began to talk what he should not talk, to his brethren, his father loved him so much and did not want to really castigate him too much. If Joseph had remained under Jacob, he would have been a spoilt child. He would not have been able to do anything with his life. The father would have kept pampering him.
Some are looking for those who will pamper them and they are not happy when they see somebody who will lash out at them or correct them. The people they like are those who just pamper their errors and mistakes and tell them to go on. People like that are killers when they pamper your mistakes.
2. Recognize the gateway of your past mistakes. Carefully evaluate the past to avoid similar mistakes. Look back to where you have made the wrong move. Look back to see the things you are not supposed to do. Do not repeat the mistakes.
Converting Your Mistakes To Miracles
3. Learn your lessons (Prov 13:21, Psa 119:71). The prodigal son eventually came to himself. He learnt his lessons. God can sometimes allow things to happen to us so that we can learn our lessons. Yours could be anger, impatience, excessive talking, prayerlessness, looseness. The question is, have you learnt your lesson? Learn your lesson. The school of life will keep repeating your mistakes to you until you have learnt those lessons. It will make you keep repeating the class until you have learnt your lesson.
4. Make up your mind to stop putting ammunition in the hands of your enemies. Stop arming your enemies to fight you. Also, stop feeding your enemies hard to give you a hard battle. And, stop talking to everyone about your mistakes and your problems. You may be supplying information to your enemy.
5. Make restitution where necessary. True repentance must always include restitution. You can not say you want to completely erase past mistakes when you refuse to make restitution (Exo 22:1, Luke 19:8).
If you have taken something that does not belong to you, for you to be completely free, you must do restitution. So stolen items, cleverly concealed sins, stealing by style will not allow you to convert your mistakes to miracles.
6. You must be a source of blessing to others. Go out of your way to be a blessing to others. Think about it. Sit yourself down and talk to yourself about it. "What can I do to help others? What can I do to help another person to succeed?" Those who were blessed in scripture were those who originally went out of their way to be blessings to others.
Converting Your Mistakes To Miracles – Dr. D.K Olukoya
Elijah told the widow of Zarephath "what do you have in your house?" She said "a little jar of oil and some milk". He said, "Go and bring it for me". She said, "man of God, that is the last thing we have for me and my child to eat it and die. Nevertheless, you are a prophet of God and you are asking for it, so I will go and bring it". And immediately that woman said that she opened uncommon doors of breakthrough to her own life, and the man said "that jar of oil shall not dry, the meal shall not be sent until the day that the famine clears from the land." If she had said " No, I can't give anything. What will I eat?" It is that hunger that would have killed her.
7. Count your blessings and always glorify the Lord. This takes us to that particular song: When upon life's billows you are tempted tossed. God is a God who doesn't want us to forget His benefits. He wants us to remember His blessings (Psalm 103:2).
8. Never give up. Don't give up. (Psa 145:14)
9. Arrest the spirit of error. Error is sometimes a spirit. Arrest that spirit so that you will be able to convert all your mistakes to miracles.
PRAYER POINTS
(With your right hand, begin to clear the realm over your head. Clear it prophetically).
My heavens, open by fire in the name of Jesus.
I decree an immediate miracle upon my life in the name of Jesus.
Any evil thing hiding in my life, come to the surface now in the name of Jesus.
By the thunder of Your power, my Father, move upon my life in the name of Jesus.
Anointing to move me forward, manifest in the name of Jesus.
Powers assigned to kill my Israel, die in the name of Jesus.
O God arise, give me the power to excel, in the name of Jesus.
Evil dedication speaking against my destiny, die by the blood of Jesus.
My Father, I need help, help me in the name of Jesus.
Evil food that I have eaten through polygamous witchcraft, catch fire in the name of Jesus.
Dreams of failure, I am not your candidate, backfire in the name of Jesus.
Every mockery of the enemy pretending to love me, die in the name of Jesus.
Every evil bird crying against the glory of my star, fall down and die in the name of Jesus.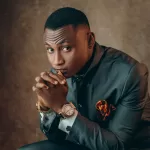 I Am A God-kind Gospel Blogger, Gospel Content Writer, Evangelist, Songwriter, Teacher and Soul-Winner and the Chief-editor of ThePreachersPortal.Org. I have worked with media houses of various religious organizations and NGOs. On This Platform, You will get access to the Latest and Trending Gospel songs worldwide, Live Streams, Audio Messages, Motivational Articles and Inspirational content as I share them for free. Follow me on social media to learn more about this movement. - Ibeh C. Joe.