Cory Asbury – My Inheritance  || Download Mp3 Audio & Lyrics
Check out this new song by Cory Asbury titled "My Inheritance". This song is from his latest album PIONEER, 2023, alongside the official video and lyrics.
My Inheritance is a song that speaks on the benefits and privileges of serving God as a believer. The blessings of Abraham are for those who are Redeemed.
Song Title: Dawn (Intro)
Album; PIONEER
Artiste; Cory Asbury
Genre: Gospel/Contemporary
Released: 15 September 2023
Duration: 03:40
Cory Asbury is an American Christian musician, worship pastor, songwriter, and former member of the Bethel Music collective
Lyrics; My Inheritance By Cory Asbury
I knew he loved his whiskey
I knew he loved his wine
But I was never quite sure if he loved me
And I always wondered why
I didn't want his money
Lord knows he didn't have much
Maybe this guitar he gave me
Was his "I believe in you son"
I didn't get forgiveness for the smallest of things
But I got who he was and who I didn't want to be
God I'm thankful for the beauty in the mess
I wouldn't be the man I am today
I guess that's my inheritance
There ain't much of nothin'
That I didn't try
Looking for love in every wrong place
Didn't make it right
I hurt a lot people
'Cause hurt people hurt
And sayin' sorry when you're not sorry man it never works
I didn't get forgiveness for the smallest of things
But I got who he was and who I didn't want to be
God I'm thankful for the beauty in the mess
I wouldn't be the man I am today
I guess that's my inheritance
I ran like hell to Jesus
Didn't know what else to do
He showed me his hands
And He said, "Son I did this for you"
And you'll be a daddy like you never knew
'Cause I take broken things and make 'em new
I got forgiveness for the smallest of things
I got who He was and who I wanted to be
God I'm thankful you saw beauty in this mess
It made me the man I am today
I guess that's my inheritance
That's my inheritance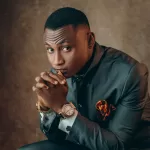 I Am A God-kind Gospel Blogger, Gospel Content Writer, Evangelist, Songwriter, Teacher and Soul-Winner and the Chief-editor of ThePreachersPortal.Org. Right here, you will get access to the Latest and Trending Gospel songs worldwide, Live Streams, Audio Messages, Motivational Articles and Inspirational content as we share them for free. Follow me on social media to learn more about this movement. -ThePreacherMan