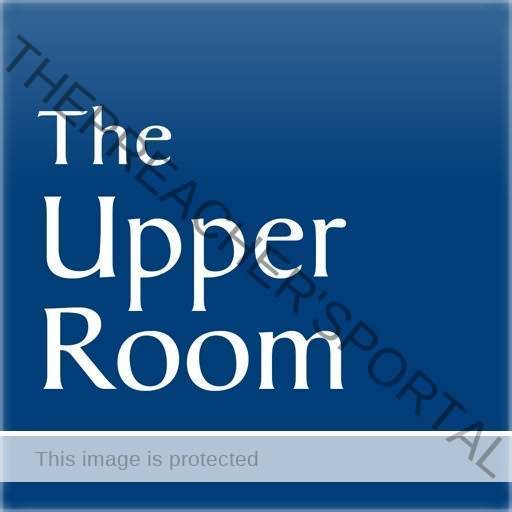 The Upper Room Devotional 23rd July 2022
The Upper Room Devotional 23rd July 2022
CLICK HERE FOR PREVIOUS READING 
The Upper Room Daily Devotional For Today 23 July 2022 – Work in Progress By Kim Koratsky (Tennessee, USA)
TOPIC: Work in Progress
Kim Koratsky (Tennessee, USA)
TODAY'S READING
Revelation 3:15-16
KEY VERSE: What good is it if people say they have faith but do nothing to show it? Claiming to have faith can't save anyone, can it? – James 2:14 (CEB)
MESSAGE
As I was putting away the dishes this morning, I looked at our spoonula — a silicone kitchen tool that is a cross between a spatula and a spoon. I consider it a mediocre utensil — neither a good spatula nor a useful spoon. This got me thinking about those times in my faith when I am mediocre.
ALSO READ, The Upper Room Devotional 8th July 2022
I am a work in progress, and have been ever since I accepted Jesus into my heart. Sometimes I am on fire and put my faith into action. Other times, I am lukewarm with one foot in and one foot out. Without being committed to any particular path, I lose my way. My work, problems, and worries distract me from loving God and loving others.
I once heard that love is a choice we must make every day in order to keep it alive. Faith is the same way. We have to choose it daily. And when we choose it, faith changes our beliefs and conduct. We are transformed. So if our lives do not change in a meaningful way because of what we choose to believe, our faith falters.
The Upper Room Devotional 23rd July 2022
As James wrote, "A person is shown to be righteous through faithful actions and not through faith alone" (Jas. 2:24). We must remember every day to choose God and show the Lord our love.
THOUGHT FOR THE DAY
How can I choose God today?
TODAY'S PRAYER
Lord of love, help us when we become lukewarm. Show us the right tools and actions so that we can act out our faith and demonstrate our love for you. Amen.
The meditations are stories of real people working to live faithfully with the Bible as their touchstone. Every day, readers of The Upper Room around the world read the same story in many different languages and pray the same prayer together. Some of our readers share comments on our website (upperroom.org/devotionals), and some writers share extra pieces of their writing on our blog (upperroom.org/devotionals/blog-posts). The daily devotional guide and the community it draws together to invite people to:
The Upper Room Devotional 23rd July 2022
ARE YOU BORN AGAIN? IF NO. ACCEPT JESUS NOW
Accept Jesus Christ today and secure a life of eternal rest and Glory …
SAY THIS 1 MINUTE PRAYER

LORD JESUS, I BELIEVE YOU DIED FOR MY SINS, FORGIVE ME OF ALL MY INIQUITIES. I ACCEPT YOU AS MY LORD AND SAVIOUR FROM TODAY AND FOREVERMORE. COME AND BE THE LORD OF MY LIFE AND I AM WILLING TO OBEY YOUR COMMAND AND LIVE ACCORDING TO YOUR WILL AS YOU HELP ME, THANK YOU FOR ACCEPTING ME INTO YOUR FOLD. AMEN

JOHN 3: 3 JESUS ANSWERED AND SAID UNTO HIM, VERILY, VERILY, I SAY UNTO THEE, EXCEPT A MAN BE BORN AGAIN, HE CANNOT SEE THE KINGDOM OF GOD