Cory Asbury – Everything Belongs || Download Mp3 Audio & Lyrics
Check out this new song by Cory Asbury titled "Everything Belongs". This song is from his latest album PIONEER, 2023, alongside the official video and lyrics.
Dawn is a song that reflects the challenges and trials of the believer in the journey of life but that there is hope for all who believe.
Song Title: Everything Belongs
Album; PIONEER
Artiste; Cory Asbury
Genre: Gospel/Contemporary
Released: 15 September 2023
Duration: 05:25
Cory Asbury is an American Christian musician, worship pastor, songwriter, and former member of the Bethel Music collective
Lyrics;  Everything Belongs By Cory Asbury
Well, you know I've said it
This world will be unkind
They say you might regret it
But don't let that change your mind
And you can't separate it
The darkness from the light
I once called it complicated
Now I call it life
So fill your cup to the top
Smile and give it all you got
Both good and bad
Happy, sad
Everything belongs
The highs and lows
The wise man knows
Heartbreak writes the songs
Go ahead and feel the pain
And know it's all okay
Just remember life rolls on
And everything belongs
The jockey lives for racing
The horse just loves to run
The young man wins for praising
The old man plays for fun
So fill your cup to the top
Smile and say, "Why not?"
Both good and bad
Happy, sad
Everything belongs
The highs and lows
The wise man knows
Heartbreak writes the songs
Go ahead and feel the pain
And know it's all okay
Just remember life rolls on
And everything belongs
'Cause I can't celebrate your good days
And not hold you on your worst
'Cause His kindness like the Good Book says
Oh, you know you cannot earn
So fill your cup to the top
Smile and give it all you got
All you got
Is both good and bad
Happy, sad
Everything belongs
The highs and lows
The wise man knows
Heartbreak writes the songs
Go ahead and feel the pain
And know it's all okay
And just remember life rolls on
Don't be afraid of movin' on
'Cause everything belongs
Everything belongs
Everything belongs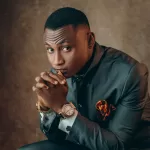 I Am A God-kind Gospel Blogger, Gospel Content Writer, Evangelist, Songwriter, Teacher and Soul-Winner and the Chief-editor of ThePreachersPortal.Org. Right here, you will get access to the Latest and Trending Gospel songs worldwide, Live Streams, Audio Messages, Motivational Articles and Inspirational content as we share them for free. Follow me on social media to learn more about this movement. -ThePreacherMan