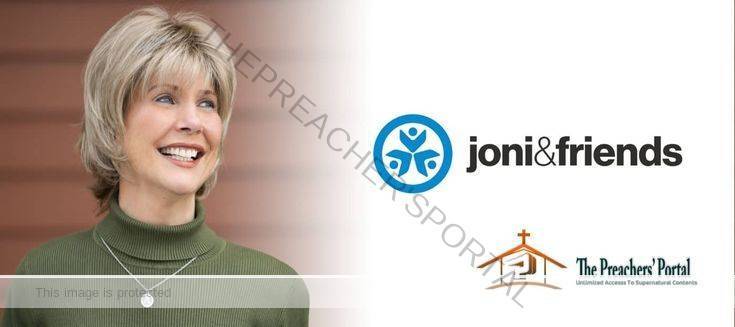 Joni and Friends Devotional | 11 August 2022
Joni and Friends Devotional | 11 August 2022
CLICK HERE FOR PREVIOUS READING 
Joni and Friends Daily Devotional 11th August 2022 Thursday Message
TOPIC: Quality and Quantity
MESSAGE
Have you ever wondered why Jesus launched his public ministry by turning water into wine at a wedding party? 
Just last night I puzzled over that question as I read the second chapter of John. Why that particular miracle at that particular time? And why wine? 
ALSO READ, Joni and Friends Devotional | 24 July 2022
I once heard my friend, Bible teacher Kay Authur, describe that miracle as one of the highest quality and quantity. "That," she exclaimed, "is the way Jesus does things!"  
Let's think about that. Those six stone jars Jesus told the servants to fill with water were huge. Each container held up to thirty gallons. Have you ever tried to lift or carry thirty gallons of anything? And those servants, Scripture tells us, filled each jar "to the brim." It must have been tough hauling those enormous jugs from the well into the house. 
When Jesus changed that plain Galilean water into Chablis (or whatever it was) the wedding party ended up with 180 gallons of it! That, my friends, is a lot of wine. There's no way folks at the wedding would be able to drink that much, that fast. It was far more than they needed. Surely, one thirty-gallon jar would have been plenty. Hadn't the guests already consumed every drop of wine in the house? 
But Jesus chose to provide in quantity. He gave much more than anyone would have expected. 
Joni and Friends Devotional | 11 August 2022
And then there was the quality of that wine. This wasn't "California Cooler." It wasn't plain-label jug stuff. It was strictly gold medallion – probably ten grades above the best contemporary French vintage. The quality of that miraculous wine was absolute tops. 
The master of the banquet was incredulous after he tasted the fresh supply. "Why in the world did you save the best for last?" he asked the bridegroom. "You could have gotten by with a bargain brand at this point in the feast!" 
But Jesus chose to provide with quality. He gave much better than anyone would have expected. 
It was as Kay Arthur said: a miracle of quality and quantity. And that's what he wants to do in your life today. He says to you as he said to his disciples long ago: "I have come that [you] may have life, and have it to the full" (John 10:10). The life he's talking about, of course, is his life, flowing in and through you. 
When it comes to quantity, this is life that bubbles up and spills over the rim. More than you ever expected or could possibly contain. 
When it comes to quality, this is the very life of God. We can, as Peter says, "participate in the divine nature" (2 Peter 1:4). It is the best life that can be. 
The key? Well, let's give some credit to Mary, the Lord's mother. The counsel she gave to those servants that day at the wedding can hardly be improved upon: "Do whatever he tells you" (John 2:5). 
Submit to his Lordship with passionately obedient faith. Do exactly as he says…and be prepared for a life full of surprises. 
Joni and Friends Devotional | 11 August 2022
Very truly I tell you, whoever believes in me will do the works I have been doing, and they will do even greater things than these, because I am going to the Father. –John 14:12
Give, and it will be given to you. A good measure, pressed down, shaken together and running over, will be poured into your lap. For with the measure you use, it will be measured to you. –Luke 6:38
The riches God wishes to pour out into our lives are far beyond our dreams. But his wealth is of a different nature than what the world counts as wealth – his is far better! Ask your Father to broaden your dreams, to encompass more and more of the quality and quantity of life he has for you. And invite him to change your values, so you'll recognize his abundance when he sends it your way.
Joni & Friends Ministries Founded by Joni Eareckson Tada in 1979, Joni and Friends are dedicated to reaching out to families living with disabilities all around the globe with gospel-adorned hope. We extend gospel-centered care through Community Support, Respite, Retreats and Getaways, and Crisis Response. And we connect families with Christ-honoring, disability-friendly churches where they find a place belong.
ARE YOU BORN AGAIN? IF NO, ACCEPT JESUS NOW
Accept Jesus Christ today and secure a life of eternal rest and Glory …
Say this 1 Minute Prayer

Lord Jesus, I believe you died for my sins, Forgive me of all my iniquities. I accept you as my Lord and Saviour from today and forevermore. Come and Be the Lord of my life and I am willing to obey your command and live according to your will as you help me, Thank you for accepting me into your fold. AMEN

JOHN 3: 3 Jesus answered and said unto him, Verily, verily, I say unto thee, Except a man be born again, he cannot see the kingdom of God