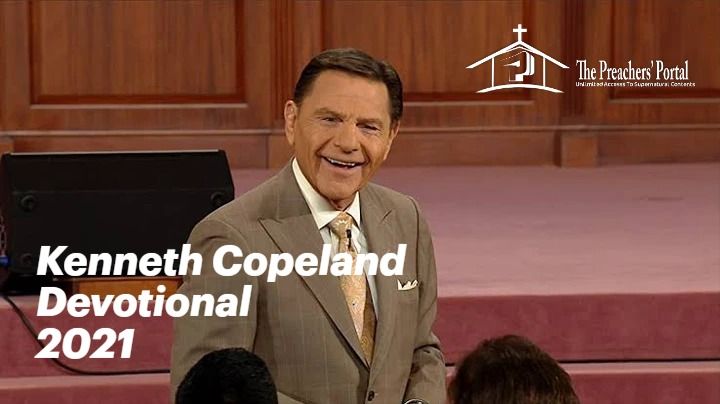 Kenneth Copeland Devotional 27 August 2021
Kenneth Copeland Devotional 27 August 2021
CLICK HERE FOR PREVIOUS READING 
Kenneth Copeland Devotional 27th August 2021 – Not Of This World Written By Kenneth & Gloria Copeland
Topic: Not of This World
Whatever is born of God is victorious over the world; and this is the victory that conquers the world, even our faith. – 1 John 5:4, The Amplified Bible
MESSAGE
Years ago the devil started a rumour. He told a few Christians that as long as they lived in the world, they had to suffer as the world did. He told them they had to share the diseases and the defeat, the poverty and the failure of those around them.
ALSO, READ Kenneth Copeland Devotional 28 July 2021
It was a crafty lie—and it worked. Believers accepted it and began to spread it among themselves. You may have even heard it yourself. If so, I want to help you put that rumour to rest today. I want to help you get the facts straight once and for all.
You see, despite what you may have heard, health, prosperity and victorious living aren't concepts some comfort-hungry believer selfishly dreamed up. They are God's ideas.
ALSO, READ Kenneth Copeland Devotional 29 July 2021
INVEST IN IRAs, SECURE YOUR FUTURE
You may say, "That sounds good, Gloria, but we've got to be realistic. We live in a world that's full of problems. And as long as we live in this world, it seems to me we're going to have our share."
Kenneth Copeland Devotional 27 August 2021
Yes, that's true. Even Jesus said, "In the world, you have tribulation and trials and distress and frustration." But notice, He didn't stop there! He went on to say, "But be of good cheer [take courage; be confident, certain, undaunted]! For I have overcome the world. [I have deprived it of power to harm you and have conquered it for you]" (John 16:33, The Amplified Bible).
ALSO, READ Kenneth Copeland Devotional 6 August 2021
Most believers don't have any trouble believing the first part of that verse. They know all too well how many tribulations, trials, distresses and frustrations surround them. But they're less certain about the last part. They haven't yet experienced for themselves exactly what Jesus meant when He said He had deprived those things of power to harm them.
ALSO, READ Kenneth Copeland Devotional 17 July 2021
Why not?
Because they're still living as though they're part of the world.
Kenneth Copeland 27 August 2021
But, listen. Jesus said you and I are to be "sanctified," or separated from the evils of this world. How? Through the Word of God (John 17:17)!
The Word of God will separate you from the world. His Word will set His dream for victory into motion in your life. If you'll receive it and believe it, speak it and act on it, that Word will set you apart from those around you. It will take you from trouble to triumph again and again.
Scripture Reading: John 17:1-17
This message was written by Kenneth and Gloria Copeland, the leader of the Kenneth Copeland Ministries (www.KCM.org) that specializes in teaching principles of bible faith – prayer, healing, salvation and other biblical topics.
ARE YOU BORN AGAIN? IF NO
Accept Jesus Christ today and secure a life of eternal rest and Glory …
Say this 1 Minute Prayer 

Lord Jesus, I believe you died for my sins, Forgive me of all my iniquities. I accept you as my Lord and Saviour from today and forevermore. Come and Be the Lord of my life and I am willing to obey your command and live according to your will as you help me, Thank you for accepting me into your fold. AMEN

JOHN 3: 3 Jesus answered and said unto him, Verily, verily, I say unto thee, Except a man be born again, he cannot see the kingdom of God.