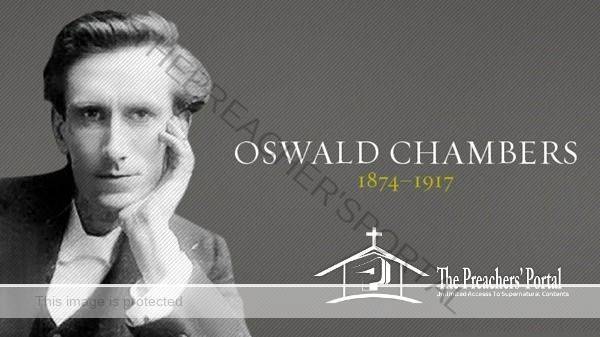 Oswald Chambers Devotional 15th November 2021
Oswald Chambers Devotional 15th November 2021
CLICK HERE FOR PREVIOUS READING 
Oswald Chambers Daily Devotional For Today 15th November 2021 Written By Oswald Chambers | My Utmost For His Highest
TOPIC: What Is That to You?"
One of the hardest lessons to learn comes from our stubborn refusal to refrain from interfering in other people's lives. It takes a long time to realize the danger of being an amateur providence, that is, interfering with God's plan for others. You see someone suffering and say, "He will not suffer, and I will make sure that he doesn't."
You put your hand right in front of God's permissive will to stop it, and then God says, "What is that to you?" Is there stagnation in your spiritual life? Don't allow it to continue, but get into God's presence and find out the reason for it.
ALSO, READ The Prayer Of Faith That Works – Bishop David Oyedepo
You will possibly find it is because you have been interfering in the life of another— proposing things you had no right to propose, or advising when you had no right to advise. When you do have to give advice to another person, God will advise through you with the direct understanding of His Spirit.
Oswald Chambers Devotional 15th November 2021
Your part is to maintain the right relationship with God so that His discernment can come through you continually for the purpose of blessing someone else.
Most of us live only within the level of consciousness— consciously serving and consciously devoted to God. This shows immaturity and the fact that we're not yet living the real Christian life.
Maturity is produced in the life of a child of God on the unconscious level until we become so totally surrendered to God that we are not even aware of being used by Him. When we are consciously aware of being used as broken bread and poured-out wine, we have yet another level to reach— a level where all awareness of ourselves and of what God is doing through us is completely eliminated.
A saint is never consciously a saint— a saint is consciously dependent on God.
ABOUT AUTHOR
Oswald Chambers was born in Scotland and spent much of his boyhood there. His ministry of teaching and preaching took him for a time to the United States and Japan. The last six years of his life were spent as principal of the Bible Training College in London, and as a chaplain to British Commonwealth troops in Egypt during World War l. After his death, the books which bear his name were compiled by his wife from her own verbatim shorthand notes of his talks. My Utmost for His Highest continues to challenge and encourage people all over the world, through more than 13 million copies printed, a mobile app, website, email, and social media sharing. A century after his death, Oswald Chambers still guides people on their journey to knowing God better.
ARE YOU BORN AGAIN? IF NO ACCEPT JESUS NOW
Accept Jesus Christ today and secure a life of eternal rest and Glory …
Say this 1 Minute Prayer

Lord Jesus, I believe you died for my sins, Forgive me of all my iniquities. I accept you as my Lord and Saviour from today and forevermore. Come and Be the Lord of my life and I am willing to obey your command and live according to your will as you help me, Thank you for accepting me into your fold. AMEN

JOHN 3: 3 Jesus answered and said unto him, Verily, verily, I say unto thee, Except a man be born again, he cannot see the kingdom of God