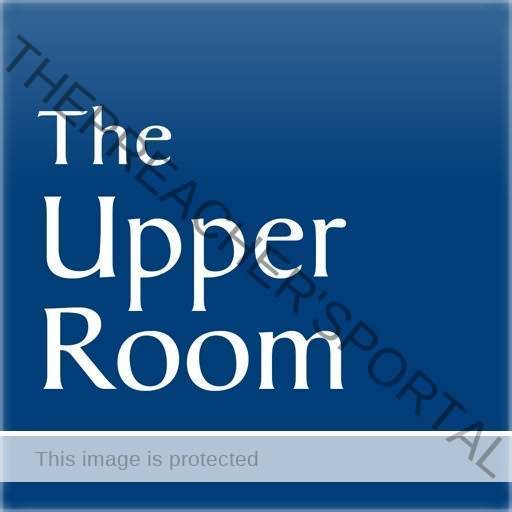 The Upper Room Devotional 15th March 2022
The Upper Room Devotional 15th March 2022
CLICK HERE FOR PREVIOUS READING 
The Upper Room Daily Devotional For Today 15 March 2022 – Alive and Active By Bob LaForge (New Jersey, USA)
TOPIC: Alive and Active
Bob LaForge (New Jersey, USA)
TODAY'S READING
Matthew 14:22-33
KEY VERSE: The word of God is living and active, sharper than any two-edged sword, piercing until it divides soul from spirit, joints from marrow; it is able to judge the thoughts and intentions of the heart. – Hebrews 4:12 (NRSV)
MESSAGE
I took my family to see a musical. After it was over, I asked everyone what they liked most about it. My daughter, who plays piano, said that she liked the songs the best. My other daughter, who likes to read, was intrigued by the story.
ALSO READ, The Upper Room Devotional 18th January 2022
My wife, who is a people person, enjoyed watching how the audience reacted to what was happening. They all saw the same musical, but they each were affected by a different aspect of it.
The same is true of the Bible. The Holy Spirit can take any story and speak different things to us depending on what we need to hear at the time. Matthew 14:22-33 is the story of Jesus, and then Peter, walking on the sea. Someone who is going through trials may see how Jesus comes to us in our distress.
Someone who is struggling with doubt may see how Peter did something extraordinary by simply trusting Jesus. And someone who is wondering about prayer may see the effectiveness of Peter's prayer, "Lord, save me!"
The Upper Room Devotional 15th March 2022
When we read and study the Bible, it is amazing how personal the word of God can be. Through scripture, God speaks to our individual hearts and tells us what we need to hear.
THOUGHT FOR THE DAY
When I read the Bible, God meets me in the word.
TODAY'S PRAYER
Holy Spirit, create in our hearts a desire to read the Bible and get to know you. Speak to us in our study that we may be inspired, challenged, and transformed. Amen.
PRAYER FOCUS
Bible translators
The meditations are stories of real people working to live faithfully with the Bible as their touchstone. Every day, readers of The Upper Room around the world read the same story in many different languages and pray the same prayer together. Some of our readers share comments on our website (upperroom.org/devotionals), and some writers share extra pieces of their writing on our blog (upperroom.org/devotionals/blog-posts). The daily devotional guide and the community it draws together to invite people to:
The Upper Room Devotional 15th March 2022
ARE YOU BORN AGAIN? IF NO ACCEPT JESUS NOW
Accept Jesus Christ today and secure a life of eternal rest and Glory …
SAY THIS 1 MINUTE PRAYER

LORD JESUS, I BELIEVE YOU DIED FOR MY SINS, FORGIVE ME OF ALL MY INIQUITIES. I ACCEPT YOU AS MY LORD AND SAVIOUR FROM TODAY AND FOREVERMORE. COME AND BE THE LORD OF MY LIFE AND I AM WILLING TO OBEY YOUR COMMAND AND LIVE ACCORDING TO YOUR WILL AS YOU HELP ME, THANK YOU FOR ACCEPTING ME INTO YOUR FOLD. AMEN

JOHN 3: 3 JESUS ANSWERED AND SAID UNTO HIM, VERILY, VERILY, I SAY UNTO THEE, EXCEPT A MAN BE BORN AGAIN, HE CANNOT SEE THE KINGDOM OF GOD