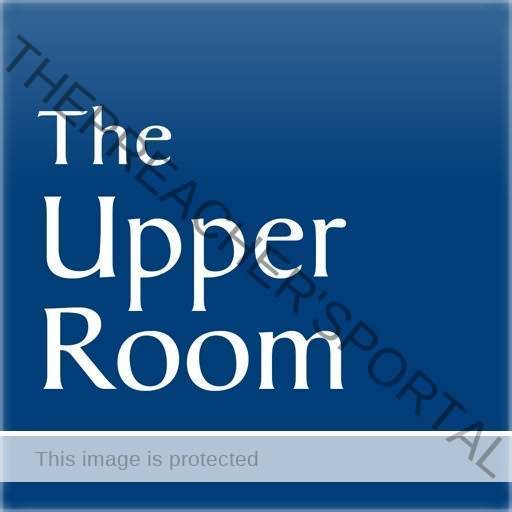 The Upper Room Devotional 19th March 2022
The Upper Room Devotional 19th March 2022
CLICK HERE FOR PREVIOUS READING 
The Upper Room Daily Devotional For Today 19 March 2022 – What's My Motivation? By Pamela Briese (Iowa, USA)
TOPIC: What's My Motivation?
Pamela Briese (Iowa, USA)
TODAY'S READING
Matthew 6:1-4
KEY VERSE: Be careful not to practice your righteousness in front of others to be seen by them. If you do, you will have no reward from your Father in heaven. – Matthew 6:1 (NIV)
THE UPPER ROOM DEVOTIONAL
MESSAGE
During an extended vacation with my husband, I received an alert on my cell phone from our home security system. I checked the cameras and was surprised to see our son mowing the lawn. He is a busy law student, and we had not seen him much lately.
ALSO READ, The Upper Room Devotional 30th December 2021
I was not sure he even knew we were on vacation. I quickly sent him a text message thanking him. He responded, "You can quit spying on me now. I forgot about the cameras. Now my surprise is spoiled."
This led me to consider my own motivations for doing good deeds. I have always been active in church mission projects and philanthropic endeavors. Did I do them privately with the sole intent of helping others, or did I do them for public acknowledgment of my goodness?
My son's intended surprise was for the right reasons, and I was humbled by the lesson it taught me. God wants our motivation to be pure, sincere, and selfless. Even if our good deeds are known only to God and ourselves, when we know we care for others out of the love in our hearts, that is the only reward we need.
The Upper Room Devotional 19th March 2022
THOUGHT FOR THE DAY
Doing good deeds is rewarding, no matter who knows of my actions.
TODAY'S PRAYER
Dear Lord, help us remain motivated by compassion and love for others and not our own desire for admiration and praise. Amen.
PRAYER FOCUS
Those who selflessly serve others
The meditations are stories of real people working to live faithfully with the Bible as their touchstone. Every day, readers of The Upper Room around the world read the same story in many different languages and pray the same prayer together. Some of our readers share comments on our website (upperroom.org/devotionals), and some writers share extra pieces of their writing on our blog (upperroom.org/devotionals/blog-posts). The daily devotional guide and the community it draws together to invite people to:
The Upper Room Devotional 19th March 2022
ARE YOU BORN AGAIN? IF NO ACCEPT JESUS NOW
Accept Jesus Christ today and secure a life of eternal rest and Glory …
SAY THIS 1 MINUTE PRAYER

LORD JESUS, I BELIEVE YOU DIED FOR MY SINS, FORGIVE ME OF ALL MY INIQUITIES. I ACCEPT YOU AS MY LORD AND SAVIOUR FROM TODAY AND FOREVERMORE. COME AND BE THE LORD OF MY LIFE AND I AM WILLING TO OBEY YOUR COMMAND AND LIVE ACCORDING TO YOUR WILL AS YOU HELP ME, THANK YOU FOR ACCEPTING ME INTO YOUR FOLD. AMEN

JOHN 3: 3 JESUS ANSWERED AND SAID UNTO HIM, VERILY, VERILY, I SAY UNTO THEE, EXCEPT A MAN BE BORN AGAIN, HE CANNOT SEE THE KINGDOM OF GOD