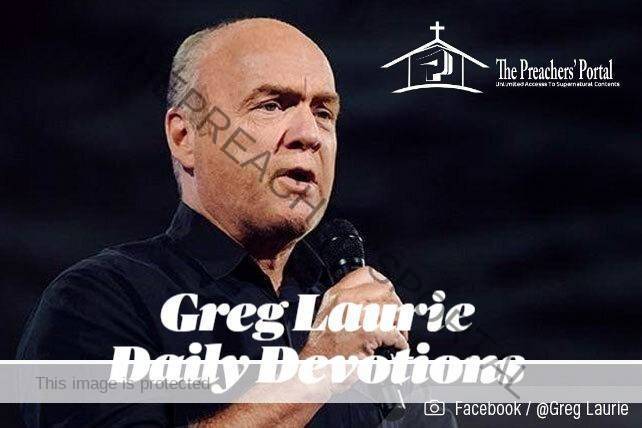 Greg Laurie Devotional | 7 September 2021 | Tuesday
Greg Laurie Devotional | 7 September 2021 | Tuesday
CLICK HERE FOR PREVIOUS READING 
Greg Laurie Devotional Guide For 7th September 2021  – Every Believer Is a Witness – Written By Greg Laurie
Every Believer Is a Witness
"Because we belong to the day, we must live decent lives for all to see" (Romans 13:13 NLT).
MESSAGE
I remember so clearly when I first went to church. I didn't grow up in the church, so I didn't have a point of reference. When I walked into Calvary Chapel Costa Mesa, the place was filled with people. This was in the early days of the Jesus Movement, and I was checking everything out.
I can tell you this much: I loved what I saw. When I looked around, I saw an older person next to a younger person next to a person of different ethnicity. I took it all in and thought, "Wow, there are all kinds of people—not just people who look like me."
ALSO, READ  NSPPD Live | 7 September 2021 | Tuesday With Pastor Jerry Eze
In high school, I wanted to hang around with the cool kids. I wanted to be around people who looked like me, and I looked like them. And all of a sudden, I was in a place of diversity, and I realized that it was powerful. I watched as people participated in worship, and then when the pastor spoke, I listened.
Greg Laurie Devotional | 7 September 2021 | Tuesday
In the same way, when someone attends a church for the first time, they're checking it all out. They're not just sizing up the worship or the speaker. They're checking you out, too and probably wondering if you're even interested in what's going on.
ALSO, READ  RCCG Open Heaven | 7th September 2021 | Devotional & Prayer Points
Maybe you're acting like you're using your Bible app on your phone, but you're really playing a game or checking your social media. Hopefully, you're listening or even taking notes. But if you're distracted, or you're not engaged, they're watching that. And if you're engaged and listening, they're watching that, too.
Greg Laurie Devotional | 7 September 2021 | Tuesday
So here's the question: Are you a bridge or a barrier for people who want to come to Christ? It comes down to this: Every believer is a witness. You're either a good one or a bad one.
Greg Laurie is the Senior Pastor of Harvest Christian Fellowship with campuses in California and Hawaii. He began his pastoral ministry at the age of 19 by leading a Bible study of 30 people. Copyright © 2021 by Harvest Ministries. All rights reserved.
ARE YOU BORN AGAIN? IF NO, ACCEPT JESUS NOW
Accept Jesus Christ today and secure a life of eternal rest and Glory …
Say this 1 Minute Prayer 

Lord Jesus, I believe you died for my sins, Forgive me of all my iniquities. I accept you as my Lord and Saviour from today and forevermore. Come and Be the Lord of my life and I am willing to obey your command and live according to your will as you help me, Thank you for accepting me into your fold. AMEN

JOHN 3: 3 Jesus answered and said unto him, Verily, verily, I say unto thee, Except a man be born again, he cannot see the kingdom of God.