Our Daily Bread Devotional
Our Daily Bread 20 March 2022 || ODB Devotional For Today (Sunday)
Our Daily Bread 20 March 2022 || ODB Devotional For Today (Sunday)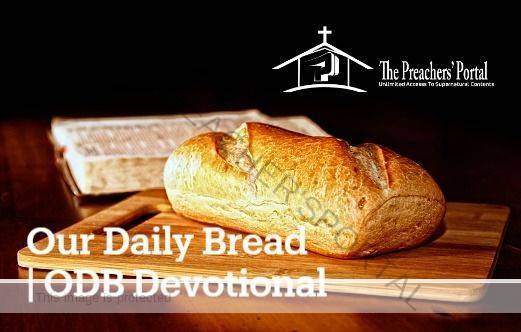 Our Daily Bread 20 March 2022 || ODB Devotional For Today (Sunday)
Our Daily Bread 20 March 2022 || ODB Devotional For Today (Sunday)
CLICK HERE FOR PREVIOUS READING 
Our Daily Bread For Today 20th March 2022 Devotional, Sunday Message Written By Sheridan Voysey (Our Daily Bread Ministries)  || ODB  Daily Reading
TOPIC: Rising to Dance
TODAY'S SCRIPTURE: 1 Corinthians 15:35–44
BIBLE IN A YEAR: Joshua 4–6; Luke 1:1–20

TODAY'S INSIGHT: The Bible Knowledge Commentary elaborates on Paul's teaching in 1 Corinthians 15:35–37 about "how foolish it is" to ask about our resurrection bodies: "Belief in the Resurrection was like belief in seedtime and harvest. Neither could be completely understood but both were real. As a plant which sprouted from a seed was directly linked to it but remarkably different from it, so too was the relationship of a natural and a resurrected body."
Our Daily Bread 20 March 2022 || ODB Devotional For Today (Sunday)
Our resurrection body will be so much more than our natural body, which is weak, imperfect, and temporal. Elsewhere Paul states: "Our citizenship is in heaven. And we eagerly await a Savior from there, the Lord Jesus Christ, who . . . will transform our lowly bodies so that they will be like his glorious body" (Philippians 3:20–21). We will be like Him!
OUR DAILY BREAD FOR TODAY
MESSAGE
In a widely shared video, an elegant elderly woman sits in a wheelchair. Once a famed ballet dancer, Marta González Saldaña now suffers from Alzheimer's disease. But something magical happens when Tchaikovsky's Swan Lake is played to her. As the music builds, her frail hands slowly rise; and as the first trumpets blast, she starts performing from her chair. Though her mind and body are perishing, her talent is still there.
Reflecting on that video, my thoughts went to Paul's teaching on resurrection in 1 Corinthians 15. Likening our bodies to a seed that is buried before it sprouts into a plant, he says that though our bodies may perish through age or illness, may be a source of dishonor, and may be wracked with weakness, the bodies of believers will be raised imperishable, full of glory and power (vv. 42–44). Just as there is an organic link between the seed and the plant, we will be "us" after our resurrection, our personalities and talents intact, but we will flourish like never before.
Our Daily Bread 20 March 2022 || ODB Devotional For Today (Sunday)
When the haunting melody of Swan Lake began to play, Marta at first looked downcast, perhaps mindful of what she once was and could no longer do. But then a man reached over and held her hand. And so it will be for us. Trumpets will blast (v. 52), a hand will reach out, and we'll rise to dance like never before.
Our Daily Bread 20 January 2022 Devotional. Our Daily Bread Ministries  (ODB) is a Christian organization founded by Dr Martin De Haan in 1938. It is based in Grand Rapids, Michigan, with over 600 employees. It produces several devotional publications, including Our Daily Bread.
ALSO, READ Our Daily Bread 28 July 2021 Devotional
JESUS IS COMING SOON !!!
ARE YOU BORN AGAIN? IF NO
Accept Jesus Christ today and secure a life of eternal rest and Glory …
Say this 1 Minute Prayer 

Lord Jesus, I believe you died for my sins, Forgive me of all my iniquities. I accept you as my Lord and Saviour from today and forevermore. Come and Be the Lord of my life and I am willing to obey your command and live according to your will as you help me, Thank you for accepting me into your fold. AMEN

JOHN 3: 3 Jesus answered and said unto him, Verily, verily, I say unto thee, Except a man be born again, he cannot see the kingdom of God