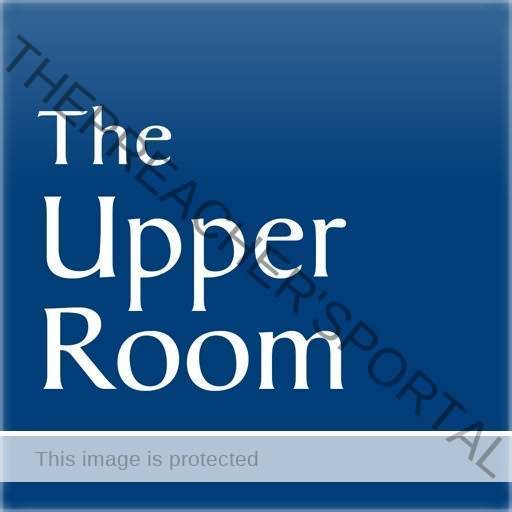 The Upper Room Devotional 10th December 2021
The Upper Room Devotional 10th December 2021
CLICK HERE FOR PREVIOUS READING
The Upper Room Daily Devotional For Today 10 December 2021 – Focused On Jesus By James Stewart (Illinois, USA)
Topic: Focused on Jesus
James Stewart (Illinois, USA)
TODAY'S READING
Psalm 23:1-6
KEY VERSE: Let us run with perseverance the race marked out for us, fixing our eyes on Jesus, the pioneer, and perfecter of faith. – Hebrews 12:1-2 (NIV)
MESSAGE
When I was first learning to drive, I had the habit of looking directly at the ground in front of the car. Every rock, stick, and pothole prompted me to react. I would steer first in one direction, then another, trying to avoid the slightest obstacle. My instructor finally asked me to pull over and offered some life-saving wisdom. He wanted me to focus my eyes on the horizon and to drive straight toward it. He explained that by lifting my gaze and locking in on a focal point in the distance, I would be able to steer more smoothly to my destination yet still be aware of my surroundings.
ALSO READ, Daily Hope Devotional | 7 September 2021 | Rick Warren
That advice not only improved my driving technique but also provided me with a powerful spiritual insight. Our paths in life are frequently filled with hazards and tempting distractions. But it is important for us to keep our sight trained on the horizon that is Jesus, who will help us navigate through anything we face. Jesus is the master of both the calm and the storm and can guide us safely.
The Upper Room Devotional 10th December 2021
The spiritual disciplines of praying, meditating on scripture, and participating in Christian fellowship can help us increase our focus on Jesus and lead us to our fullest lives.
ALSO READ, DCLM Daily Manna 24 September 2021 Devotional & Prayers
THOUGHT FOR THE DAY
Today I will focus my thoughts on Jesus.
The Upper Room Devotional 10th December 2021
TODAY'S PRAYER
Dear God, help us keep our eyes fixed on your ways. Guide our paths daily as we walk both with you and toward you. Amen.
PRAYER FOCUS
Driving instructors
The Upper Room Devotional 10th December 2021
The Upper Room is a daily devotional magazine published in more than 30 languages and 100 countries around the world. The daily meditations are written by readers of the magazine and others interested in sharing their faith experiences through writing—both laity and clergy, published authors, and new writers.
ALSO READ, The Upper Room Devotional 16th November 2021
The Upper Room Devotional 10 December 2021
The meditations are stories of real people working to live faithfully with the Bible as their touchstone. Every day, readers of The Upper Room around the world read the same story in many different languages and pray the same prayer together. Some of our readers share comments on our website (upperroom.org/devotionals), and some writers share extra pieces of their writing on our blog (upperroom.org/devotionals/blog-posts). The daily devotional guide and the community it draws together to invite people to:
ARE YOU BORN AGAIN? IF NO ACCEPT JESUS NOW
Accept Jesus Christ today and secure a life of eternal rest and Glory …
Say this 1 Minute Prayer

Lord Jesus, I believe you died for my sins, Forgive me of all my iniquities. I accept you as my Lord and Saviour from today and forevermore. Come and Be the Lord of my life and I am willing to obey your command and live according to your will as you help me, Thank you for accepting me into your fold. AMEN

JOHN 3: 3 Jesus answered and said unto him, Verily, verily, I say unto thee, Except a man be born again, he cannot see the kingdom of God