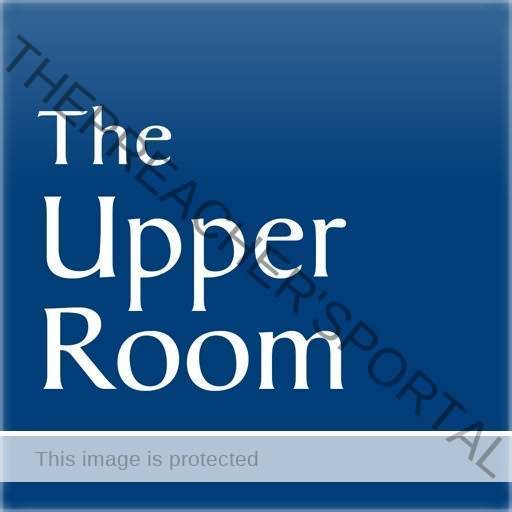 The Upper Room Devotional 12th July 2022
The Upper Room Devotional 12th July 2022
CLICK HERE FOR PREVIOUS READING 
The Upper Room Daily Devotional For Today 12 July 2022 – Songs from the Heart By Robert Racine (North Carolina, USA)
TOPIC: Songs from the Heart
Robert Racine (North Carolina, USA)
TODAY'S READING
2 Corinthians 2:14-17
KEY VERSE: Let the message of Christ dwell among you richly as you teach and admonish one another with all wisdom through psalms, hymns, and songs from the Spirit, singing to God with gratitude in your hearts. – Colossians 3:16 (NIV)
MESSAGE
Not being blessed with natural musical ability, I found it difficult and frustrating to learn new songs with the praise team at my church every week. Five years ago, I never heard any of these songs and did not understand the reason for worship. Nor did I realize that many of the songs were actually based upon Bible verses or older hymns. At first, performing each week made me anxious and uncomfortable.
ALSO READ, The Upper Room Devotional 28th June 2022
But then the Holy Spirit taught me that it is the "heart of worship" that counts — and the message of the song rather than its delivery. Once I stopped focusing on performing perfectly, I realized that music offered as a labor of love and worship is beautiful and pleasing to God.
The purpose of playing music and singing is to praise and worship God. The psalmist says, "I will praise God's name in song and glorify him with thanksgiving" (Ps. 69:30). We worship aloud to acknowledge our love for God, not to perform or seek admiration for ourselves. The voices and sounds that fill every church around the world are pleasing to God — especially when our hearts and minds are open to the truth and power of scripture contained in the songs.
The Upper Room Devotional 12th July 2022
THOUGHT FOR THE DAY
I will sing boldly with a faithful heart as an offering to God.
TODAY'S PRAYER
Lord Jesus, make us instruments of your love and peace through song. Focus our minds, soften our hearts, open our eyes and ears to the truth of your word. Amen.
The meditations are stories of real people working to live faithfully with the Bible as their touchstone. Every day, readers of The Upper Room around the world read the same story in many different languages and pray the same prayer together. Some of our readers share comments on our website (upperroom.org/devotionals), and some writers share extra pieces of their writing on our blog (upperroom.org/devotionals/blog-posts). The daily devotional guide and the community it draws together to invite people to:
The Upper Room Devotional 12th July 2022
ARE YOU BORN AGAIN? IF NO. ACCEPT JESUS NOW
Accept Jesus Christ today and secure a life of eternal rest and Glory …
SAY THIS 1 MINUTE PRAYER

LORD JESUS, I BELIEVE YOU DIED FOR MY SINS, FORGIVE ME OF ALL MY INIQUITIES. I ACCEPT YOU AS MY LORD AND SAVIOUR FROM TODAY AND FOREVERMORE. COME AND BE THE LORD OF MY LIFE AND I AM WILLING TO OBEY YOUR COMMAND AND LIVE ACCORDING TO YOUR WILL AS YOU HELP ME, THANK YOU FOR ACCEPTING ME INTO YOUR FOLD. AMEN

JOHN 3: 3 JESUS ANSWERED AND SAID UNTO HIM, VERILY, VERILY, I SAY UNTO THEE, EXCEPT A MAN BE BORN AGAIN, HE CANNOT SEE THE KINGDOM OF GOD