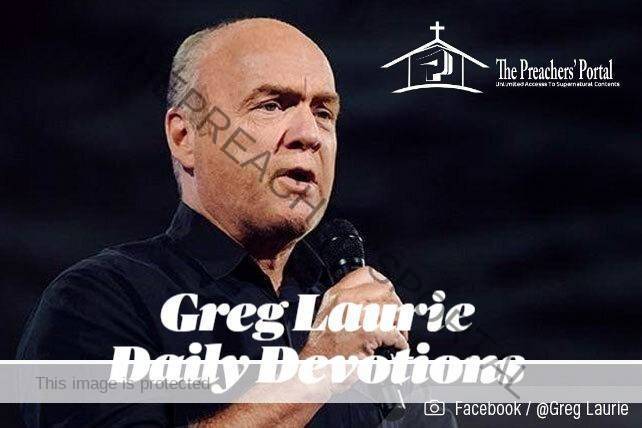 Greg Laurie Devotional | 10 September 2021 | Friday
Greg Laurie Devotional | 10 September 2021 | Friday
CLICK HERE FOR PREVIOUS READING 
Greg Laurie Devotional Guide For 10th September 2021  – Putting on a Performance – Written By Greg Laurie
Putting on a Performance
"So why do you keep calling me 'Lord, Lord!' when you don't do what I say?" (Luke 6:46 NLT).
MESSAGE
People seem to love to call each other hypocrites. We throw the word around a lot, but I don't think we understand what it really means.
We think a hypocrite is someone who says they believe something, but they do another. However, that isn't hypocrisy; that's humanity.
ALSO, READ  MFM 70 Days Fasting And Prayer 10th September 2021 (Day 33)
When Jesus called out the religious leaders as hypocrites, the term had a simple meaning. It meant "an actor," one who's putting on a performance. That's the technical definition of the word. A hypocrite, in the way Christ used the term, is someone who pretends to be something they're not.
Judas Iscariot was a classic hypocrite. He pretended to be a follower of Jesus, but he really wasn't. And then one day he showed his true colors.
Greg Laurie Devotional | 10 September 2021 | Friday
Next to the Antichrist himself, this man may have been the most evil person who ever lived. He committed the worst crime imaginable: he betrayed and sold out Jesus. He had a hand in the cold-blooded murder of the very Son of God.
ALSO, READ  Rhapsody of Realities Today | 10 September 2021 | Friday
But there's more to Judas than you may realize. Imagine, for a moment, that you could go back to the first century and approach Jesus and His disciples. You wouldn't be able to immediately pick out Judas Iscariot as the evil one.
In fact, you might even think he was the most virtuous of all the disciples. Why? It's because Judas was an impressive actor. He was really convincing. In fact, the only person he didn't convince was Christ himself. Judas put on an amazing performance as a follower of Jesus Christ.
ALSO, READ  Our Daily Bread | 10 September 2021 | Daily Devotional & Prayers
Greg Laurie Devotional | 10 September 2021 | Friday
There are people like this in the church today. They talk the talk and carry their Bibles to church, and they sing the worship songs. They look like one of us. We think they're one of us. But that doesn't necessarily mean they're believers.
Greg Laurie is the Senior Pastor of Harvest Christian Fellowship with campuses in California and Hawaii. He began his pastoral ministry at the age of 19 by leading a Bible study of 30 people. Copyright © 2021 by Harvest Ministries. All rights reserved.
ARE YOU BORN AGAIN? IF NO, ACCEPT JESUS NOW
Accept Jesus Christ today and secure a life of eternal rest and Glory …
Say this 1 Minute Prayer 

Lord Jesus, I believe you died for my sins, Forgive me of all my iniquities. I accept you as my Lord and Saviour from today and forevermore. Come and Be the Lord of my life and I am willing to obey your command and live according to your will as you help me, Thank you for accepting me into your fold. AMEN

JOHN 3: 3 Jesus answered and said unto him, Verily, verily, I say unto thee, Except a man be born again, he cannot see the kingdom of God.