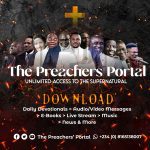 Joyce Meyer Ministries | Daily Devotional 13 September 2021
Joyce Meyer Ministries | Daily Devotional 13 September 2021
CLICK HERE FOR PREVIOUS READING 
Joyce Meyer Ministries Daily Devotional 13th September 2021 Monday Message Written By Joyce Meyer 
TOPIC: God's Way Is Not Too Hard
SCRIPTURE: When Pharaoh let the people go, God led them not by way of the land of the Philistines, although that was nearer; for God said, Lest the people change their purpose when they see war and return to Egypt. Exodus 13:17 (AMPC)
MESSAGE
God led the Children of Israel on a longer, harder route in the wilderness because He knew they were not ready for the battles they would face in order to possess the Promised Land. He needed to do work in their lives first, teaching them Who He was and that they could not depend on themselves.
You can be assured that anywhere God leads you, He is able to keep you. He never allows more to come against us than we can bear. We do not have to live in a constant struggle if we learn to lean on Him continually for the strength we need.
ALSO, READ  Greg Laurie Devotional | 11 & 12 September 2021
If you know God has asked you to do something, don't back down because it gets hard. When things get hard, spend more time with Him, lean more on Him, and receive more grace from Him (see Hebrews 4:16). Grace is the power of God coming to you at no cost, to do through you what you cannot do by yourself.
Joyce Meyer Daily Devotional 13 September 2021
How Do I Battle Self-Pity?
God knows that the easy way is not always the best way for us. That's why it is so important that we don't lose heart, grow weary, and faint.
Prayer Starter: Father, thank you in advance for revealing your plan (for my life) to me and then giving me time to trust You to work the change in me to see it through. In Jesus' name, amen!
Joyce Meyer Ministries is called to share the Gospel and extend the love of Christ. Through media, we teach people how to apply biblical truth to every aspect of their lives and encourage God's people to serve the world around them.
ALSO, READ NSPPD | 13th September 2021 | Pastor Jerry Eze Live
Joyce Meyer Ministries Daily Devotional 13 September 2021
Also, Through our missions arm, Hand of Hope, we provide global humanitarian aid, feed the hungry, clothe the poor, minister to the elderly, widows and orphans, visit prisoners and reach out to people of all ages and in all walks of life. Joyce Meyer Ministries is built on a foundation of faith, integrity and dedicated supporters who share this call.
ALSO, READ  Joyce Meyer Daily Devotional 6 September 2021
ARE YOU BORN AGAIN? IF NO ACCEPT JESUS NOW
Accept Jesus Christ today and secure a life of eternal rest and Glory …
Say this 1 Minute Prayer

Lord Jesus, I believe you died for my sins, Forgive me of all my iniquities. I accept you as my Lord and Saviour from today and forevermore. Come and Be the Lord of my life and I am willing to obey your command and live according to your will as you help me, Thank you for accepting me into your fold. AMEN

JOHN 3: 3 Jesus answered and said unto him, Verily, verily, I say unto thee, Except a man be born again, he cannot see the kingdom of God

Joyce Meyer Ministries Daily Devotional 13 September 2021