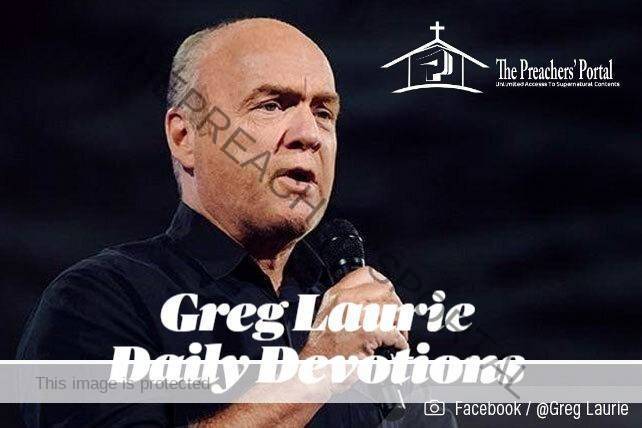 Greg Laurie Devotional | 15 February 2022
Greg Laurie Devotional | 15 February 2022
CLICK HERE FOR PREVIOUS READING 
Greg Laurie Devotional 15th February 2022 Written By Greg Laurie
TOPIC: Weak Start, Strong Finish
SCRIPTURE: When anyone hears the word of the kingdom, and does not understand it, then the wicked one comes and snatches away what was sown in his heart. This is he who received seed by the wayside. —Matthew 13:19
MESSAGE
In the first century, the objective of the sower was to take the seed, throw it out, and let the wind pick it up. The process was pretty primitive. He just walked out, had his seed in his big bag, reached in, and threw it.
Interestingly, the word broadcast actually comes from the root word for sowing seed. And in the same way, our job as Christians is to go into all the world and preach the gospel, or sow the seed.
ALSO READ, Andrew Wommack Devotional 9 April 2021
We throw out the seed of the gospel to as many people as we can, and time will tell who the real converts are. That's because sometimes people come on strong in the beginning and then walk away, never to return. Other times, people have a weak start, but they get stronger with the passing of time.
In the parable of the sower, Jesus talked about seed that fell along the wayside, and the birds came and ate it. He went on to explain, "When anyone hears the word of the kingdom, and does not understand it, then the wicked one comes and snatches away what was sown in his heart. This is he who received seed by the wayside" (Matthew 13:19 NKJV).
Greg Laurie Devotional | 15 February 2022
So we just have to wait and see who the real believers are because sometimes a person will make a profession of faith, will fall away, and then return. That is a prodigal.
How do we know the difference between a prodigal and someone who is not really converted? If someone has professed faith in Christ but walks away and never comes back, then they are like the seed that was sown along the wayside. A prodigal, however, will always come home.
Sometimes you can have a weak beginning but a strong finish. What matters is how you finish.
ALSO READ, Joyce Meyer Daily Devotional 13th February 2022
Greg Laurie Devotional | 15 February 2022
Copyright © 2022 by Harvest Ministries. All rights reserved.
Greg Laurie is the Senior Pastor of Harvest Christian Fellowship with campuses in California and Hawaii. He began his pastoral ministry at the age of 19 by leading a Bible study of 30 people. Copyright © 2021 by Harvest Ministries. All rights reserved.
ALSO READ, Rhapsody Of Realities 5 June 2021 (Saturday)
Greg Laurie Devotional | 15 February 2022
ARE YOU BORN AGAIN? IF NO, ACCEPT JESUS NOW
Accept Jesus Christ today and secure a life of eternal rest and Glory …
Say this 1 Minute Prayer 

Lord Jesus, I believe you died for my sins, Forgive me of all my iniquities. I accept you as my Lord and Saviour from today and forevermore. Come and Be the Lord of my life and I am willing to obey your command and live according to your will as you help me, Thank you for accepting me into your fold. AMEN

JOHN 3: 3 Jesus answered and said unto him, Verily, verily, I say unto thee, Except a man be born again, he cannot see the kingdom of God