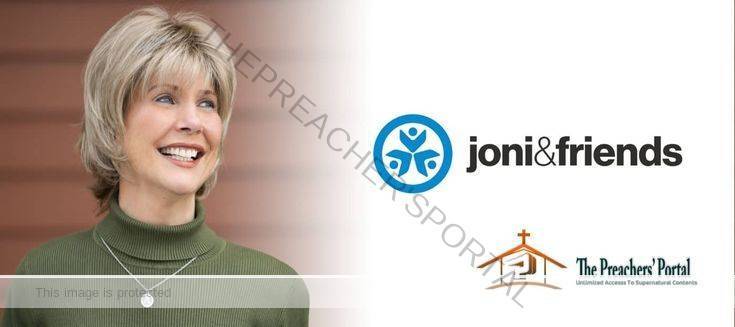 Joni and Friends Devotional | 19 July 2022
Joni and Friends Devotional | 19 July 2022
CLICK HERE FOR PREVIOUS READING 
Joni and Friends Daily Devotional 19th July 2022 Tuesday Message
TOPIC: Jesus Identifies With Our Weakness
SCRIPTURE: "For we do not have a high priest who is unable to sympathize with our weaknesses, but we have one who has been tempted in every way, just as we are—yet was without sin." -Hebrews 4:15
MESSAGE
When we think of the trials and temptations of the God-Man, we usually think of his wilderness experience. His desperate hunger and fiery thirst. Or that darkest of hours when his friends abandoned him. We remember he had no place to call home.
ALSO READ, Joni and Friends Devotional | 27 June 2022
We recall he walked hundreds of weary miles. His muscles ached and his feet blistered. He cried real tears. And when they pinioned his body to that rough wooden cross, he not only bore our sins, but he became sin for us. He identified with every area of our human weakness.
But that profound identification didn't start with his public ministry. No, when I think of the extent Christ went to probe the depths of human experience, I think of his birth.
Even as a baby, he identified with us. No pastel-papered, hygienic nursery for him. Or brand-new crib and changing table. No disposable diapers and baby powder. Or musical mobiles of giraffes and Teddy bears. No cotton swabs and baby ointment. No pink and blue needlepoint hanging on the wall.
Joni and Friends Devotional | 19 July 2022
And those strips of cloth that covered his infant body were a far cry from Carter's top-of-the-line.
Right from the beginning of his journey on earth, the Lord sympathized with our weaknesses. He entered history in a smelly stable with a handful of hay for a pillow. The only music he heard may have been the muffled strains of a lyre and flute from the crowded inn nearby.
The first fragrance to fill his nostrils was musty straw and animal manure. His first bed was a feed trough. His first changing table was a dirt floor.
ALSO READ, Joni and Friends Devotional | 1 July 2022
Not one of us can ever point an accusing finger at Jesus and say, "You live in an ivory tower. You don't know what it's like!"
Maybe God planned it that way to make a point. Perhaps our heavenly Father wanted us to understand that in weakness there is strength. In poverty, riches. In humiliation, dignity.
Even as a baby, the Lord Jesus had a mission. Before he could even speak, his life was a message. His birth, in many ways, was a sermon. From the very beginning he was demonstrating the extent to which divine love would reach.
Joni and Friends Devotional | 19 July 2022
This is the High Priest to whom we give our praises—during the Christmas season and all year long. This is the One we adore and to whom we sing our thanksgivings. We have a Savior who sympathizes with our weaknesses.
"Let us then approach the throne of grace with confidence" -Hebrews 4:16
Because Jesus knows.
Because Jesus understands.
History and heaven defy anyone to say otherwise.
Joni & Friends Ministries Founded by Joni Eareckson Tada in 1979, Joni and Friends are dedicated to reaching out to families living with disabilities all around the globe with gospel-adorned hope. We extend gospel-centered care through Community Support, Respite, Retreats and Getaways, and Crisis Response. And we connect families with Christ-honoring, disability-friendly churches where they find a place belong.
ARE YOU BORN AGAIN? IF NO, ACCEPT JESUS NOW
Accept Jesus Christ today and secure a life of eternal rest and Glory …
Say this 1 Minute Prayer

Lord Jesus, I believe you died for my sins, Forgive me of all my iniquities. I accept you as my Lord and Saviour from today and forevermore. Come and Be the Lord of my life and I am willing to obey your command and live according to your will as you help me, Thank you for accepting me into your fold. AMEN

JOHN 3: 3 Jesus answered and said unto him, Verily, verily, I say unto thee, Except a man be born again, he cannot see the kingdom of God